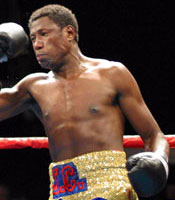 Candelo says he'd fight Phillips for $2,000!
After reading what former two-time Jr. Middleweight Verno Phillips 38-10-1(20) had to say about a proposed fight between the two falling through. A furious J.C. Candelo 26-8-3(18) contacted Boxingtalk.com to give his thoughts on the matter. When you read this interview you'll get the impression that the fight is still on between the two, but so it not the case. Candelo insist it won't be a distraction when he faces former USBA light welterweight champion Teddy "Two Guns" Reid 23-7-1(17) on an ESPN 2 co-feature January 20th 2006 at Foxwoods casino.
RC: What's going on?
JCC: Nothing much just laying low and getting ready for January 20th.
RC:  Boxingtalk.com recently broke the news that you'll be facing Teddy Reid, what can you tell us?

JCC: I have been reading Boxingtalk.com and I have been seeing all of this **explicit** that Verno Phillips have been saying about this that and whatever. My fight is going to be good. Teddy Reid didn't care about the money for this fight. He just want to fight, and the same thing with me, I just want to fight I don't care about the money. I have been in the shadow, and it is time for me to come up. Verno and me have some unfinished business. You guys have heard his story about how I owe him money. So not it is time to hear mine.
RC: This should be about Teddy Reid, but if you'd like to get it off your chest then go ahead
JCC: Well the story was this, last year I went to jail. So I went to jail and Verno let me borrow $1000 and I appreciate what he did for me, and at that time afterwards I paid him back $800. I was short the other $200, but this **explicit** is going to have the nerve to call my wife and disrespected her, he calls her up telling her that he is going to go to my house and take my dog… and man I have a Bulldog my dog don't cost $200 and then he started talking about pulling his gun and my thing is what kind of real man is going to pull some **explicit** like that?
So then he got mad at me when you (Ray Campbell) called me up a few months back and asked me who I thought was going to win the fight between Verno and Kassim Ouma, and I told you Verno is going to go down. I said that because I feel like that is not what a friend does to another friend. Of course he is going to deny that because he is a **explicit**. When I read the interview that he did with you, when he was getting ready to fight Kassim Ouma he called me a sucker. So it is time for him to forget about the money and prove to me that I am a sucker. Because when I drop his **explicit** silly he is going to be sucking my balls, so he is going to be the sucker.
He thinks he is a gangster, but I don't care about that gangster **explicit**, I am not a gangster, and between him and I, I am not going to go down first. I know that for sure, if he want to talk all that gangster **explicit** or whatever, I mean just forget about the damn money and lets just fix this **explicit**. I mean there is not going to be any police involved, there is not going to be any gangs involved it is just going to be me and him, and then we can fix the matters in a legal way with gloves on.
RC: Regardless of the outcome of the fight, will you pay him the $200 balance that you owe him? Or is he dead on his money being that he tried to disrespect you?
JCC: I am not going to pay him jack **explicit**. I know I owe him $200 it is not like I owe him million dollars. All of the water that he drank from me when we use to train together at the gym, all of the Gatorade, and the Pierre water he use to get from me he can take it out of that money, and he will still end up short and he is going to owe me more.
RC: Turning away from Verno, lets head back to Teddy Reid your opponent on January 20th, can this entire Verno Phillips feed you got going on cause somewhat of a distraction?

JCC: I am concentrating on Teddy Reid; it is just that he (Verno) pissed me off. I didn't say anything about the guy. This is a free country and you asked me who is going to win with Verno and Kassim. I sparred with Verno and I fought with Kassim, and I said well I am going with Kassim because I have been in there with both of them, and I know the difference. But like I said before I am focused on my fight (With Reid).
RC: What can you tell us about your preparation for this upcoming fight?
JCC: Ever since Art Pelullo called me and offered me the fight, I was just like lets do it. I am doing the fight because I have been out of the boxing game for almost a year, and I missed the T.V. spot. I mean he is paying me $5,000 that is the same amount of money that Verno was going around the bush saying he deserves more than that. He don't deserve **Explicit**. He fought with the number 15th ranked fighter in the world to win the world title, and then he fought Kassim Ouma and lost. Then he told me that I had to prove myself to give me a shot? Give me a **explicit** break.
RC: In your last three fights you are 0-3 and had three different trainers in each. For the Ouma fight you were with Trevor Wittman, Buddy McGirt for the Sanchez fight, and now you are working with a new trainer. What's with that, are you feeling more comfortable with ….
JCC: (Cutting in) Like when I was training with Trevor, I mean he is a great guy he is the best up and coming trainer and in Denver he is the best. And I have said this before, when you go to jail or you are in the hospital, then you realize who your friends are. I mean how is someone (Wittman) going to tell me you are going to come visit and don't show up? I mean if you really want to see someone then you make sure and find a way to get there. But I don't have any problems with Trevor, me and him are still cool till this day.
Buddy McGirt is a great trainer and I felt good when I was training with him, but maybe he was too much of a trainer for me. I didn't adjust to his style to well with the way he works out. When we fought Sanchez, I was lost; I didn't know what to do in there. I was trying to do this, that and wanted me to do but they weren't working. He was lost, and I was lost and it was an experience. But he is a great guy, but the guy that I have now, he is not recognized but he is a good trainer. You probably seen him when Raul Marquez fought Sugar Shane Mosley, he was in his (Marquez) corner. He is a good guy and he is a good trainer. I have been getting some good sparring with Miguel Martin and Joshua Garza. Garza, he is an up and coming really really talented amateur that you guys are going to be hearing about really soon.
RC: Four fights ago you stopped Julio Garcia who at the time was considered a contender in the division, and many felt you gave then IBF Jr. Middleweight champion Winky Wright some problems in your lone world title shot. Since that victory over Garcia, you went on to loose your last three fights. Do you feel that if you loose to Teddy Reid, who is originally a 140lb fighter, you might be looked at as just a step up opponent from here on out?
JCC: It isn't going to be none of that in this fight I am doing the best training I can. I mean I took my car (Referring to his body) back to the shop. This J.C. Candelo car has been riding for twelve years and I just took it back to the shop and put in a new motor, a new transmission, a tune up and everything like that so I am going to be looking pretty good.
RC: So what can we expect differently in this fight that you didn't do in your last three?
JCC: I'm going to be looking like I looked back in 1997, picture it like that.
RC: What's your prediction for this fight?
JCC: We are scheduled for ten rounds and I am training for ten rounds. It could go the distance, it could end earlier, I don't know. But that is not the way I think anymore. I am not just training to go out there and knock people out in the first, second and third round. No, I am going out there knowing it is a ten round fight and I am just going to get ready to fight ten rounds. So we are just going to have to see how many rounds we are going to fight. 
RC: Is there anything else you would like to add in closing?
JCC: Yes tell Verno Phillips to quit being a **explicit**, and whenever he gets a fight... This is what we are going to do… I don't care how much money they are going to pay me. I just want $2,000 since he thinks he's Mr. Hot shot and saying you want more money **explicit**.
RC: (In Shock) JC, are you telling us here on Boxingtalk.com that you will fight Verno Phillips for $2,000?
JCC: Yes I will fight fir $2,000.
RC: Do you think that is a smart thing to say on the record cons……
JCC: (Cutting in) Hey look any promoter out there can put the fight together. Just give me $2000 and I will fight Verno Phillips. I am a free agent now so anybody can call me and my manager Vincent Ruiz up, and make the fight. If they don't know the number it is (713) 829-5317, or (281) 686-7762 and just mention Verno Phillips and give me $2000 and I'll take the fight.
Send questions and comments to: ray@Boxingtalk.com