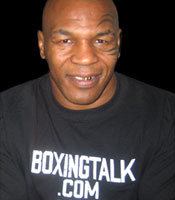 "I'm coming back to take over this division again!"
Boxingtalk.com spoke with former undisputed heavyweight champion "Iron" Mike Tyson moments after Winky Wright pitched a shut-out against Felix "Tito" Trinidad at the MGM Grand Garden Arena in Las Vegas, Nevada. Despite Wright's virtuoso performance, Tyson, BT members are about to read, believes Trinidad is more than capable of turning the tables on Wright in a rematch. Prior to the main event, Michael Buffer announced various celebs and boxing personalities-including Tyson- to the sold out crowd and as usual, the cheers for Tyson were louder than anyone else's. Funny thing is, Tyson wasn't there. As much as Mike loves to make it to the big fights, he realizes that the task at hand, a June 11 date with journeyman Kevin McBride in Washington D.C, is really a do or die fight for him."
"You know it's great that people were cheering for me, but ya'know what? I don't want them to be cheering for me because I'm at a fight, I'm want them to be cheering when I'm in the ring. When I'm fighting, that's when I want to hear them cheer for me the most, so I'm just here (in Arizona) working towards that. But you know I'm coming back to take over this division again. I'm here working hard and I'm coming back to take the whole division by storm."
Tyson On Wright-Trinidad:
"I think if Trinidad trains right, he could beat this guy. Winky's a great human being and a very good fighter and everything, but can I tell you something? That wasn't Trinidad we saw. I don't know what was wrong, maybe he didn't train right but he wasn't himself tonight. He just didn't throw punches.
"But if Trinidad shows up next time and does what he wasn't doing tonight, he could beat Winky and probably knock him out."
Boxingtalk then questioned Tyson's statement since Wright's jab easily and effortlessly neutralized Trinidad's power.
Mike replied by dropping the following jewel, "Yeah, but you know Trinidad never really slipped the jab and then when he did slip his jab, he never came back with that heat. He wasn't throwing his combinations and punching enough to beat this guy. He needed to be busier and I don't know what it was, but he just didn't have nothing tonight."
"Believe me I know Trinidad's style inside out because he's one of my favorite fighters and I don't care what Don King, Trinidad or his father say, they took this lightly and thought they were going to walk right through him and knock him out with one punch."
CLICK HERE FOR MORE OF THIS FREE MUST READ INTERVIEW
Send questions and comments to: gleon@Boxingtalk.net