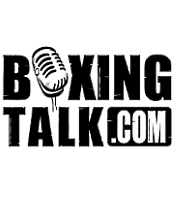 Boxingtalk recently had an opportunity to sit down with one of toughest guys to ever put on the gloves. Throughout the 1980's, and most of the 1990's Iran Barkely was a dominant force, and he let that be known to many of those who stepped into the same ring with him. Iran Barkley rose from the ghetto's of the Bronx, to become a multiple World Champion. Today Barkley still thinks he has some fight left within him, and you'll hear what he has to say about that in this interview. Barkley also speaks about today's fighters, yesterday's fighters, and gives us his thoughts on today's Heavyweight Division.
BT - What's up Iran, what have you been up to?
IB - Well basically I want to say that I am not formerly retired from the game. I have walked away from the game for a minute, but I have not retired. I have been working hard as a Heavyweight, and I feel good. I also have been looking at promoting some fights up here, I would like to promote my own fights.
BT - So basically you are doing a couple of things, you still want to fight, and you would also like to promote.
IB -  I still got fight in my blood, and yes I would like to get into promoting fights as well.
BT - Iran would you be interested in training fighters?
IB - You know, training fighters no... I would rather be an adviser than a trainer. I don't like to deal with fighters who don't want to put in the effort that it takes in this game. I don't want to become someone's babysitter, so training? no.
BT - Iran if you were advising a young fighter right now, what would you tell him first?
IB - There are a lot of things that young fighters don't know about this game, you know what I am saying? Most managers say shit like ' This fighter is like my son', but you know what? they don't tell you all the in's and out's. There are many traps in this game that fighters go through. Look at boxing now, boxing is nothing like it was back when I was coming up. Boxing has changed completely, I opened up the doors for these guys to get paid the way they are getting paid now. If it wasn't for guys like me, Marvin Hagler, Duran, Hearns, these guys wouldn't be getting paid the way they are now.
BT - Iran, current World Champion Antonio Tarver will be in the new Rocky 6 movie, is acting something you would like to get into as well?
IB - I have already done a movie with Mickey Rourke back in the 80's. Antonio Tarver is good for that roll, but I could be good also. I have first hand acting experience with a big star like Mickey Rourke. I am definitely looking for acting rolls to come along. I don't know where these directors are looking, they are going after the new-jacks like Tarver ( laughs ). I mean there aint nothing wrong with Antonio Tarver, I respect him as a Champion, and a fighter for real.
BT - Iran, talk to the fans out there who have followed your career throughout the years.
IB -  I got something to say to all of those out there who have followed my career, God blessed guy's like George Foreman. Foreman opened the door for guys to fight passed 40. Back in the day when you got to be 30, the promoters would just cancel you out, they would throw you out of the game. I am telling you this right now, I can pass any physical that comes my way. They say to me ' oh you won't pass the test ', I tell them that they are out
their damn minds, I can pass them all. I am not a drinker, I don't use drugs, and I am very conscious about my health right now especially at this point in my life. I am in better shape than most of these younger guys now that get into the ring at this weight-class.
BT - Iran is there anybody out there right now that you would like a crack at?
IB - Yeah, I want John Ruiz. I would love to fight Rachman too. I will fight any of those guys, and I will prove to all of them that I can still fight.
BT - What do you think the differences are between the champions of your day, and today's champions?
IB - A lot of the champs of today haven't really earned what they have. These days they will give just about anybody a belt, and pay them millions. I never got a chance to make that kind of money, people told me this and that. Then I got caught up in some tax bullshit that I didn't even know about. I used to argue with Bob Arum about getting paid a million dollars, and he would say ' they don't pay that kind of money' which I know is a lie now, but I didn't back then. I feel slapped in my face for all of the work that I did, and how I put it all out there in the ring, and got basically nothing for it. I can pass any damn physical out there, I got my eye fixed it's 20/30 , I am well rested, and more established than ever right now. I never told anyone that I retired. I walked for awhile, and that's it, I have been watching. By the way, the Heavyweight Division is a joke right now!
BT - (laughing) Iran, be more specific.
IB - You don't have champions now like we did back in my day. These guys now don't want to fight anybody, you know what I am saying? Klitschko is a perfect example, and Rachman got handed the belt. Nobody wants to fight Chris Byrd because of how awkard he is, but I am telling Don King, give him to me Don, I will fight that guy any place, any time, just name it! I am willing to fight any of those guys. I would like to fight Ruiz, he's a BUM! I am calling John Ruiz a BUM right now. And I am telling Don King right now, if you are a real promoter I know you can get this done. Put it in Madison Square Garden, and I will not that punk out for you! I am calling John Ruiz out right here on Boxingtalk right now. I got a lot left Brad, you don't even know, but I am telling Don King, get it done!  
PURCHASE BRAD COONEY'S NEW BOOK
'LET'S TALK BOXING' -
www.authorhouse.com
Send questions and comments to: bradcooney1@bellsouth.net