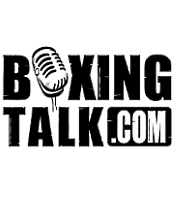 "I know I'll knock Hopkins out...he's an old man!"
GL: What's going on Ike? How does it feel to be back in boxing?
Ike Quartey: "Everything is good. It's great to be back and I want to tell you I want to fight Bernard Hopkins."
GL: What did you think about Bernard Hopkins last performance?
IQ: "After I saw the fight I picked up my phone right away and called up (DiBella Entertainment) just to tell them that I could knock Bernard Hopkins out. I know I can knock him out."
GL: Wow, do you feel stronger at middleweight compared to welterweight?
IQ: "Right now I'm stronger than ever. If you would have seen me in my last fight back, I felt better than ever, all of the skills are there and I feel stronger than ever.Middleweight has been my natural weight and right now it's where all the big boys are, so I'm looking forward to fighting and knocking out some of those big boys."
GL: When will your next fight take place?
IQ: "In late May or early June."
GL: Fernando Vargas comes back on March 26, is he someone you'd like to fight again?
IQ: "Of course I'd like to make the rematch with him, but I don't think Vargas will want to do it, I want Hopkins more. I think it's time for Hopkins to go and I'm ready to take him out."
GL: Who do you like in the Trinidad-Wright fight?
IQ: "I think Trinidad will take him out. Winky is a very good southpaw and he's tricky so he could outbox him but I think Trinidad will be too strong."
GL: How many more fights before you're ready for the big names?
IQ: "I think I need one more fight and then I'm going to be ready for all of them. I'm ready for all of them now and I'd fight them tomorrow, but I would like to get one more fight and then look for Hopkins. And when I get in the ring with Hopkins, I would outclass him, I've been wanting to fight him since he fought Joppy. He's been old ever since that fight. The De La Hoya fight was nothing and he looked like an old man in his last fight."
GL: Are you disappointed that De La Hoya is moving down to welterweight?
IQ: "Yes. I don't understand what he's going to do down there. Who's he going to fight? Zab Judah? From Hopkins to Zab Judah? C'mon."
GL: When will you be coming to America?
IQ: "In the next couple of weeks. I'll be there when it's like six-eight weeks before my fight."
GL: Is the jab still a Bazooka?
IQ: "Of course, there's an extra 10% of me behind it! Bernard Hopkins couldn't even deal with my jab. I might knock him out with a jab."
GL: Is there anything you'd like to say in closing?
IQ: "I'm back and I'm ready to knock all these guys out! And remember, I'm ready to fight Bernard Hopkins tomorrow."
MEMBERS CLICK HERE FOR THE FULL MUST READ INTERVIEW
Send questions and comments to: gleon@Boxingtalk.net