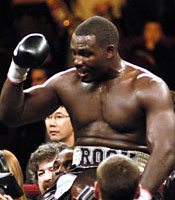 "Whoever Gets In My Way Has Got To Go!"
GL: What's good Rock?
"My next move is still up in the air right now. We're looking at November 13 and they're talking about Fres Oquendo, Evander Holyfield or Lance Whitaker. All of those guys sound good and I'll fight any one of those guys, it doesn't make a difference. I just know that with the things I'm doing now and how focused I am now, I'm definitely going to become the champ as soon as I get my chance. And then I'm going to hold onto them titles for a long time. But it's still hard for me to get amped since I don't know exactly who we're looking at yet."
GL: Are you definitely going to be fighting on November 13?
Hasim Rahman: "I'm definitely going to be fighting, but I can't focus on who I'm going to fight and how I'm going to go about destroying whoever I fight to make my case as the best heavyweight in the world. The way I'm training right now is like...and I don't want to give you a whole bunch of cliche's, but if I had been training like this all along, I'd be undefeated with all knockouts right now."
GL: Are the days of the Calloway's, Cawley's and Lewis's over? Will your next fight be a world class affair?
HR: "I wouldn't say that they're done because I never want to get into another period of a long layoff where I take off 6-8 months at a time. If that's what I gotta do to stay busy, because I want to be in the gym everyday from now on until my career is over, then that's what I'll do. Because I look at one week off as too much time off right now, I want to stay working. Even when I'm the champ, I'll fight in non-title fights just to stay busy...I'm going to do whatever I need to do to make sure that I fight every three-four months on the world class level. If that's not possible then I have to take the journeyman or whoever's willing to get in the ring with me. To me, those fights are more dangerous than fighting the world class fighters because there's no excuse I could make for losing to one of those guys. Against those guys I have everything to lose, so that just makes me more dangerous."
GL: Rock that doesn't make sense. If you're fighting a real pushover you're supposed to beat, your natural talent can carry you over.
HR: "I understand that, but it's like Mike Tyson with the knee situation. Anything can happen at any give time in that ring. You could throw out your shoulder, you could dislocate your shoulder....anything can happen when you step foot in that ring Greg. And when it's for $5,000 as opposed to $5M it makes a big difference."
GL: John Ruiz is a fight that you recently showed interest in making. He's scheduled to fight Andrew Golota on November 13. How do you feel about that fight?
HR: "I really don't care who wins. It doesn't matter to me. If Golota beats Ruiz then I'll just knock Golota out and exact my revenge that way, and if Ruiz wins I'll knock him out too. Anyway you look at it, I'm looking to be the mandatory to the winner of that fight and make it happen in a certain amount of time, and when that happens, I'm just going to take a belt. As far as who wins, I could care less who wins. Ruiz got a gift from me, I should have never fought on him that day. But I'm going to fight him like I left something, and I did leave something, that belt. But it doesn't matter who has it because I'm coming to grab it. Whoever wins that fight will be getting knocked out by me so I don't care who wins one way or the other. There's six in one hand and a half dozen in the other. And the reason I'm talking this confidently Greg, is because I plan to back up every single word I'm saying. When you see me you're going to know I'm in shape because I'm not getting out of shape. And that's just dangerous for the division. I'm not going to limit it to Ruiz and Golota, I'm talking about the division for real."
GL: How important do you feel this four-fight period of easy wins will help you in the long run?
HR: "It just gave me a whole new focus on boxing. Now I'm doing it full time, all the time. If I would've came in and blown out Cole like I was supposed to, then I would have continued on the same path I went on. Al Cole made me look bad, and he made a lot of people ask, 'if Rock can't KO Al Cole how he is supposed to be champ again?' And believe it or not, I asked myself the same question. That wasn't the best Rock that was out there, that was just club fighter Rock and I had to dig down and do some soul searching. If I want to do this I have to give it 100%. And right now, I'm training harder than I ever have in my life. I'm giving it everything. The things that I'm doing I know no other boxer is doing, and it's going to be big trouble for the heavyweight division...period...No matter who it is. I know people are going to read this and say, 'I've heard it all before.' What I'm saying, whoever gets in the ring with me, to spar, to box, to fight, is getting knocked out Greg."
GL: You're right. People are going to say they heard all this when you first hooked up with Roger Mayweather. What are you doing now that you weren't doing then?
HR: "The difference now is that I've been fighting, I'm used to fighting and I'm not coming down from 285-290 pounds trying to get into shape. I would get in shape in terms of getting my weight off and cosmetically doing the right things. But I'm sharp now and I've gotten my drive and desire back. I like I'm the best prospect in the world. That's the difference now, I feel like I am a prospect, the best prospect in the world. I don't feel like I've had the championship before. I feel like I want the championship and I will get it, and that's why I'm going through some of the things that helped me to get the championship in the first place. When I was coming up I was smoking everything and the way I was doing that, was staying in the gym, staying hungry and staying on my job, that's how I got into the position to fight for the title in the first place. I didn't have any stellar amateur career, I didn't win the national none of that, I just got into the position by knocking off a lot of people I wasn't supposed to. Now I have championship experience and a lot of the knowledge that a veteran has along with putting myself in the position of being a prospect, and whoever gets in my way has got to go."
GL: If you don't deliver in your next world class fight/title shot, will that be it for Hasim Rahman?
HR: "Absolutely. What would I stay around for? I can't be denied and it's really going to be unfair to these guys what I plan to do. The things that I'm doing right now are unheard of. I need to do what the next man is not doing to get that edge. I know I'm one of the hardest punchers in this division, I know I got the best jab in the division, I know I got the hardest jab in the division, so the only thing I need to do is keep myself in 100% condition and keep getting better. If I do that it's a wrap. And it's easier said than done, but Greg, as easy I as I'm telling you, that's how easy I'm going to do it. Not taking off and staying busy like I have been has been making it easy. It's like going to sleep and eating cereal when you wake up. I'm running 6-8 miles like nothing and things are really starting to become second nature to me right now. Nothing will get in my way of me winning this title in impressive fashion. And no you're not going to be able to tell that from Rob Calloway and Mario Cawley, but to my credit, I did what I was supposed to against what they put in front of me. As far as I'm concerned I'm on the right track and when they put stiffer competition in front of me, I'll do the same thing to them. I owe it to my fans to give them 100% by giving them someone they could look forward to in the heavyweight division."
GL: What's your take on the Byrd-McCline fight?
HR: I don't like McCline, so I hope Chris Byrd beats "Big Fag" up! I think "Big Fag" is ridiculous to think he's a bona fide threat when he froze up against Wladimir Klitschko in the first chance he got. Why wouldn't he freeze up again?"
SEE WHAT ELSE THE FORMER UNDISPUTED HEAVYWEIGHT CHAMPION OF THE WORLD HAD TO SAY
Send questions and comments to: gleon@boxingtalk.net