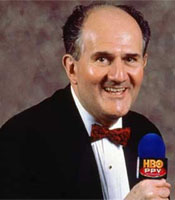 Boxingtalk.com sat down with one of the real good guys in the sport of boxing, HBO's Harold Lederman. Harold touches on the recent decision by HBO to part ways with Roy Jones Jr. Lederman also brings us his expert analysis on the upcoming Manny Pacquiao vs. Erik Morales fight, and the James Toney vs. Hasim Rahman fight. I hope you enjoy this interview as much as I did conducting it.
BT - Harold Boxingtalk.com broke the news that HBO and Roy Jones Jr have parted ways, what are your thoughts on this?
HL - Well I always like Roy, I liked working with him, and I liked him as a commentator. Roy knows his boxing, and I will miss him. I miss George, and I will miss Roy, I really will.
BT - Harold is there anything you can tell us about the specifics on Roy's leaving HBO?
HL - Well Brad honestly, I just don't get into the politics so I don't know if it was HBO, or if Roy didn't want it or what. There just isn't anything that I can really comment on right now, I just don't know.
BT - Who would you like to see replace Roy Jones Jr
?
HL - Well as I understand it they are just going to have Manny Stewart fill in for awhile. I would guess that they will get another ex fighter to do the job; there are a few guys that I think could do a good job. I think Monty Barrett could do a good job; Howard Davis Jr has done a little television, so I think he would do well too. To tell you the truth though, I really don't know who HBO is considering. This news has come all so suddenly, but my gut feeling is that they haven't given it much thought yet either.
BT - Harold, Boxingtalk also broke the news that the Roy Jones Jr vs. Bernard Hopkins fight will more than likely not happen, what are your thoughts on that?
HL - Well all I can say is that I hope they can put it back together. It's two guys that should think about retiring, but you know how fighters are. I am sure that neither fighter want to get out, but if it takes both of these guys fighting each other to retire, than I am all for it.
BT - Jermain Taylor vs. Winky Wright seems to be a no go as well, what do you see in the plans for Jermain Taylor next?
HL - I think Jermain should look for another fight before Winky. I heard Sam Soliman's name mentioned, and then I heard Felix Sturm turned it down as well.
BT - What are your thoughts on the big upcoming Manny Pacquiao vs. Erik Morales fight?
HL - Well you know I am sure Manny will be better this time. The first fight I thought Morales won the fight rather convincingly, but then he moved up to 135 and got out-boxed by Raheem. I think the next fight with Manny and Erik will be much closer....
BT - How much do you feel the Reyes gloves will impact Manny performance this time?
HL - Well it really bothered him last time not to have the gloves he wanted. Manny is a puncher, and the truth of the matter is that they have to wear 8 ounces, and if you're going to take the padding out of the wrist and put it into the front to protect his hands, they are going to be like pillows. I think this next fight will much more competitive.
BT - Harold your thoughts on the big Heavyweight showdown between Hasim Rahman vs. James Toney.
HL - Ah man, I am looking forward to this one. You know James Toney.... (Pauses)  The one thing you have got to love about James Toney is he has so much swagger, and personality. Toney adds so much to boxing, and to the division... Boxingtalk cuts in
BT - Harold, James told Rahman that he's going to beat him with a pork sandwich (laughs)...
HL - (laughing) That's exactly what I mean, the guy is terrific. Win or lose James adds a lot to the game, and I am really looking forward this fight. James is taking on a huge guy that can fight and hits hard.
BT - Harold what is the first thing that comes to your mind when I say, Floyd Mayweather Jr?
HL - Sensational
HL - With out a doubt Brad, Floyd Mayweather Jr is the number 1 pound for pound fighter in the world today. It is a shame that Judah got beat the other night, and I hope Bob Arum can put together another big name opponent for that fight.
BT - Boxingtalk sources tell us that Mayweather vs. Zab may still go.
HL - Well without question it had to have lost some of its glamour if it does. Zab had an off night, and I think he looked past Carlos, and there was just too much talk about Zab vs. Floyd, and that messed him up. I tell you though, if the Judah fight doesn't come off, I would LOVE to see Floyd fight Ricky Hatton.
BT - I think a lot of other boxing fans wants that fight to happen to.
HL - Without question, Ricky has a great chin and he goes to the body as well as anybody I have seen in boxing. The guy can wear you down, and he takes it right to you. I am still amazed how easily he beat Kostya, he has that mauling style. Floyd on the other hand doesn't back up against anybody so this fight would make for a great boxing match.
BT - Harold you have been in the boxing game for a long time, who would you say the Floyd Mayweather most reminds you of
?
HL - Oh my, I would have to say perhaps Ray Robinson if he was a little taller. Floyd isn't the same kind of tall lanky fighter, but he has his hand speed and style.
BT - Harold talk about the upcoming fight with Peter Manfredo Jr vs. Scottie Pemberton?
HL - Well do you want to know the truth? I like both guys, and I don't like to pick winners in advance of the fight, but the truth of the matter is I have serious doubts if Peter Manfredo Jr is ready for a guy like Scottie Pemberton. I have watched Pemberton numerous times, and he is a gutsy son of a gun, and Manfredo may be jumping in there a little bit too quick if you ask me.
BT - Lastly, what are your thoughts on today's Heavyweight Division? Do you see any hopes of this division ever getting back to where it used to be?
HL - Well there are a few interesting things going on. Number one, Shannon Briggs has looked sensational in 2005, and I think he'll look better in 06. Number 2, I think Wladimir needed that win over Peter, and showed he really can fight. There is another big Russian who has one the best amateurs out of Russia in a long time, Chagaev. This guy can punch, he's quick, and he's the real deal trust me. With James Toney stepping up he also adds excitement, and I really think someone will breakout and make the division exciting again. Calvin Brock is another real big prospect coming up, and if Main Events does the right thing with him, he can be a real threat in the Heavyweight Division as well. They just need to be patient with this kid, and without question Calvin Brock is real prospect.
Send questions and comments to: bradcooney1@bellsouth.net