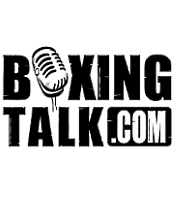 After weighing in for his bout, which takes place tonight on the final Broadway Boxing show of 2005, at the Grand Ballroom at the Manhattan Center in New York City. Undefeated Featherweight prospect Gary "Kid" Stark Jr. 12-0(6) took a few minutes out of his time, before grabbing a bite to eat, to give us his thoughts on his biggest test to date in tough Mexican Jose Hernandez 8-2(4) of Atlanta, GA. "He looked strong, and he looks like he is here to win, and because of that I think I am going to have the most exciting fight on the card." Stated the 25-year-old prospect from Staten Island, NY. In this one on one exclusive, he also talks to us about his signature boxing shoe and sneaker out on the Pro-Keds line, his good buddy Jaidon Codrington's loss to Allan Green and much much more.
RC: Gary what's good?

GS: Nothing much I just finished weighing in, and I am all set. I weighed in at 123 and my opponent weighed in at 125.5lbs. He is a real featherweight; and I am coming up in weight for this fight.
RC: You will be fighting Jose Hernandez of Atlanta, GA, what can you tell us about him?
GS: He is a southpaw; he has an 8-2(4) record, and a tough Mexican. I watched a little tape of him. He looked strong, and he looks like he is here to win, and because of that I think I am going to have the most exciting fight on the card.
RC: From the little that you did see on him, did you see anything you felt you would be able to go in there and take advantage of?

GS: The thing was is styles makes fights as you know, and he probably never fought a style like mine. From the tape that I saw, he stopped this kid Carlos Rivera and that dude wasn't really fighting. So I couldn't really see much, I mean I was looking at the little mistakes that he did. I just looked at his style and wanted to see how he throws his punches. I watched three rounds and that was it, after that I just cut off the tape.
RC: How far in advance did you know he was going to be your opponent? And did you have time to prepare for him in particular being that he is a southpaw
GS: We knew who we were going to be fighting about two weeks ago. So as soon as we found out we were fighting a southpaw, and we knew he was tough, we went out we sparred with Roberto Benitez, Mauricio Martinez and Allen Litzau. Two of those three guys are real top southpaws, real good competitors and real good professional boxers. We were sparring with them and they were giving me good work. And Allen, he isn't a southpaw but he gave me some great work.
RC: Do you plan to stay fighting at the 125-126 weight range or do you plan on going back down to Super Bantamweight (122lbs)?
GS: This fight was at 125lbs, but right after this fight I am going to go back down to 122lbs because I made weight for my 122lbs, because usually it is 122lbs plus one, and I made that weight (123lbs). I made 122lbs easy, and I spot him like 2lbs, so it really didn't make any sense. But it is hard to get fights at 122lb, so we have to step our game up and whoever wants to fight we gotta fight.
RC: At one point, you had problems making weight in the past, and now it seems that you no longer have those troubles. What do you attribute that to?

GS: Just watching what I eat really. I am a junk food guy, I love my sweets and stuff like that, but I have limited myself on that and plus we are always in the gym, and we are always training hard. The thing is, it is not hard to get fights at 122lbs, it is just that a lot of small guys aren't on the East coast, must of them are on the west coast and it is hard getting them here to NY. That is the real difficult part about it, and sometimes the promoter doesn't want to pay to fly them in. I know if I go to California, Mexico or someplace like that, I know I can probably get fights all of the time. Plus you know the little guys don't really get any recognition, but in this fight they are going to recognize, they are going to see who "Kid" is in this fight
RC: What's the deal with your promotional status, I mean you have been fighting on Lou…
GS: (Cutting in) I don't have a promoter at the moment. But you know I got Dame (Dash)(his manager), you know my father really gets me on the cards but Damon plays a big part too. Dame speaks on his end, and my father speaks on his end. So the two of those guys talking to promoters, they eventually come up with an agreement to put me on the a cards..
RC: Is this fight on Thursday night going to be one that gets your name …
GS: (Cutting in) definitely, every fight that I fight at the Hammerstein Ballroom is always one of the most exciting fights in the place. So it is nothing that I haven't been doing, it is just they haven't recognized my talents yet.
You know it is funny because my father and I were talking the other night, as you know we are humble about ours, and such nice guys. I don't talk about nobody, I don't really call anybody out, and we look at what is on the table and take what we can get. So I'm like damn, do nice guys really finish last? But in our case, we are not going to finish last, we are just taking our time and we are being patient. We got a lot of people that are good people to have around in my camp. Chris Gotti has been speaking to a few promoters, so if all works out and I win this fight, I might get an early Christmas present. If the knock out comes it comes but hopefully it will be a good fight.
RC: Lets turn away from you for a minute, give us your thoughts on your good friend Jaidon Codrington's devastating 18 second K.O. loss (To Allan Green)? And has his loss motivated you in anyway to stay focus knowing that on any given night, anybody can get caught slipping?
GS: It has been making us give it our all in the gym and it is making us work much harder. Jaidon just made a mistake in the fight that he probably regrets, and we regret also. But we look at the tape, we watch the tape and we see what he did wrong, so when we are in the ring we don't make the same mistake. We don't leave our hands down for a little bit, and Jaidon knows what he did wrong. Jaidon makes us work harder now, and every fight that I fight, I fight for my dude too. Even though boxing is an individual sport, we are still all together we are still all family, and when one of us fights we all fight together.
RC: It's clear you feel he just made a mistake, but looking back do you think that a fight with Allan Green could have been a bit much, too soon?
GS: You know what; I don't believe that it was a step up to soon. Because (Rhetorically) you know why? Jaidon was ready for it, Jaidon trained hard, Jaidon was in camp sparring with (Antonio) Tarver, and he was doing very well as a pro. The thing is this; we are not going to let anything hurt our camp. All the trainers looked at the tape and we all thought that Jaidon could mess with Allan Green, and we thought he could beat Allan Green, it turned out it wasn't… it (the loss) is a step back that we have to leap over. He made a couple of mistakes early in the fight; I mean people really didn't get a chance to see what Jaidon could do in that fight. Maybe it was nerves, but we all know Jaidon is an ill dude. We know Jaidon can box, we know that Jaidon is the hardest worker in the gym, so we know that Jaidon is going to come and bounce back, and he is going to be a champion.
For all of the people that think that Jaidon is out, and he is not going to box again, I want to let them know my man Jaidon will be back and he is going to be better that ever. With the Allan Green situation, you see I don't bath mouth any boxer out there, but when you are on T.V. talking about the heat (A Slang term for gun) coming out, that's not cool. You see we are not like that, New York dudes are not like that, and we have respect for other people. So let Allan Green know, yeah he won the fight, my regards to him, and yeah he is a good fighter, but Jaidon will be back. But to bad mouth other people and be talking about guns and all of that, it didn't have to be a situation like that. It doesn't have to come to get the gun, get this and get that. At the time everyone was just worried about Jaidon's health. His family was basically the ones in the ring. We all went down there to support Jaidon and that was it, we weren't starting any trouble. So he is in the ring saying "get the heat" then he said afterwards we were bad mouthing his parents, but that is not true no one was bad mouthing his parents or grandparents because all of use have parents. So I don't want all of those people out there to see what happened on ShoBox and think we are all rowdy and think "ooh those are them boys from NY", because we are not like that. We are good dudes, we went down with like ten people all the way to Oklahoma to go represent Jaidon, and nobody is into all that go get the gun stuff. Even though we know big dudes like Ja Rule, Chris Gotti and Dame Dash, we were not there to cause a scene or anything like that. And yo mark my words, Jaidon will be back, mark my words, he will be back and better than ever
RC: From what I have been hearing, you have a sneaker out through Pro-Keds now, w…
GS: (Cutting in) Jaidon, Curtis (Stevens) and I, we all have our own shoe. I got my own boxing boots that I am going to be wearing the night of the fight, they are crazy. We all have our own boot and our own sneakers.
RC: Do you think that makes guys want to try and knock you'll off even more, knowing that…
GS: (Cutting in) That is why everybody wants to try to beat us. They are hungry, and you know what they should be hungry to beat us, because this is boxing. That is why we train hard, because we know people are going to come out and take our heads off.
RC: Are the shoes available for sale?
GS: Right now they only have a few exclusive pairs out; we are the only people that have it right now. So hopefully we keep on wining our fights, and the people start recognizing the kid logo and everybody can go get a pair.
RC: What does the logo look like?
GS: They took an emblem of me hitting somebody with a body shot, so I got like a little Michael Jordan emblem on the boot, with black, pat and leather on it. They are crazy; if I were another boxer I would want a pair of "Kids".
RC: Anything else you'd like to add before I let you go?
GS: In closing I would like to thank all the people that come to support me. Not just my fans but I also get a lot of family and friends that come to support me. I really appreciate the love and support from the people that come down. The people that take off from their busy schedule, I know some people have work on Friday and they still come out Thursday night to see me fight. I really appreciate that. You know my grandfather comes all the way up from Florida to see me for all of my fights, he always show support and show love for his grandson. I just want to thank everybody in my camp, Andre Rozier aka uncle Dre, you know he makes my trunks (Havoc). My father Gary Starks Sr., of course he is always on my side, he has been yelling at me the whole camp (In a deep voice making fun of his dad) "Kid do this, Kid do that" (Father starts to laugh in the background at Jr. mocking him) you know he is always on me. Also Nermo, Victor Roundtree, and Mike my cutman.
RC: You said you are going to have the most exciting fight on the card, and now you are basically saying you are gong to pass this test with flying colors, are you leaning towards a predicting a knockout in this fight?
GS: You know what honestly, if the K.O. comes, it comes but you know I am going to go lay down my boxing ability and whatever happens, happens. No disrespect towards the other dude or anything like that, but I am going into this fight in shape. I had a good camp; I had good trainers on my back, my father, Nermo and everybody that looks out for me. I hope everyone enjoys the fights, I am not fighting bum or anything like that, I got a test that I need to pass and I will pass it, and not with a 65 either. I am going to give everybody 110% on this fight.
Send questions and comments to: ray@Boxingtalk.com