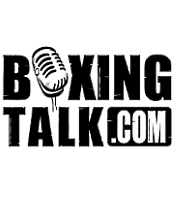 JA: Gary, what's the latest with Tyrone Harris? "I will tell you that he is back in the gym working his tail off. He has learned so much from his last fight, with what to do and not to do and I am going to say that Tyrone Harris is back to about 180% [laughs]."
JA: Do you think that Tyrone has grown as a professional with this past loss?

GB: I am going to tell you the truth James, everyone on Team Tyrone learned a lot from this past loss. Each and everyone of us had a job to do and we all failed, but we picked up all the pieces and we have become better.

JA: When will Tyrone be stepping back in the ring?

GB: March 25th against Armando Cordoba. He is a very good fighter, better than what his record shows. Armando has been in with some great fighters and it's a great comeback fight for Tyrone. A lot of people look at it as a come back fight for Tyrone, but I don't think that Tyrone ever left. It is a good fight on our return visit. The funny thing is that the only one that never put his head down was Tyrone Harris. Tyrone always held his head high, talked proud and made some big promises to some people.

JA: Will this fight be televised?

GB: No it will not. Its going to be a 10 round main event for the GBU Junior Welterweight title.

JA: What is the main goal in Tyrone's next fight?

GB: Tyrone is going to enter the ring and he is going to be himself and workman like fashion, he is going to be a great counter puncher, and he is going to wear him down and I would not be the least surprised if Tyrone Harris does not take him out in the later rounds.

JA: So the attitude is "If the knock out comes, it comes?"

GB: You know that is what got us to 14-0 and that is what we didn't do in out 15th fight. We learned two things from that fight, we learned that Tyrone Harris hits hard, and Tyrone can get hit when he is strictly in a offensive mode. We will never be in that position again, he has great defense and where not going to let him throw that out the window. Tyrone has a lot of great strengths, great power puncher, can punch with both hands. Tyrone Harris is a tough guy to beat when he is on his A game.

JA: Do you think that this is the perfect time to get Tyrone Harris back in the ring?

GB: I wish it could have been 25 days after his fight but we were on 45 day suspension. Of course are promoter Patrick Ortiz who we thing very highly of, where his family and he is our family. Patrick really stepped to the plate and when he called me he said "Alright GB do you want to give the kid a payday or do you want to put him in tough" and we both said lets put him in tough. That is the way its going to be from this point out. I would also like to make a comment. When people look at Tyrone's 14 wins and when they look at his opponents they will think that he didn't fight much. Each and every fight was methodically chosen to show Tyrone something different in each fight. In each and every one of his opponents some of them brought something to the table. Each and every fighter had something unique about them, but Tyrone broke them all down, and that is what he is going to do from here on out.

"I would also like to make a comment on something James. As manager of Tyrone Harris, I would like to thank our promoter Patrick Ortiz for everything that he has done for us. In my opinion he is the nicest, humblest, honest promoter that anyone could ever ask for. We will be with Patrick Ortiz for all of our career, and when Tyrone is ready to retire, I will go out and get some more fighters for Patrick. There is no better promoter in the world today than Patrick Ortiz.

JA: Is there anything that you would like to say in closing?

GB: Yes I would. I want to say that Tyrone Harris is one of the most loveable, humble, decent human beings that I have ever met. I am proud to be his manager and I am proud. He feels like he let people down. I feel that Tyrone went to college, and Tyrone graduated in my book.


Send questions and comments to: aldenjimmy@cox.net