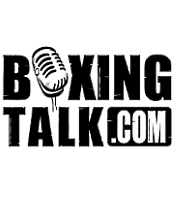 Darren Nichols: We got Floyd Mayweather here on Boxingtalk. Floyd what do you think about Castillo's performance in the ring tonight?
Floyd Mayweather Jr:"I think he took his time and executed the gameplan like a professional should do and he was victorious tonight and that's a good thing."
DN: How do you feel he compares tonight against when you fought him twice?


FM:"I can't say. He was a different fighter tonight. With me he lost twice and now he was victorious. I keep my fingers crossed that the other guy will fight again another day."
DN: What's next for you? What's going on with you and Gatti fighting?


FM:"I'm chasing Arturo Gatti down. I signed a contract six months ago. I'm chasing this guy down. We both have a chance of making big money in a mega fight. Eight figures, both of us. But this guy, I guess he's scared of money. I'm chasing this guy and he must want me to come to his door and ring his doorbell and sit down at breakfast or at dinner with him and ask him if he really wants to fight."
DN: As far as you're concerned you ca fight Gatti. You're ready right now?


FM:"Like I said before we have enough time. We have 15 to 16 weeks for the fight. That's more than enough time. I just want to fight the best out there. I would love to fight Kostya Tszyu, Arturo Gatti and Cotto but he's still green. The other day DeMarcus "Chop Chop" Corley got truely robbed. Cotto don't show me no threat but I would love to fight the guy because he has a big following and it's good for boxing."
DN: If you can't get Gatti is Tyszu the next guy you want to fight?


FM:"I'm the money man so they have to chase me. I'm not in the game to chase guys, I'm just telling you what big fights that are out there for me that I'm willing to take and make happen. I was willing to go to England and fight Ricky Hatton but they turned me down. I wanted to fight Kostya Tszyu this fight but they turned me down. Oscar De La Hoya moved down to 147lbs and I'm chasing this guy. All he has are excuses. Something happened back at home and I pleaded no contest to something I was not guilty of doing but I pleaded no contest just to make this fight happen. This is a big money fight. My biggest fight, I'm making crazy money so that's why I pleaded no contest. They told me once I got the case cleared that the fight was going to happen. If I knew that wasn't the case I would have not pleaded no contest. I would have went along and fought the case. Things happen in boxing. The only thing I want is my just dues and give me my WBC belt which they have to award me now."
DN: Pound for pound you're one of the best fighters out there. Whay do you feel like you're not getting the big money fights that you feel you should be?


FM:"I can't say that I'm not getting big money fights. It's like this. Any fighter that's fighting for millions of dollars, win or lose, you in a win win situation. This is legalized street fighting and you're making millions for it. Win win situation. I'm comfortable. I don't have to work another day but I'm doing this because I want to go down in history as one of the best fighters ever so I want to fight the best fighters out there."
Send questions and comments to: gleon@Boxingtalk.net