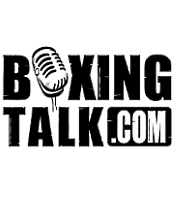 Video Interview By Darren Nichols Transcribed By Jose "OnFire" Aguirre
Darren Nichols: Erik it seems like you're facing one tough fighter after another. Am I right?
Erik Morales: "That's what we're here for to fight against the best."
DN: You've been fighting pretty much all your life. How do you prepare for Manny Pacquiao?
EM: "It's all about training hard. get good people around you. Get ready to fight, study the fight, know what you're going up against and then you go at it."
DN: Are you at Junior lightweight to stay or do you see yourself moving up after this fight?
EM: "We're going to try and surprise some people. Get this fight over and talk about what we want to do next."
DN: What do you think is the toughest challenge going up against Pacquiao?
EM: "I think it's a great challenge to fight a guy like this. I hope people see me taking these type of challenges."
DN: Win or lose people are going to be calling for Morales-Barrera IV. What are the possibilities of that happening?
EM: "It's not up to me. After this fight I have things to do. If they want to come up with me fine. I don't think they'll ever do it."
DN: The media loves playing you guys against each other. Is there really a hatred with you two?
EM: "You know it's real. You know it does."
DN: What does it stem from?
EM: "Alot of bullshit from the past. That's all I'll say."
DN:  What should people expect when you and Manny Pacquiao step into the ring together?
EM: "It's just going to be a great fight. You have two high caliber fighter. You're going to see a great fight."