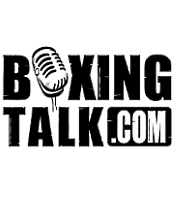 Augustus Makes A Guarantee: "No More Losses!"
GL: What's the latest on the situation in Michigan?
"I won't be able to tell you much until tomorrow. What's happening on Tuesday will be the reevaluation of the fight. They're going to look at the fight and see if the decision should be reveresed. As far as any of the other challenges, they're still pending and they'll be dealt with at a later date. As of this moment I am technically not under suspension and I'm still looking for a fight and sparring from whoever wants some." Augustus gives us an inside look into NBC's upcoming series "The Contender" and why he decided not to stick around.
Warning explicit language.
GL: I've been hearing that you'll be receiving a 90 day suspension for testing positive for marijuana....
Emmanuel Augustus: "If it happens, it happens. Out of everything that's been happening to me, out of all the lies and all of the things people have done to try to stop me, I'm just ready to deal with whatever they give me. I already know people call me at the last minute and then they've used that as something against me if I beat their fighter, but that's why I'm going to chill on that. I'm not going to give them any reasons to try and hurt me...outside of that, I've been training hard-core. Whatever happens as far as that suspension is concerned, when it's over and I come back the whole 140 pound division is going to be in trouble because I'm about to take everything. I'm about to get a promoter who is going to be behind me 100% and all of these cowards who wouldn't want to fight me because of my record, aren't going to have any choice now. They could talk about my record all they want but when I get them in the ring I'm taking them to school and knock them out."
GL: Shortly after the fight with Courtney Burton, Boxingtalk.com reported the possibility of you signing with Lou DiBella. What's the latest with that?
EA: "Everything is a question mark right now. We're waiting to see what happens in Michigan and then we're going to sit down and I'm hoping we come to an understanding."
GL: Is it important for you to only start fighting when some have some time to prepare for a particular opponent?
EA: "Hell yeah it is! I would love to have at least three weeks of training camp to get ready for a fight. That's more than enough time for me to properly prepare for a fight."
GL: What do you expect the people in Michigan's decision to be?
EA: "In a word, bullshit. The bottom line is they're still not going to give me the win. They're still not going to give me what was rightfully mine. What's going to end up happening is, the referee is going to be supported by the judges, the judges are going to be supported by the Michigan commission and that's how that's going to go. Ultimately, the person who should have won will still not win. There's no reason for the champion not be taken care of in this case. The reasons being given are petty and don't hold any water. The dude lost the fight and they could try to blame it on whatever they want. The bottom line is I kicked his ass and there's no reason I shouldn't have my W for that fight. They're not going to do that though, if they do anything they'll probably make it a no-contest."
GL: How much do you feel your record hold you back from getting bigger fights?
EA: "I'm going to tell you something. Let me get through this three month suspension thing, there's going to nobody able to fuck with me at the 140 pound division after that. Maybe the only one who would have any chance is Arturo Gatti. Not (Floyd) Mayweather though. He's up here trying to become a banger, but he better stick to running. Zab Judah? Please. But he done moved up a weight anyway. Anyone you can name at 140, Cotto, none of them, they don't impress me. When I come back on the set the only one with any chance is Gatti. Everybody else better stay out of my way but unfortunately for them I'm going to have to take a couple of them down on my way, so whichever one is brave enough to step in there with me, c',mon. There's not going to be any more losing for me. If you think I'm playing, come on and play with me. Now I'm trying to knock heads off. I'm still going to have fun but I'm going to be playing as much because I'm going to focus on knocking guys heads off!"
GL: How do you feel about some of the criticism you've received for your showboating in the ring?
EA: "Man I don't give a fuck about that. I'm an entertainer. The fans are the one's who spend the money and turn the tube on and say let me see what's happening. I perform for them, I give them something they want, entertainment. It's a shame that the TV people try to tell the people who watch TV watch they're supposed to like. Boxing is a sport that has a savage and brutal reputation to it. I give it glamour and fight with grace. Everybody looks like they're in pain in the ring, with me, it's almost like they don't want to see the fighters have fun in the ring."
GL: You were recently on the set of the Contender. What can you tell us about it and can you tell us why you're no longer there?
EA: "It's basically the same thing De La Hoya and them have coming out. I don't know much about what De La Hoya is doing, but they're going to have sixteen cats living in the same house together. Apparently they want them to do everything together...I don't like training with anyone else, I do it by myself and for myself. And how the hell does it sound to train with somebody I'm going to be fighting? They've got people living together and the shit is just crazy. They want to make it like that show the real world on MTV. Get the fuck out of here! I don't want to know nobody. And then they want to ask you all these fucking personal questions and shit, man go on with that. I was like fuck y'all, nevermind. And then when you're over there they want to be all cooped up and locked up in your room and I'm not going to jail for anyone. They don't want you do shit but stay there. Someone could say, yeah but it's worth it. Well, then go do it but it ain't worth it to me."
GL: I heard the reason you're no longer there is because you weren't getting with the program over there.
EA: "They want you in the room all the time. The only time they want you out of the room is when it's time to eat and whatever else is on the schedule. If it's not on that schedule you don't come out the room! I was like, man please. The thing about it is, everybody got their own rooms and they don't want you to talk to nobody. That's each other, people outside or anyone else. What's so fucked up is they make you sign a confidentiality contract, and I don't understand what the reason for that is if you're always cooped up in the room. I was only one there who asked that question, everyone else was just rolling with it."
MEMBERS CLICK HERE FOR THE REST OF THIS MUST READ INTERVIEW WITH ONE OF BOXING'S MOST OUTSPOKEN CHARACTERS
Send questions and comments to: gleon@boxingtalk.net