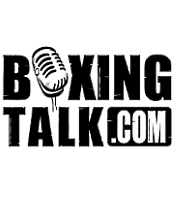 As officially announced in a recent press release, up and coming junior  welterweight prospect Edgar "El Chamaco" Santana 15-2(10) will look to close out the year on an eleven-fight win streak, when he takes on an opponent to be named in the main support bout on DiBella Entertainment's last Broadway Boxing show of 2005. Santana, along with his manager Ernesto Dallas, recently took the time out to speak with Boxingtalk.com about his upcoming fight, his future promotional plans and much much more.
RC: Edgar, it looks like you'll be fighting again on a Dmitriy Salita headlined card December 15th, what can you tell us?

Edgar Santana: Yes that true, and I am ready to go.
RC: Well before we get into your upcoming fight, why don't you give your thoughts on your last fight against Donnell Logan after viewing it on tape?
Edgar Santana: I felt the performance was pretty smooth. It took a little while, in the first round I was feeling him out. But going into the second round Hector Rocca told me to start putting on the pressure. I hit him with an uppercut and a right hand and it was over…
Ernesto Dallas: (Cutting in) One of the things is, the problem with that event is we had gone through five different opponents, and Donnell Logan was as last minute as you can get. We hadn't seen any tape, or anything on him. So in the first round we walked in there knowing nothing.  The first time we had even seen him move was when the bell rang.
Edgar Santana: Exactly…
Ernesto Dallas: Hector Rocca was asking me how does this kid fight and I looked at him like, I don't know, and Rocca told me "I guess we will find out when we get out there" and that was it. From what I understand he had a pretty good long amateur record.
RC: Hector Rocca is a very well respected trainer in the business and he often makes a huge impact on his fighters' life, what is your relationship like with Hector Rocca?
Edgar Santana: He is like a father figure to me. He is not only there for me in Boxing; he talks to me if I have a problem or whatever and helps me out. He is a pretty cool dude.
RC: Currently you are on a ten fight unbeaten streak, and out of your last six opponents five of them didn't make it to the final bell. After loosing twice early on in your career, what do you attribute this recent success to?
Edgar Santana: Overall just having a good team behind me with Ernesto, Hector Rocca, my cutman, Martin the second, just having a good team around me and being in condition, learning new things and getting more experience.
Ernesto Dallas: Preparation Ray, I will tell you personally he still has a lot of things to learn. Physically he has just as much athletic talent as anybody in boxing. The key is preparation, getting him the experience and adjusting his style to fight. Because he physically has the speed, the power the defense, the hand movement, the head movement, and the body movement, he has it all. It is just a matter of teaching him and giving him the opportunity for him to learn to put all of that together and that is what these fights are. He is now getting the opportunity to practice and do all of these things that he didn't do early on in his career. Edgar didn't have an amateur career. He barely had ten. He didn't have many amateur fights. And when he was an amateur he was too busy goofing off. So he never really competed on the New York amateur scene with any kind of seriousness. So now he is starting to get a lot of stability that a boxer needs to develop, he is just doing a lot of that stuff now. In the early part of his career, he was just fighting whenever; he was like "There is a fight? Lets go!" but now we are doing it with a little more professionalism. We gotta know ten weeks out there is a fight, preparation, sparring, tapes, and do the preparation that is necessary that as a pro you need to do.
RC: Edgar has been facing a decent level of opposition for a prospect being developed, when will he step it up a notch and what can of opponent can we expect to see him in against on the 15th?
Ernesto Dallas: We want to step up as soon as the promoters give us an opportunity to step up.
RC: Your last six fights have taken place on DiBella Entertainment promoted shows. What's the status with that, are you guys looking to sign with him?
Ernesto Dallas: Lou DiBella is interested, we are interested, and we have a good relationship. They have treated us well, he has a good team behind him, and Lou DiBella is definitely the type of promoter I would like to sign Edgar with, no doubt.
RC: Edgar, how do you feel about possibly working with Lou DiBella?
Edgar Santana: Basically I have been fighting for him like you said my last six fights, he has been treating us good and if I can keep working with him it would be a blessing.
Ernesto Dallas: It is a good fit. He is a New York promoter; we are a New York fighter. DiBella is doing a lot of stuff to help on these smaller cards. You know a lot of promoters just want to put big T.V. cards on, and DiBella is making an investment on these cards to help fighters like Edgar develop. So he has the right mentality when it comes to boxing and that is why we are definitely interested in signing with him.
RC: Edgar you were recently on a local station (WB11) here in the New York City, what was that all about?

Edgar Santana:  It was jut letting the people know about a few of the local New York fighters. They had Myself, Gary Stark Jr.  (Undefeated Featherweight prospect 12-0(6)), Shannon Briggs (Former Linear Heavyweight champion 43-4-1(37)), and we talked about our upcoming fights, where we train and things like that. Basically it was to let the people know that there is very good boxing talent in New York.
RC: Many people outside of the New York area don't know much about Edgar Santana, and I am sure people are starting to recognize you a little more, especially being on networks like the WB11 and a few other Latin stations as well, how are you dealing with the increasing recognition?
Edgar Santana:  You know want recently I have been having a lot of people come up to me and ask me if I am the fighter from Spanish Harlem. You know they must f them have seen me on American Latino, Channel 11 and it is cool, I like it. It is something that I want to do more of.
RC: You are pretty good friends with a couple of other well known up and coming prospects from the New York area such as Paul Malignaggi, Dimity Salita. Many feel that despite your two early career losses, you have what it takes to be mentioned amongst those guys, how long before you feel you'll be at the level that those guys are at?

Edgar Santana: Right now I more or less on their level. A lot of boxing fans don't know that, they don't know much about me, but I am sure little by little they are not going to have a choice. People are going to recognize me, and sooner or later they are going to know.
Ernesto Dallas: Also the thing is this, Malignaggi and Salita, the press that they are getting now, they have earned it, and they deserve it. Paulie and Salita have come up through the amateur ranks, people have known them. They have undefeated records, so everything that they have gotten now, they deserve because they are at that level. Edgar still needs the work to get to that level, he has to earn that; it just can't come to him because he wants it. Malignaggi and Salita has paid their dues to be at the level that they are at and we just need a little more to prove ourselves the same way. And that will come with time.
RC: Now I know you guys don't want to look past December 15th, but providing all goes well, what are your goals for 2006?
Ernesto Dallas: in 2006 I am looking for him to be carrying a show as the main event. That is our goals for 2006. I also want a couple of stiff eight rounders that is what we are looking for. Guys that are going to force Edgar and give him some more rounds.  But definitely by the end of 2006, I want to have him as a ten round main event carrying a card, wherever the card may be, but I definitely want him to be a main event fighter by the end of 2006.
RC: Any personal accomplishments you would like to achieve in that space of time?
Edgar Santana:  Well for me just experience, and more experience. Also just keeping buys, keep growing as a fighter and take it step by step. And by the end of 2006 I should be where I want to be at, and be known in the boxing world as a legit prospect.
RC: Anything else you would like to add in closing?
Ernesto Dallas: Thank you to Boxingtalk, come out and support all of the New York fighters not only Edgar Santana. Come out to Broadway boxing; come out to the Hammerstein ballroom. It is the best local show probably anywhere in the United States
Edgar Santana: Thanks to Boxingtalk.com, and all of the fans for their support. I hope that everyone gets a chance to come out and support me December 15th at the Manhattan center. You are going to see a batter fighter as I fight more and more and keep busy.
To find out more about Edgar Santana, be sure to check out his website.
http://www.santanaboxing.com/
Send questions and comments to: ray@boxingtalk.com