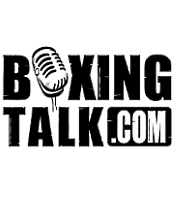 CATCH THE REPLAY TONIGHT @ 7:30 PM
In a back and forth give and take lightweight fight battle, a brutal barrage of power shots from Ebo Elder (22-1, 14 KO's) stopped Courtney Burton (21-3, 11KO's) in the twelfth round Thursday night in Santa Ynez, California. Elder suffered a cut over his right eye from a headbutt and had a point deducted for a low blow in round six, but showed a temendous amount of guts in one of this year's best fights. Ebo closed the show dropping Burton twice forcing the referee to stop the fight at 2:10 of the final stanza. Boxingtalk got the chance to speak with Ebo Elder and his father/trainer Greg who shared their thoughts on the fight and much more.
 

Jose Aguirre: What can you tell me about what was going through your mind throughout the fight?


Greg Elder:"I never lost faith that Ebo would prevail because I knew his heart was strong and he would never relent. I felt like we were in a very close fight the whole fight and didn't know we were ahead on the scorecards. I just believed that Ebo's reserve and his determination down the stretch would pay off. Fortunately he just had more heart."
JA: What type of things did you work on in preperartion for this fight?


GE:"We worked hard and we don't have any left handers in Atlanta except one that we can get any work from and he's certainly not in Courtney Burton's league so I was concerned about the left handed aspect more than anything and that's where Burton did most of his good work, left handed. We worked on shortening everything up and trying to keep the chin down. Working better inside working uppercuts. I thought he did a real good job throwing uppercuts, and working off a good, strong, southpaw jab. That was really what set the tone for the fight. I think it kept him at bay. I think it broke him down. That jab doesn't look like much but he landed it so many times I think it really just finally wore Courtney down. All things considered I think both of them fought the fight of their life. Both of them came ready and again I think it came down to Ebo's faith that if he just fought his best that when the bell was over he would prevail and that gave him the strength to summon up alot of intensity in that twelfth round. He saw he had hurt him and he went for the kill and it worked for him. I knew he was landing some great shot because his knuckles are never bruised and his first two knuckles on both hands are bruised. So he was landing some very powerful shots."
JA: As his trainer but most importantly his father, in a back and forth, give and take fight, were you worried about your son at any time?


GE:"Well, I'm always very deeply concerned. In between several of the rounds I just held his face in my hands as I watched him taking punishment and got him to look clearly into my eyes and made sure that he had presence of mind and wanted to continue. I think I asked him twice if he wanted me to stop it, once in the ninth and once in the eleventh. He never wavered, he never indicated that he didn't want to continue. Yes, I was very concerned. Very concerned because it's a hard thing, he'll always be my little boy to me, and it was very difficult to know that he was taking those heavy shots and taking it's toll. But I saw a heart that I knew would be strong through twelve. Out of the heart comes the great stuff and it prevailed. We never felt like we would lose the fight. I'm so glad it didn't go to the decision though because there are alot of people who would have said it was a bad decision. But we were four points ahead on one judge, two points on another judge and even on the third judge and that was with the point deduction for the low blow. But overall it was consistency that beat Burton down the stretch. Ebo stayed focus and had presence of mind under extreme adversity and all of that is a tribute to his faith in God. That God would delight him and give him the delights of his heart and we saw it come out. We both have an immense gratitude and confidence that Burton fought the fight of his life and came ready and we think we did alot for boxing. Both of the fighters deserve to be really esteemed after such a performance."
JA: How proud are you of your son?


GE:"Jose, words couldn't express the honor that I give to Ebo. I never saw a champions heart any braver in any arena that I saw in that fight. He never wavered. he never lost sight of who he is and what his job was. I'm in awe. I can't tell you. if I never get another blessing in life. If I never get another good thing, I've had everything. The greatest thing a father could ever have is to see the courage of a young son that would not give in. No matter what he goes through he's going to keep on fighting. And it was a beautiful thing, a truly beautiful thing. We learned alot. We learned Ebo has a good chin and we learned that anyone that fights Ebo they're going to have to kill him to stop him. i think Ebo gained alot of confidence in himself knowing that he can fight one of the best in the world and break him down over a period of twelve rounds. We're extremely delighted. There's no bravado here and there is no hype here. We'll be able to tell anybody you can be a champion in life at anything you do if you stay faithful and plug at it."
(
Greg Elder then puts Ebo Elder on the phone
)

Jose Aguirre: Congratulations on a beautiful ending to a wonderful fight. Did you get a chance to watch the fight and if so what are your thoughts?


Ebo Elder:"Actually I'm watching it right now for the first time. In the moment I'm usually harder on myself than I think other people are so I'm pretty happy with it now that I' watching it again."
JA: The referee began warning you for low blows in the very first round, what did that do for your gameplan?


EE:"It made me more concience about going to the body. The one that he actually took the point for we just not watched in slow motion a couple of times and that wasn't even a low blow. I know I hit him with a couple but that one was not even the one that was low. I don't think it changed it a whole lot but it certainly made me weary of going to the body. I didn't want too many points taken."
JA: What did you do in preperation for Courtney Burton who fights right handed as well as southpaw?


EE:"Being left handed we got some left handed work. The most we could. We knew that he would be a good inside fighter so we worked alot on inside fighting. Keeping shots fight with good defense. We also knew that we didn't want to get tired in the fight. I didn't want to move a tremendous amount because that will wear you out and it's a small ring. We worked alot on being balanced and fighting close to a guy and not have to move quite so much."
JA: Early in the fight, round two to be exact, Burton switched to southpaw. Did it have an effect on what you wanted to do?


EE:"It really didn't. I was fairly used to it by then with the sparring I had. He did good as a southpaw but it didn't really throw me off."
JA: At some point during the fight you began to reach with your punches and in the corner your father/trainer mentioned it to you. Did you realize you were doing this and how were you able to adjust and fix that?


EE:"Yeah, I realized it. It's really just a matter of calming down and being a little more patience and waiting to get in position before he throws you off. Not a huge deal but I did realize it."
JA: There were more than a few headbutts during the fight. What are your thoughts on this and what effect they had on the fight if any?


EE:"There were alot of headbutts. That was certainly rough. The cut came from a headbutts. I got hit with some elbows too but I don't know that they were intentional. I doubt they were. Courtney seems like a good guy and an honest competitor so I wouldn't say they were intentional. It was a rough fight all around. there were alot of elbows and headbutts. Just a physical fight."
JA: What did you learn about yourself from this fight?


EE:"It gave me alot of confidence fighting him. He's been in there with some good fighters and I believe this is the best he's ever fought. They even told us after the fight. They said it's the hardest we've ever trained, it's the best we've ever fought and we beat him. It gives me alot of confidence in that sense. I did take some good shots. It gave me confidence in my ability to take shots and still be able to fight well. You can always grow with experience if you're smart. This was a really good experience. I had twelve rounds with a great fighter.A left handed and right handed fighter so I should be able to take that and really work with it.. I think it's a god experience all around."
JA: Did the blood from the cut affect your vision in any way?


EE:"Yeah, you know it really did. I've been cut there before and it never really bothered me but this fight there was a good bit of blood getting in my eye. Towards the end they cleared it up but early in the fight and in the middle rounds it was giving some problems, seeing out of that right eye."
JA: There was also some swelling around your left eye. Did that hinder your performance in any way?


EE:"I don't think that actually hindered the performance at all. Courtney hit me with some good shots as a left hander. Left jands coming over the top. The swelling was noticable but it didn't really bother my vision, the blood mainly did."
JA: At any point of the fight were you hurt by Courtney Burton?


EE:"Yeah there were a couple of shots that momentarily I was a little bit affected by. I say probably the most affected I was was that shot after the bell. That shot after the bell. Luckily it was after the bell and I had a minute to get over it but nothing really long term. It was all momentarily. Trying not to get with two many of them though."
JA: Coming out for the twelfth round did you feel that you were behind and needed a knockout to win the fight?


EE:"I felt I was ahead but I knew it could be close. If a fight is close you can never complain if you lose. We've always said that if you want to win don't make it close. Even though I felt that I was ahead I felt the need to get a knockout. I felt that's just the way God planned it. I don't think it was meant to be a decision. There was meant to be a decisive victory."
JA: What went through your mind when you hit him with a hard left hand in the final round and you knew you had him hurt?


EE:"To be honest, probably nothing but thank you Lord. It was big and I knew that was it. I was expecting something and I knew it was going to come. I just didn't know when or how. And when it did I knew it was gift from God."
JA: Your Faith right now must be sky high to the fact that your trainer/father prayed in the corner and it turned out that your prayers were answered in the twelfth round. What does that do for your Faith now?


EE:"It's huge. It just proves what I already knew. I knew God was faithful and I knew He would honor obedience and He would honor our hard work. It's great. I can't say enough about how, seeing plainly before, God answering prayers. How great that is. It takes it to another level."
JA: I know you're thinking rest right now and probably alot of it but what are your plans for the upcoming year?


EE:"You're right about the rest. We're going to take a little time off, enjoy Christmas. I have a birthday coming up Thursday, enjoy that. I think we're looking for a world title. I think that's going to happen. i can see it coming down the road. For the whole year we've known that the seventh fight back would be for a world title. And that's what it will be, my seventh fight back is going to be for a world title."
JA: What can the fans expect from Ebo Elder in 2005?


EE:"They can always expecxt my best. if it's God's will they can expect more than my best."
JA: Is there anything you want to say to boxing fans around the world and on Boxingtalk.com?


EE:"Mainly, the people that have supported me and are behind us and believe what we are doing, it's not my show. It's our show and everyone involved can take equal credit because their prayers and their support are so important to me and they mean so much. And they do so much for us. We wouldn't be where we're at if we didn't have the support behind us that we've had. And I thank them. I appreciate it and this is a team effort. It's not Ebo' show, it's our show."
JA: Congratulation once again. Thank you for your time. I appreciate it.


EE:"Thank you. I appreciate it Jose."  
Send questions and comments to: onfireboxing@verizon.net