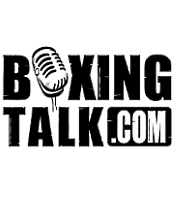 JA: Why do you think that you're in the wrong business Donnell?
 "I am a country boy from Ivanho, North Carolina. I really feel like boxing to me is a job, I train hard and do my work like I was going to a job and I take it very serious. I am not a trash talker, I don't feed into what people have to do to downgrade another to build there self up. I have lots of friends who are heavyweights that have been around before my time who have had title shots. Larry Donald, Owen Beck, Nate Campbell, that's to name a couple, but if we had to fight the best man would win. You know we would still be friends before and after the fight, when it comes to trash talking that's not my style. I know I can fight and I don't have to intimidate anybody or talk junk to get my own confidence up.
"When I'm home I spend time with my wife and my son, I enjoy life. I don't really keep up with boxing like some of the guys who read the websites everyday and to see what comment was said about them. I got a call the other day about what DaVarryl had to say and I still don't have anything bad to say about DaVarryl. I feel out of all five people that were named to possibly fight Nikolay, I think all five guys deserve a shot, all guys are worthy. Its not that I feel I am better than this guy or that guy. I don't feel like I have to downgrade DaVarryl or anybody else that says things about me. It's funny that he points out that I have a draw on my record on my seventh fight when DaVarryl got knocked out in his fourth fight by a guy that was 9-8, he then came back and got knocked out again. The worst thing that he can pull off my record is a draw, since then I been undefeated. I know DaVarryls shoe size is a size 13 because I seen his shoe size when he was laying flat on his back in the Joe Mesi fight (laughs). 
JA: Did it surprise you that he said those things about yourself?
DH: No it didn't really surprise me that he said those things. I look at Larry Donald and I love going to camp with him because he has had a lot of top fights. He been through two eras, the Riddick Bowe-Evander Holyfield era and he is hanging in there with guys from my era.  Me and Calvin Brock, we are the best two Heavyweights to come out of North Carolina professionally. I talk to Brock all the time and I can't think of any bigger fight for me than to fight Calvin Brock for the heavyweight championship of the world. Teddy Atlas and a lot of the guys on ESPN refer to North Carolina as a state to get opponents. North Carolina and South Carolina does have a lot of great fighters.  
JA: DaVarryl said set the fight up with you. Is that a fight that you would take?
DW: No not unless it was for a World title. That is my main priority right now is too be fighting for a world title, I am not worried about fighting some one over a grudge match or anything like that. If we did fight it would have to be the winner is going to get a title shot, no and's ifs or buts about it. I would have to have something in writing guarantying me a title fight against a fighter with a belt.
 JA: Have you talked with Don lately?
DH: I talked to Carl King over the weekend and the thing is that my name is in the hat with the other fighters. It's an opportunity but I hope that the money is right for whoever gets the fight. I would love to get the fight, but I would not get pissed off or mad if some one else gets the fight, but I hope that who ever gets the fight the money is right for the fight. It's a big thing stepping up fighting for the world championship and of course you want to win but fighting for the world championship is above and beyond fighting a regular fight, just making it to the level to get to a championship fight you should be able to get paid good money for it.
 JA: When would you like to fight next Donnell?
DH: I'm waiting. I seen an article online a couple of days ago about Nikolay's people viewing tapes on the fighters so I just have to wait and see.  
JA: Would you be disappointed if you didn't get the fight with Nikolay?
DH: I would be more disappointed if I didn't get the money that I think I deserve. I would be more disappointed in not getting what I deserve than not getting the fight at all. Who ever gets the fight out of us five I hope gets the money that they deserve. When you make it to the level of fighting for the championship of the world that is saying your umber two in the world, it's the champion and then its you. A lot of the fighters in every weight class will not make it and I think once you make it to that level you should be rewarded financially. To me that's what it's all about for me right now is the financial end of the deal, becoming champion is second to making some money. I was making ends meet with my other job. With boxing I thought that I could go above and beyond with making some good money. If I am not going to make some decent money, why would should I stay in the game and take the chance of getting hurt? I thought that more things would have happened with me after I won the wbc continental championship.   
JA: Do you think that you might have to take a little less money fighting for the championship and then if you win you can make the big money?
DH: I hope so. Like I said I am from Ivanhoe, North Carolina, a place where no one has ever heard of. DaVarryl has been around, Monte Barrett has been around, Ray Austin has been around, and Owen Beck has been around, how come no one has ever heard of Donnell Holmes? I think that I would get more attention because a lot of people would be like who is this guy that beat the Russian?
 JA: I know that you don't like to talk junk about people but if the fight Valuez falls through, is there another fighter out there that you would like to fight?
DH: Other than a championship fight, whoever would be the biggest money fight. Just like I was saying with my name not being out there with a televised name or house hold name it would be hard for me to get a big money fight. You look at Mike Tyson, he will always make money. If you go into any house they might not even say his name in English but they would know who Mike Tyson is. Once you get your name out there and with Mike he is above the belts. De La Hoya will always make big money with out even fighting for a World title.
 JA: How many times would you like to fight this year?
DH: Hopefully I can get a fight in the next couple of months. From then on after a fight I would like to fight every six weeks. My goal is to do something that has never been done before, and Don King talks about how he is the greatest promoter in the world. My goal is to win this world championship and do something that has never been done before and that is fight once a month for twelve months and then I am done. I would love to do it.  
JA: Is there anything that you would like to say in closing Donnell?
DH: If I win the title tell DaVarryl that I won't forget about him, because you always want to take an easy fight first (laughs).
Send questions and comments to: aldenjimmy@cox.net