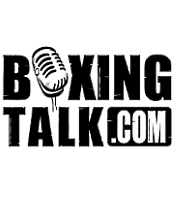 JA: For the people out there that don't know you Dominick, can you tell us a little bit about yourself and your company?
"Well when I first started 8 count productions my vision was too be a big promoter just like Arum, King and so on. It's been a building process since the moment I started the business back in 1997, I believe that we are growing and getting bigger. I feel that 2006 is going to be a great year and I truly feel that 2007 will be even a better one. I'm signing more talent, I feel that we have a lot of good prospects and obviously the talent makes the promoter. Hopefully we can get some of our own T.V dates and keep on growing."
JA: Chicago is a big boxing market, do you feel that your company stepped up to another level with the co-promotion with Main Events and Fernando Vargas?
DP: Yeah obviously having a name like Fernando Vargas helps to sell an event, I have to give credit where credit is due; Bernie and I were also instrumental in making this event a success. Fernando came here and helped by training in Chicago two weeks prior to the event, it just made it that easier to get people interested in the event. I think some of the bigger promoters such as Main Events, Top Rank, Golden Boy notice that Chicago is a great market especially with the Hispanics. I did a show with Golden Boy at the end of November and they recognized that the market out here is a great market. Where planning on doing a nationally scheduled show on January 6th on sho-box with Main Events.
JA: Have any of the fights been solidified for the January 6th card?
DP: All I know is that the main event on January 6th is going to be Jorge Julio but the rest of the card is going to be announced real soon.  
JA: Now you have a card coming up on December 10th, can you tell us a little bit about that?
DP: Yeah we have a great card with David Diaz as the main event, he will be fighting for the vacant IBA title against Ramazan Palyani, he was an Olympian and also undefeated. That should be a heck of a fight.  We have some real great cards coming up for the next few months.
JA: Do you think that your December 10th card may get overlooked by the Bernard Hopkins-Jermain Taylor re-broadcast and the Winky Wright fight later on in the evening?
DP: I think press wise we will get over looked this Saturday Night. I think its two different audiences, by the response of the ticket sales so far I think that we are going to be ok. I know that Julio Ceaser Chavez is coming in for the fight as long as Jose Louis Castillo coming in to support his brother, the Hispanics love him as well. The response has been really great.  
JA: David Diaz is 29-1 and also has a fight coming up on the 10th of December. Do you have great plans for him in the future?
DP: David had one little setback and everybody started to lose faith in David; I didn't lose faith in David. He's a tough kid and a true competitor, and with him moving down to the light weight division he feels a lot more comfortable. I think that this is a better division for him and I see him winning this fight this week and then fighting for a world title shortly.  
JA: Did 2005 exceed your expectations for 8-count productions?
DP: I feel that 2005 was a great year for 8-count, obviously the highlight of 2005 was the co-promotion with Main Events on the Fernando Vargas fight; we were really pleased on the way the promotion went with them. I think that was the highlight for us in 2005 with the quality of show that we were in. I see bigger and better things in 2006, like I said before I think that Golden Boy, Top Rank and the rest of the big promoters recognize that Chicago is a great market, I believe that they will continue to due business here in the future.  
JA: Tell us a little bit about the fighters that you have in your stable.
DP: Again we have some younger talent, we have Jimmy and George Gonzalez, both of them had stellar amateur backgrounds; both of these guys both want to fight real fights and they don't want to be pampered. The one thing with 8-count is that we always encouraged our guys to take the next step and to take fights that there going to learn from and not have pampered wins. You can pamper a guy to where he is undefeated and then when he gets in there and fights a big match he's going to fold. But if you take the right fights he can grow and develop into that fighter and prepared for when the big fight comes his way. I think Bernie my matchmaker has done a tremendous job of putting on competitive fights so that the fight fans can enjoy watching them. The fight fans here in Chicago are very intelligent people and they want to see good boxing, overall I think that 8-count has dne a great job of doing that. I'm already working on the 2006 schedule, I had talks today about bringing Julio Ceaser Chavez Jr. here in late spring early summer. Where looking to probably do about 15-20 shows our self this year in Chicago.  
JA: Is there anything that you want to say in closing?
DP: I think that we have great boxing fans in Chicago and if you want to see quality boxing come to an 8-count show, we produce quality shows. I think that the boxing fans again here are very supportive. If you want to get tickets for the event on December 10th or any other show you can call 1-312-226-5800 or you can go to ticketmaster.com to order tickets from there. 
Send questions and comments to: aldenjimmy@cox.net