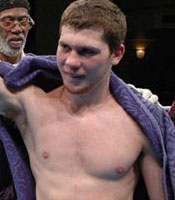 Salita headlines Broadway Boxing December 15!
Undefeated NABA Light Welterweight champion Dmitriy "The Star of David" Salita 23-0(14) recently contacted Boxingtalk.com, to inform us he'll be headlining DiBella Entertainment's upcoming December 15th Broadway Boxing Series show at the Hammerstein Ballroom in Manhattan, NY. Although no opponent has been solidified, Salita is already back in the gym and working hard. "I only took a week off after my last fight. Since then, I have been back in the gym." stated Salita, who also added "Starting Monday I am going to start taking it up a notch, then towards the middle of November I am going to go away to training camp and put the final touches on my preparation." Salita, 23, picked up the vacant NABA title this past August, when he stopped a very tough and durable Shawn Gallegos 15-2(5) of Las Vegas, NM in the 9th round, in a bout many at ringside felt was the most exciting performances of his career. Read on to see what else the Brooklyn, NY based prospect looking to turn contender pretty soon had to say.
RC What's going on Dmitriy? :
DS: I am feeling good; I'm getting ready to fight on December 15th
RC: Last time we spoke you were looking to get a spot on the December 3rd Taylor-Hopkins undercard, which obviously didn't go through. But when we spoke about that date, you mentioned you wanted to take a step up in class against maybe a former world title challenger or former titleholder. Are you still trying to do the same for the December 15th show
?
DS: I do want to take a step up in competition, but we will see if the Broadway boxing formula will be suitable for that. God willing if everything goes well this fight, we are trying to have a fight on HBO or Showtime and get some national exposure. The reason why I wanted to get on the September 3rd is because it would have really propelled my career in the right direction. It is on an HBO (PPV) undercard, and it is a big fight. I believe that I have graduated with my last fight, from the Broadway boxing series. It seems that I am going to have to do one more fight, which is fine for keeping busy, but definitely after that we want to take a step up in competition, and step up in stature.
RC: Are you saying this is your last Broadway boxing fight?
DS: I might go back to Broadway boxing later on, but after this fight the plan is to move onto bigger and better things. Broadway boxing has been real good to me, and it has been good for my development. It has also been good for building the fan base, but I think that for the next few fights, it is important to take it a step up. This series is always available, and I wouldn't mind coming back and fighting on it again, but I think that in the near future I have to step it up and fight on nationally televised networks against really good solid competition.
The Broadway boxing series is very healthy, it is good that it is there, and if you want to fight and stay busy its good. It is very well seen by the New York crowd, after these Broadway boxing fights more people has been recognizing me, and my popularity has risen. People know who I am now in the streets and I get noticed when I walk into stores, it is great. So I think that after the next fight it is going to increase even more.
RC: From what I understand the telecast with you on it was one of the highest rated shows, give us your thoughts?
DS: It was by far has been the biggest ratings for a Broadway boxing show. You know this last one had a little bit of a twist with Matisyahu (Hasidic Jew, Reggae singer) so people have really been entertained with the fight and also entertained by the ring extras, it is all a part of the show
RC: Can we expect to see him in your next bout?

DS: We will see if he is available in December, if he is not on tour then I will definitely try to have him up here rocking the house.
RC: Any names for possible opponents for your next fight?
DS: No names that I have heard of yet.
RC: At this point are you already back in the gym?
DS: Yeah, I actually have been back. I only took a week off after my last fight. Since then, I have been back in the gym, being that the month of October is filled with Jewish holidays, there were a lot of days off, but I trained in between and I stayed in shape. Now I am back to working with Dave "Scooter" Honig who is my conditioner trainer and I really see improvement as far as my strength and my speed is concerned. And I have been working with Hector (Rocca) on my boxing skills. I think I am getting better with every fight, but there is still a lot of room for improvement.
RC: When will you begin to take it up a notch in training and how does the progression go, as you go deeper and deeper into training camp?

DS: Starting Monday I am going to start taking it up a notch, then towards the middle of November I am going to go away to training camp and put the final touches on my preparation.
RC: How many weeks into camp before you start sparring and how long before the fight do you stop?

DS: I have been sparring here and there. I actually boxed with (Edgar) Santana about two weeks ago. So I have been staying in decent shape, and I will pick it up on a steady basis by the middle of next week, I will probably start sparring two to three times a week.
RC: Providing all goes well December 15th, what would you like to accomplish in 2006?

DS: I would like to become a regular on a network such as Showtime or HBO, and establish myself as one of the best. I would like to fight some of the best contenders out there and establish my name as one of the best guys in boxing. Towards the end of next year I would like to be gunning for that world title.
RC: Now that you are the NABA champ, what has it been like preparing for your upcoming bout as a champion?
DS: Its nice to have a belt around your waist, and you know it is nice to have accomplished something. But this is the beginning and obviously the goal is to get the real belt, a world title belt. But people in the gyms show you more respect. It is good man, I personally get excited and motivated by big events and challenges. So I hope that in the near future I will be presented with that.
Send questions and comments to: ray@Boxingtalk.com