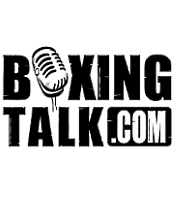 Duva speaks on Peter, Holt, Johnson, Minto and more!
GL: Can you give us some thoughts on Samuel Peter's performance against Wladimir Klitschko?
"I was very pleased with several things. Some serious questions about Sam that the public had were answered. He proved that he has a world class chin, world class heart and he's right in there in the mix with the top heavyweights in the world right now. His performance at such a young age also told me that he is the future of the division because he has not yet come close to reaching his potential. In a short period of time I believe he will break away from the whole division and be the best heavyweight in the world."
GL: So basically you feel he needs to refine his game a bit before he becomes the best heavyweight in the world.
Dino Duva; "Absolutely. In addition to being the best young heavyweight in the world, he's the exciting, fan friendly, TV friendly fighter that the division truly needs. He's going to help bring marketability back to top of the heavyweight mountain, and that's been missing."
GL: What have the discussions with HBO and Showtime been like since his loss to Klitschko?
Dino Duva: "Well they're all very interested in getting Sam back on their networks, there's no doubt it. Both Showtime and HBO are very interested in bringing Sam back and having him on. They've both made it clear that Sam is a primetime fighter and they basically agreeed with me that he could very well be the future of the heavyweight division if he refines some of his skills, but both networks recognize him as a primetime fighter.
"We all knew this fight was a big step up for him. We all recognized that Wladimir was a great heavyweight and one of the best heavyweights in the world. We believed in him and we felt he would win the fight, but we recognize that Samuel hasn't come close to reaching his full potential.
"I know there will be some people out there who say, well if that's the case you should have never put him in there with Klitschko, but that's BS. In the heavyweight division when you have the chance to become mandatory in two organizations, and even though you know you're guy might need more time but it's a winnable fight, you take that opportunity. And Samuel wanted to go for it. I'm confident that with a few refinement of his skills, style and cornerwork, I know this kid is going to be the most dominant heavyweight in the world very soon."
GL: Corner work is an interesting point. Do you feel he need a new trainer?
Dino Duva: "I wouldn't go that far. I believe they need help and the assistance of a top notch world class advisor, who could help Samuel in the gym and with fight strategy. I think fire the trainer is way too strong a word. The head trainer Pops Anderson is always going to be there. I do think that Pops needs some help to help Samuel succeed at the next level."
GL: Few heavyweights hit harder than Wladimir Klitschko, is it pleasing to know that your kid could take it as well as dish it out?
Dino Duva: "Well, we've been watching Samuel in the gym for years so we've always known that he has a great chin. Now the public knows it as well. I wasn't surprised at all from the heart, chin and guts he showed during that fight."
GL: Is there a targeted date for Samuel's return?
Dino Duva: "He's considering going to Nigeria to visit his family for a couple of weeks around Christmas time. We're not sure if he's going to take a fight before he leaves, or we might get him back into the ring shortly after he comes back from Nigeria, but that's something we'll know about before the end of the week and Samuel, his manager Ivaylo Gotzev and I have a couple of discussions."
GL: What else is popping with Duva Boxing?
Dino Duva: "One thing that I'm excited about is the fight that Brian Minto put on against Vinnie Maddalone. I always knew Brian had potential. He suffered a setback last year when he lost to Tony Tubbs, he came back and he's been working hard and in his first real primetime fight against a guy who gave him hell, the way he took apart Maddalone and stopped, really impressed me. With another good win or two he should be able to get himself into the mix with the other heavyweight contenders."
GL: I was chit chatting with Kendall Holt at ringside for Cotto-Torres, I know that's a fight he's just dying to make. What can you tell us about that?
Dino Duva: "Kendall's ready to fight Cotto now. We're basically waiting on Cotto or any other champion or top fighter that wants to fight Kendall. After the fight Bob Arum told me that he would do everything in his power to make Cotto's next fight at 140 against Kendall. They were even talking about Cotto fight Kendall on a small PPV in December. But that's not going to happen because he apparently suffered some sort of injury against Torres, according to what I hear. We're expecting big things from Kendall and there's some other young stars who we're very excited about..Oscar Diaz, Shaun George, Mike Marrone, the two heavyweight we've mentioned but then there's a third heavyweight that we have who I'm really excited about how he looked in his last fight, and that's Kirk Johnson. He looked great against Yanqui Diaz, who happened to knock out the highly touted Juan Carlos Gomez in the first round. Kirk has the talent to get in there with any heavyweight in the world an beat them. His mental outlook and focus is as good as I've ever seen it and if he keeps working hard I still believe he has the talent and ability to make a big impact on this division. Now that he's devoted, dedicated and focused, Kirk can beat anybody."
GL: Do you believe he can win a heavyweight title at OVER 240?
Dino Duva: "The most I'd like to see him fight at is 240. If he's over 240 I don't really think he's in the best shape he could be in and that hurts him a lot. As long as he's training properly and focused he certainly can become the heavyweight champion. We're looking to get Kirk back into the ring in the next couple of months and we're planning to break him back into the top ten against a rated contender so that's something else we're excited about."
Send questions and comments to: gleon@Boxingtalk.net