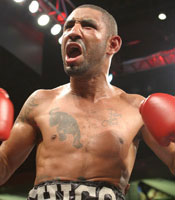 "When It Got Ugly, I Made Sure It Stayed Ugly!"
WBO lightweight king Diego "Chico" Corrales told Boxingtalk.com, "I came from the bottom and I've made it through it all. What can I say? It's been a wonderful few years, it's been pretty amazing. To take my first loss and be removed from the sport and society the way I was, making my comeback...to be where I am right now, it's honestly my dreams coming true. I don't know how to put it in words, but it's just been awesome."
GL: Bernard Hopkins often refers to himself as the American Dream. Is that how you're feeling right about now?
Diego Corrales: Yeah. I just feel that I'm more resilient than a lot of people. To take what I've taken and to do what I've done, in the fashion I've done it, because I've dealt with the good, the bad and bittersweet and never stopped rolling.
GL: Were you surprised when Freitas came out boxing?
DC: We anticipated it. I did expect him to want to stand there a little bit more, but we prepared for him to move. Joe was always adamant that he was going to move like and he did. He stayed on his bike and kept it moving. He never stood there and fought.
GL: Do you concede that you were getting outboxed early?
DC: He won some of the early rounds but I did the work that really counted. I dug to the body and stayed in his body. I wasn't landing any head shots and that's true...if I threw 50 head shots in the first few rounds I might not have landed any, but I was landing all of body shots and that really counted because it took his reserve from him.
GL: Did his speed surprise you at all?
DC: His speed did surprise me. I didn't think he was going to be that fast, and he was definitely a little faster than I thought he would be.
GL: At what point did you notice him begin to slow down? When did you know the fight was going your way?
DC: Midway through the third on into the fourth.....it's hard to say which round it was exactly, but I hit him with a body shot and I remember him letting out a deep sigh. With that one shot his paced slowed dramatically. It was a great left hook to the body. He just let out this deep sigh and I knew I had done the right thing. It hurt him, and it took a lot of wind from him. The momentum shifted into my favor at that point.
GL: How do you feel Freitas quitting will affect his career?
DC: I don't know. He'll have to deal with that. It could affect him negatively, but he was taking some punishment and it was a brutal fight for him. When it got ugly I made sure it stayed ugly.
GL: Since you don't want to give me the straight answer on that one, I'll rephrase the question. If you were in a fight where you knew it wasn't going to go your way and you were getting beat up would you continue to get beaten up, say no mas, or take a seat for ten seconds....
DC: (cutting in) Man you'd have to kill me before I quit! That's my position but you have to understand, not everyone thinks the way I do. I truly am not afraid for my welfare in there. I think of myself as a gladiator first. And gladiators knew that at some point they could be killed in that battle. As long as my mind stays in that sense, I'm always going to be the exception because I'm not afraid of my personal health in there.
GL: Can you tell who some of the other top guys you want to face the most are?
DC: Of all the names out there right now, I'd love to see me and Erik get together. Me and Morales would be an awesome fight. He's done very well for himself, but he couldn't say he owned the junior lightweight division. He says he wants to come up to lightweight, so why not? Let's figure this all out and find out who the best of all is. I think we're two of the biggest names right now so let's just make the fight and give the fans a real mega-fight.
SEE WHAT ELSE ONE OF THE BEST POUND FOR POUND FIGHTERS IN THE WORLD HAD TO SAY
Send questions and comments to: gleon@boxingtalk.net