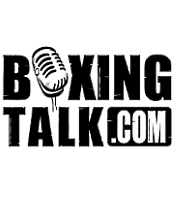 Boxingtalk caught up with rising Heavyweight prospect David Rodriguez 21-0 (20KO). With names such as John Ruiz, B.J. Flores in the Heavyweight Division, David Rodriguez wants to put his name into the mix of Hispanic Heavyweights as well. An impressive record of 21 wins and no defeats, and 20 Wins coming by way of knockout, this prospect out of El Paso Texas is right on The cusp of landing T.V. fights in the near future. Boxingtalk welcomes Heavyweight Prospect David Rodriguez.
BT - David, talk a little bit about your amateur career.
DR - Honestly, I didn't have much of an amateur career. I have been boxing since I Was 6yrs old, but only as a recreation. Ever since I was a kid, I have had a Natural left hook, I started competing at 15yrs old, but only a few amateur Fights.
BT - David you are 21 and 0 with 20 knockouts. Do you attribute your knockout Ratio to being a knockout artist, or the level of competition you have faced Thus far ?
DR - I am a knockout artist for sure, I can finish guys out. I hit hard with both Hands, and I also can hit fast. I can get guys out of there either way.
BT - How is your conditioning for getting late into the rounds ?
DR - I went the distance once, but it was just a 4 rounder. I work hard in the gym Every day. I tell the guys in the gym, if I can go home early, I will go home Early, who can blame me?
BT - David, Shannon Briggs has the same philosophy.
DR - Exactly.
BT - Your last performance was against Jeff Pegues (18-15-0), you knocked him out in 44 seconds of the first round, talk about that.
DR - I was supposed to fight this guy before, but there were some unusual circumstances, I broke my hand, and then I got really sick. So, I just waited until I got better, and then when it was time, I knocked the guy out in 44 seconds, I wanted to put an exclamation point on it.
BT - What's next for you David, do you see yourself stepping up in competition soon ?
DR - Yes definitely, now is the time to do it, I am 28 yrs old. I don't want to box too far into my 30's. I think my management is doing a good job for me so far, so I will wait for them. I feel the next opponents coming up with definitely be Step ups.
BT - Who's your team David ?
DR - I have Louie Burke as my trainer, and he was a hell of a fighter. Louie fought Camacho, Freddie Roach, he beat Freddie twice. He tries to teach me the things he learned coming up. I met Louie when I was 16, he took me under his wing. I have Bob Spagnola, he's the most awesome person to me. Bob is Italian, and from New York, he's a great manager. I have a great team, and we are all very good friends.
BT - What is your game-plan for the rest of 06 ?
DR - I would like to fight 3 more times before the end of the year ?
BT - Where would you like to see yourself as far as rankings go, in the next year ?
DR - It's a matter of how I get there, and the road I take. Next year, I plan on taking a really big move. I want to get more experience, and I need to keep getting in the ring to get that experience.
BT - David you're a Hispanic fighter, how important is it to you to gain that loyal Hispanic boxing fan respect ?
DR - I thank God that I was born with the last name of Rodriguez (laughs). Honestly, I am proud of my heritage, and I thank God I was born to be a Heavyweight, that's where the money is. I want to gain the respect Of the Hispanic following in boxing.
Send questions and comments to: bradcooney1@bellsouth.net