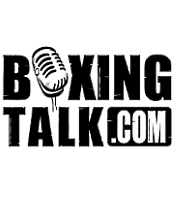 On February 10th, 2006 Danny Santiago (27-2-18KO) will fight a tough Rayco Saunders (15-7-7KO). Santiago, a native of The Bronx New York is looking to step further away from the prospect level, and closer to the contender level of the Light Heavyweight Division. With a trainer in Pat Burns ( Jermain Taylor's trainer), and a brand new management team  with Champions Management Group, Santiago is taking the right steps to do just that. Boxingtalk just caught up with Santiago and he brings us up to speed on his career, and his next fight in February.
BT - Danny thanks for talking to Boxingtalk.com
DS - Well it's my pleasure, it's an honor to be here at Boxingtalk.com I read you guys all the time.
BT - Danny you just signed with Big Star Productions, talk about that.
DS - Well first of all I have been blessed to be involved with a lot of good people from the beginning and now. I have been blessed to be involved now with Pat Burns. My new team has shown me that they are serious, and want to take my career to the next level.
BT - You fight Rayco Saunders on February 10th in Miami Florida, talk about your fight.
DS - I am going to go in there and do what I have to do to the best of my ability. I don't really know much about this guy, I haven't seen much on him. I am going to get in there and do what I learned in training, and let nature take it's course.
BT - Danny " The Bronx Bomber " Santiago. Where did you get the ring-name from Danny?
DS - Well I am from The Bronx, living in Florida now. I started boxing in New York, and I my relatives gave me that name because I used to be a pretty good baseball player, and plus I throw bombs, you know?
BT - Danny who is the toughest guy you have faced thus far in your career?
DS - I fought a guy named Tyrus Armstead one time, he doesn't have the best record but he was strong willed man. Tyrus just kept coming, and coming so I would say he was the toughest guy. I have two losses on my record, and they weren't the toughest guys.
BT - What style of boxer are you Danny?
DS - I will be honest with you, I can box, and I can do a little of everything. I am aggressive, and I try to knock my opponents heads off. I try to give the people their money's worth when they come see me fight.
BT - Talk a little bit about your amateur career Danny.
DS - I had about 80 fights, won the NYC Golden Gloves, and all of the major tournaments up there. I represented Flordia in the nationals, and the  internationals. I went to sweden with the international team.
BT - What got you into boxing in the first place Danny?
DS - When I was a kid in The Bronx I had a guy that lived next to me, a cuban guy. We used to call him Cuba, he was a boxing trainer. One day he asked me to come down to the gym with him, and I got hooked right away. Most of the people in my life thought I was going to be a baseball player, but once I started boxing I never looked back.
BT - What are your goals for 2006?
DS - I would like to see myself fighting in the top 10 in the division. Big Star has an agenda lined up for me, so I want to stay busy and as long as I am healthy, I want to keep fighting as much as I can.
BT - Danny you train with some pretty good fighters down in Miami.
DS - Well yea, I train with Jermain Taylor and an assortment of other guys. There is a very good atmosphere down here that I like very much.
BT - Glen Johnson is from Flordia, and he's a Light Heavyweight. Glen Johnson someone you want a crack at?
DS - Well I would love a crack at Glen Johnson. I have a lot of respect for Glen, I have known him for about 4 yrs now, and I commend him for what he has achieved through hard work. I would like the same opportunity that he has had though.
BT - Talk to your boxing fans Danny.
DS - I don't have worldwide fans yet, but I do have my fans in Florida, and New York. I want to tell them that I am a true athelete, and I will always give 110 percent at all times. I would like to thank Big Star for signing me, and I also want to thank  those who have been a big impact on my life in my past, such as Bronxchester Boxing, BadBoysBoxing, I don't want to forget those people.
Send questions and comments to: bradcooney1@bellsouth.net