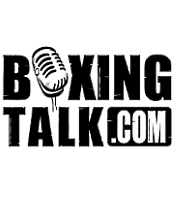 "Taylor Hasn't Been Tested Yet!"
After learning of the possibility that undefeated USBA Middleweight champion Daniel "The Haitian Sensation" Edouard could be facing Jermaine "Bad Intentions" Taylor as the co-feature bout on HBO February 19,  Boxingtalk.com contacted the all action slugger to get his thoughts on this possible showdown with the 2000 Olympic bronze medallist  Read on to see what one of the sports most exciting fighters had to say about his next potential fight.
RC: Daniel, we hear your name is being tossed around to take on undefeated 2000 Olympian Jermaine Taylor sometime February 19th on HBO, what can you tell us about that?

DE: Yeah that's true, we already accepted it and now we have to wait for them to accept it. But I mean it is still not definite because we are still waiting for Jermain's camp to say "Yes".
RC: When will we know if this fight is actually going to take place?

DE: Well actually tomorrow (Monday 1/10/05) or Tuesday (1/11/05) we should have an answer. I am hoping it is a go, because I am ready to do that.
RC: What are the chances of the fight actually going through?

DE: I don't even know, we have offered to fight them plenty of times. We have always put a bid in for the fight, and it never came through. But now HBO called, we didn't put in for the fight, they called us this time. So within a matter of minutes I was like yeah! So we called them right back and HBO accepted the fight and now we have to wait for they camp to accept it.
RC: How long did it actually take for you to say yes to fight Jermaine Taylor on HBO
?
DE: (Starts to laugh) about a minute. Once I got the call I was like Yup!
RC: How excited are you about the possibility of fighting Jermaine Taylor on HBO?

DE: That is part of your dreams coming up in the game, you always want to fight the best of the best and pray to God you come out on top, because that is what this game is about, the best fighting the best and seeing who the best is. Supposedly the winner of this bout will get the winner of the Howard Eastman versus Hopkins fight. So there is a lot to come out of this, it is just like the old days when the best fight the best.
RC: Why don't you give us your thoughts on Jermaine Taylor as a fighter?
DE: He is a good fighter; he has a lot of good skills. There is nothing negative you can say about him. He is good.
RC: How do you feel you'd do against Jermaine Taylor?

DE: Ooh he has never been tested. I am going to test him. Just like the Willie Gibbs fight, everyone was saying "ooh you are going to get flattered, you this and you that" and some people are going to say the same thing if this fight happen. But Taylor has never been pushed back, Taylor has never been tested, Taylor's chin has never been tapped, he has never really been hit. I mean he has fought some good names, but they didn't really test him. No one has really put that fire to him, of course he fought Joppy who is a big name but Joppy played into his game and tried to box him and do that little play, play pitty pat. There aint going to be any Pitty Pat with me, we are going to go to war and one of us is going to get hurt. It may be me, it may be him, you never know. Just like in the Gibbs fight, I got hurt, he got hurt, and I came out the victor, it is always a crap shoot when you have two of the best going at it.
RC: Form what I understand it is between you and Troy Rowland, since it is a pretty good possibility that the execs at HBO might read this, why don't you tell them why they should put you in February 19th  instead of Rowland to fight Taylor?

DE: Of course me because I am more of an exiting fighter. Troy Rowland is going to go out there and box. You see in this game, styles make fights, plan and simple. That is what promoters look at, that is what HBO and T.V. looks at, they look at the styles that are going to make good fights. Troy Rowland versus Jermain Taylor is going to be another boxing chess match, and I believe Troy Rowland will get beat by Jermain Taylor by getting out boxed. With me I am coming to fight, I am trying to take his head off. Trust me I am not trying to go in there and look cute, pretty and try and do all the nice "Boxing technique stuff (says in a girl tone)", I am going to use the technique I know, and hey I am  street fighter, I come from the streets. That is how I do it, that is why the crowd loves me, that is why HBO gave me a call, and that is why they should take me because they know it is going to be wassup. It is going to be something sweet.
You are going to have the Ali against Frazier type of fight, it is going to be me coming in there from the streets, and you got the Ali Pretty Boy Taylor dancing and doing his little dancing, and do his little jab jab cute thing, and I'm not with that, I am fitting to do what I do, which is fight. 
RC: Is there anything else you would like to say in closing?

DE: I just hope that the Taylor camp accepts the match so we can let the world see who the next up coming champion, the next promise of this middleweight division. I am hoping he makes it happen so we can make it happen and we can see what is up.
CLICK HERE FOR MORE OF THIS MUST READ EXCLUSIVE INTERVIEW
Send questions and comments to: rayocampbelljr@hotmail.com