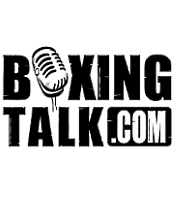 Video Interview By G. Leon Transcribed By Jose "OnFire" Aguirre
Greg Leon: Boxingtalk.com here, post fight with Undisputed Welterweight King Cory "The Next Generation" Spinks in his suite following the post fight press conference. You know how we do. Cory give us your thoughts on the fight.
Cory Spinks:"It's was a good fight but I dominated the fight just as I planned."
GL: With a guy like Gonzalez who everybody was expecting you to make easy work of, did it make it more difficult for you to stay focused and take care of the task at hand? Sometimes people get caught up with thier own press clipping and it makes things more difficult than it should be.
CS:"No because I have a great team to keep me from that. Plus I learned from my mistakes. I did that once a while back and I learned from it and I prepared myself for anything tonight."
GL: Your last three fights before this you went across the world to Italy to win the IBF belt. Then you had Mayorga. Then you had Judah. Now this was basically considered more of a stay busy fight  than the other mega fights were. Now that you have this behind you do you expect your next fight to be another mega fight caliber like Mayorga or Judah was?
CS:"Yes, I'm ready for it. I want to get a big money fight because I feel that I deserve that. I'm just waiting to see what the rest of these fighters are going to do. I handled my business now it's time for them to handle theirs and we'll see what's in the books."
GL: Gonzalez did a pretty good job of blocking your jab with the glove early on. Did that surprise you?
CS:"No because he's an old vet. He even fought some of the vets out there. He didn't surprise me. He's not like a typical mexican. he think a little bit more than the typical mexican and I knew that."
GL: How interested are you going to be watching the Kostya Tszyu-Sharmba Mitchell rematch?
CS:"I'm going to be watching that fight. The Mayorga-Trinidad. I'm going to be watching them all and just hoping who I want to  win, wins.
GL: When we first reported the fact that you were interested in fighting the winner of Mayorga-Trinidad at middleweight some people were taken back, like Cory at one-sixty? Could you tell us why Cory as a middleweight against the winner of Trinidad-Mayorga is a viable option for you?
CS:"Well, because it's nothing. They moved up, I could move up. It doesn't make a difference how much weight you put on. If you train hard you would always look spectacular."
GL: Has it been getting more difficult for you to make one forty-seven?
CS:"No it hasn't been. We do it with no problem. I don't know it just comes off."
GL: Floyd Mayweather. I did an interview yesterday with his advisor and Kevin at the same time and they basically discussed the fight but everything was pretty politically correct. Do you think that fight's ever going to happen?
CS:"No."
GL: Why is that ?
CS:"He was just talking. He's not even on my mind. I'm probably on his but he's not on my mind and I'm not even thinking about little Floyd."
GL: Kostya Tszyu-Sharmba Mitchell, how do you see that playing out?
CS:"I don't know. Sharmba has been looking pretty good. He's been wanting this fight. We have to see what he does."
GL: Kevin's told me that the Tszyu-Mitchell winner only interests you if it's Kostya Tszyu. Is that the same way you feel?
CS:"That's the same way I feel."
GL: Do you expect Kostya Tszyu to take care of business?
CS:"Hopefully."
GL: After two years off if you were working with Kostyz Tszyu and you were making his fights would you get into the ring with a southpaw like Sharmba Mitchell?
CS:"It depends what the boxer feels. if the fighter thinks he can do it let him in there and prove himself. he has to prove himself.
GL: This is probably your last fight of the year. What can we expect from Cory Spinks in the next coming fights?
CS:"Nothing but the best. To keep making more fans and Cory Spinks to keep getting better."
GL: Any point in the fight with Gonzalez tonight did you think you were going to stop him?
CS:"Yea, I did pretty much think he was going to give up but he came back with that mexican warrior mentality and came back. I take my hat off to him. He put up a good fight. What can I say? Sometimes you just run into people you can't beat."
GL: Mayorga was at the press conference. Do you give him a chance against Trinidad?
CS:"Yes."
GL: Kevin feels like he's going to beat Trinidad. Do you feel that way?
CS:"Well, hey, I just want to see how Trinidad looks. See what he still got. if he got it then it's going to be a tough, tough fight."
GL: Do you prefer to fight Trinidad though, based on the fact that it's probably the bigger money fight and you've already fought Mayorga?
CS:"Yes."
GL: How does Cory Spinks and Trindad play out?
CS:"Cory Spinks on top boxing his socks off."
GL: Whoooa. Is there anything you want to say to the people in closing?
CS:"I just want to say to the people that Boxingtalk is the best website in the world. I take my hat off to Greg Leon and what he's done with this website. And I just want to tell Greg Leon to keep writing good about Cory Spinks. Keep getting the fans."
GL: We gonna show you how big we do it. Get the shirt. The shirt that Cory Spinks wore into the ring tonight, he's going to autograph and we're going to give it away to one of our lucky members in a soon to be announced give-away. We're going to show you the authenticity  of what you're going to get. This is the shirt that Cory wore into the ring tonight right here. We got a sharpie, he's going to sign it and one of you all is going to get it. Aight. See the difference homey.