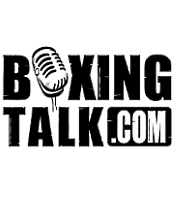 RC: What's going on Chris?
CS: I have just been working hard man, getting ready for this little jump off coming up, getting ready to go out there and do my thing.
RC: What can you tell us about your opponent Dillon Carew?
CS: He is a good fighter; I just want t put on a good exciting show. He has been a pro for a while, he is a former Olympian, he won a medal so I definitely have to come with my "A" game because he is a quality opponent
RC: How has preparation been so far?
CS: It's been good, I got my trainer here with me, and we have been working verrry hard. So I feel very confident about this fight. To me it is just always about putting on a good show. I think it….I know it is going to be a good show that night.
RC: Carew is a southpaw, who have you looked to for assistance as far as sparring?
CS: Just regular guys that I have been working with, I make the most out of what I got, it is never really too much about sparring partners and what not, it is about getting the type of work that I need you know what I mean? I'm in tip top shape and it should be a very exciting night.
RC: Despite him being a former Olympian and all of that, he is 15-11-3(11), is it hard for you to get up for a guy like this?
CS: Nah not really because for me it is never really about the opponent, it is always about being impressive, so I am always going to go in there looking to put on a good show regardless of who I am fighting. I never let that get into my mind, because I have prepared myself for each and every fight like it is a world championship., As far as I am concerned I always have to be on my "A" game, because these guys when they see that they are fighting for a title, they get up. I got other people watching me and I got to always remind them exactly who I am, and the only way you do that is by performing and putting on a good show.
RC: I did an interview with another Welterweight Luis Collazo and he said he would love to take you on sometime in the near future, is that a fight that you see yourself taking in the near future?
CS: No, I am not even concerned, that is not even on my radar. I don't think about that fight at all
RC: Is their any particular reason why?
CS: I am just looking for bigger and better things. At this point, I am not thinking about this guy what so ever, that is pretty much it. I like to talk about guys like (Kermit) Cintron, Corey Spinks and Margarito you know what I am saying? Guys of that nature, he is not even on my radar, not even a little bit.
I just want to get my upcoming fight out of the way then get ready for the big one.
RC: Last time we spoke, you said you weren't looking for any mid level fights and this is more or less a mid level fight, is it just to keep busy?
CS: Definitely, definitely I am just taking this fight to keep busy. When they told me that it was an off T.V. show, at first I didn't want it but then I said to myself I am not even going to act like I am so good that I can't take a fight like this. So I figured I am just going to go ahead and get this right quick. And if I am fighting for a World title in December or January, this would be a good tune up fight, or a stay busy fight and by the time my next fight comes around it will be about time for me to fight again because I usually fight like every two to three months so that will be good for me, so I looking forward to the fight. I am looking forward to looking good, work hard and just use this fight to prepare myself for the big ones.
CLICK HERE FOR MORE OF THIS EXCLUSVIE INTERVIEW
Send questions and comments to: rayocampbelljr@hotmail.com