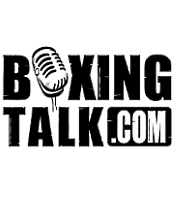 GL: Can you give us some background information on who you are, what you do and what made you get into boxing?
"Well, we have our management company, Violator who has 50-Cent, Missy Elliot and Busta Rhymes among other clients. We do everything from their music career to their endorsement deals, i.e., the Reebok deal for 50-Cent, the Adidas deal for Missy, the Mountain Dew endorsement that Busta Rhymes did and so on. What really led me to the boxing arena was my association with James Cruz and Damian Ramirez. They've been pounding me in the head for a couple of years about how we should get together and it was just a matter of sitting down with Winky and working out the situation."
GL: Winky told me that you're going to negotiating for him on behalf of Winky Promotions. How did the two of you link up?
Chris Lighty: "We linked up through Damian. And we the usual party style meeting, but we really got together when Wink came over to my house. We had a real positive conversation and he told me about his aspirations and dreams about building his own promotional company. I saw the same thing that I saw in 50-Cent or Busta...the enery that can be fueled to make a great brand."
GL: The music industry and the boxing industry are two totally different animals, what makes you think that you're going to be able to be successful as a boxing promoter?
Chris Lighty: "Well, they are two different animals but they're pretty much the same. At the end of the day, the angles that we're bringing will be done with the same energy that we brought to the music business. We're going to try to make it more youthful and try to rebuild a younger fan-base. We're looking to bring better endorsements as far as corporate sponsors, to the boxing game. We're trying to bring that edge that music business has. The Don King's and the great promoters out there are all up in age we want there to be some changes, but we want to make sure that this thing they helped build goes through the necessary part of that process. It's a necessary evolutin that's going to take place in boxing. Hip-hop when it first started, artists got the shaft and didn't make a lot of money. Now artists with their management teams are making $50M a year, why shouldn't we have boxing doing the same?"
GL: As a businessman on the outside looking in prior to Winky Promotions getting finalized, is that one of the things you felt needs some changing?
Chris Lighty: "Absolutely. Fighters need to know 100% of what's going on. As young African Americans and people of minority, we jump on the opportunity to make money. We see someone giving us $600,000 or $6M and we jump on it a lot of time instead of sitting back asking ourselves, if I'm making that what are they making? It's time that the fighters, being the asset know what's being made above and beyond what someone is willing to pay you. We're building brands and with Winky Wright we're going to bring a brand. The same way you see Winky in the Reebok commercial, we're going to build an association with Reebok and build up a Winky Wright brand by asking the questions that aren't supposed to be asked. Where's my money?"
GL: Winky has been mentioning the possibility of doing his own promotional company for quite some time. I spoke with Gary Shaw who represented Winky for his fight with Felix Trinidad and tells me that he'll be working Winky's December 10 fight as well. Gary also told me that he's hopeful to be negotiating for Winky as it relates to boxing beyond December 10. What has the relationship between you and Gary Shaw been? And how do you feel about his involvement beyond December 10?
Chris Lighty: "Once we announced the fact that Winky was going to be doing his own promotional company we were very forthcoming with Gary because we felt he has done a service for Winky, and the right thing to do is tell people what you're going to do. We told him we were looking to build on this together and instead we're at the point where we're playing press release. As far as after December 10, it's highly unlikely he'll be involved unless he has a come to Jesus talk with all of us, which I doubt. At the end of the day we're going to work with whoever we can work with. We'll work with Gary, we'll with Oscar, we'll work with whoever comes with the opportunities that are going to help us grow Winky's brand and bring the best fight out. The slave mentality that we worked with Gary in the past so we should still work with Gary now...those days are over. On December 10, we're going to be co-promoting at the Mohegan Sun with Gary and that's something that he wants to leave out, but it's going to be a co-promotion."
GL: Does what you described as playing press release have to stop for December 10, the official debut of Winky Promotions, to take place as smoothly as possible?
Chris Lighty: "I hope the circus act stops. Unlike myself, who doesn't really like to do press, Gary loves the press. I read somewhere that Gary was talking negatively about Shane Mosley's wife. When a guy does that what do you think he'll do about us moving on and trying to build up a successful business?
GL: When can we expect to see Winky Promotions signing some fighters?
Chris Lighty: "We're already talking with several people and we're looking forward to hopefully signing a few of them before December 10. We're not going out and sign ten boxers at a time. We're looking for quality over quantity so we can put in the right work for our clients so that the company doesn't implode over having so many people that we can't service them properly.
GL: Sometimes the networks are reluctant to deal with a new promtoer. Are you relieved to have a horse like Winky, who you know HBO HAS to air?
Chris Lighty: "It's a great thing to know that HBO, which I believe is the premier network in boxing, is willing to move forward regardless of our situation with Gary Shaw. This is all about Winky Wright, not the promoter and that's what it should be all about, the fighter. At the end of the day the promoter isn't getting into the ring and putting on the show, the boxer is. I respect HBO for standing up and we're hoping to sign off on the multi-fight deal later this week and it's pleasing to know that they consider Winky one of the best fighters in the world pound for pound and things always work out whenever the best are working with the best."
Send questions and comments to: gleon@Boxingtalk.net