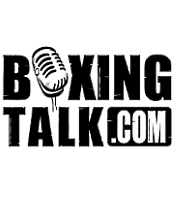 Jose Aguirre: Carlos, how you feeling?
Carlos De León Jr.:"Everything's good. I feel good, thank GOD. It's a good experience working with Winky and the whole team."
JA: How's training going?
CDL:"I'm training with Winky.It's going great. Alot of experience, I'm sparring with Winky and various boxers with good experience that have helped me. It's been a great help as this is the first time away to training camp and I feel great."
JA: To someone who has never seen you fight how would you describe yourself in the ring?
CDL:"I'm a natural boxer. I can box you like I fight you on the inside. I can dictate with any style and I know the fans will like my style. I'm big, 6'1 and I'm a hundred sixty pounds and I know how to box, move and fight. That's what I bring to the table and I have power in both hands."
JA: This year it seemed like you were off to a good start fighting in January and then in April.  What has happened since then that you have not fought?
CDL:"I was having problems with my mangers and promoters. I have been having alot of trouble with them. Thank GOD, I have people like Raymond, Damien who was one of those to help me sign with Winky. I'm getting treated well."
JA: What do you bring to table in the middleweight division?
CDL:"All I can say to all the middleweights out there to beware because this is my year. When you see me you will be surprised with Carlos "Sugar" DeLeon Junior of Puerto Rico."
JA: What do you think of the middleweight champions including a fighter who is not a champion Felix Trinidad?
CDL:"Tito Trinidad, Bernard Hopkins are two great boxers. They merit the respect. Trinidad is one that I give his props because he a great boxer who represents Puerto Rico and it's a great achievement but business is business. If we have to fight we'll fight. Like Bernard Hopkins, Oscar De La Hoya. Whoever is available and if I'm giving the chance. Given that moment and the right money is on the table we'll fight anyone of them."
JA: When did you become aware that you would follow in your fathers footsteps and become a fighter?
CDL:"I knew it since I was born. I was born with this. Since then I've had it in my blood. Athleticism, my mom was a champion black belt in karate and my dad was four time champion of the world in boxing. I came into this world with the blood of a boxer."
JA: How does it feel to have your father in your corner and on your team?
CDL:"I feel good that my dad is working with me but sometime we don't see eye to eye because he wants me to do in one day what he did in many years. That's the only downside. But with my dad with all due respect I'm happy that he's here."
JA: How do you feel fighting under the management of Winky Wright and fighting on the undercard of Wright-Mosley II?
CDL:"I feel great. This is a big opportunity. My foot is in the door thanks to GOD. And I have been training real, real hard for this fight and I'm going to win it. I'm going to show all world who I am. I have the skills and the material to be world champion."
JA: Anything you want to say to the people around the world and those of Puerto Rico who show you love?
CDL:"I just want to say to my fans in Puerto Rico and here to prepare for that day. It's going to be a different Sugar DeLeon. More intellegence, better boxing and the good preparation. This, I think, is the best shape of my life that I've had for a fight like this great event at the Mandalay Bay in Las Vegas. It's super, super important to be here and even more important to be ready to win and do a good fight that will open the doors to the levels of fighters like Winky Wright, De La Hoya and other fighters of that caliber."
JA: Thanks you for your time.
CDL:"Thanks."
CLICK HERE FOR MORE OF THIS EXCLUSIVE
Send questions and comments to: onfireboxing@verizon.net