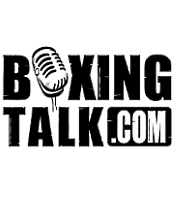 Las Vegas based fight manager Cameron Dunkin oversees a large stable of boxers, many of whom are on the verge of competing for world or important regional titles. We caught up with one of the major players in the American fight business as he was preparing for two of his undefeated charges, bantamweight Jose Aguiniga and light middleweight Jesus Gonzales to appear on Friday night's Telefutura card from Fountain Hill, Arizona. Dunkin has already brought 14 champions to a major world title during his career and he's on the verge of heralding a whole new invasion with fistfuls of talent in many different weight classes. You don't want to miss this exclusive interview with Cameron as he brings us up to speed on all the exciting things ahead for his talented gang of hungry young fighters, only on Boxingtalk.com! 
BT: Cameron, let's start off with one of your kids who's appearing on this weekend's Telfutura show, Jesus Gonzales
. 
CD: "He's going to be fighting eight rounds against Chance Leggett, a tough southpaw from Louisiana. This will be good work for Jesus as Leggett is a rough guy. If everything goes alright as I expect it to, we'll then have Jesus fighting in Phoenix on May 6th and then back in the ring on May 28th where he'll open the Julio Cesar Chavez pay per view telecast. 
"We've been getting Jesus a lot of exposure and keeping him extremely busy. I've even got a fight set up for him on June 17th, back in Phoenix, on Telefutura and then on July 30th he'll be back on a pay per view again. The idea is to run these five fights in about four months and that will give him nineteen fights under his belt, with a lot of big market experience. Then we'd be thinking about him in a Main Event fight sometime in the fall, maybe even going for a small title." 
BT: How about Jose Aguiniga, who's also fighting on the same bill?
CD: "Jose is fighting an eight rounder, off TV, and the only reason I put him on the bill is that I didn't want him sitting from his last fight all the way to June 3rd. That's when he'll be fighting for the NABA Bantamweight title. Steve Molitor just gave that belt up so it's vacant right now. Jose is ranked number 4 in the latest WBA bantam rankings, right behind a good Ukrainian southpaw, Wladimir Sidorenko, fighting out of Germany who just beat Julio Zarate. Hopefully Jose can move up the rankings even more after this fight and that's the direction we're going." 
BT: Are you concerned about Jose fighting for a good regional title when he hasn't made that weight for quite some time now?
CD: "He hasn't made 118lbs since December 2003, about 17 months, but we've had him down to 120-121 several times in the gym. When we did get his weight down the opponent didn't show up so we would have him fighting at weights like 123lbs because the replacement opponent we did get would be heavy. Jose could have been at 118 but I haven't stressed the need for that enough but that's where he belongs. You can see in camp when he's losing weight that he can make 118 and he's really looking forward to fighting at that weight." 
BT: What's going on with some of your other kids?

CD: "Well, I've got so many good solid fighters with me and they're all doing very well. Off the top of my head.... I've got a kid named Victor Ortiz who is just unbelievable and everybody is raving about him. He went to spar in Los Angeles against several top name guys and did extremely well. Everybody was telling him that he's going to be a world champion and I'm really excited about him. There's another kid out of that same stable, Brandon Rios, who also is looking really good. Those two kids are going to come pretty fast, especially Victor because he's already 7-0." 
BT: You have a youngster out of Pennsylvania, Carney Bowman?
CD: "He's fighting on April 22nd on a Telefutura card and then he's fighting June 25th in Atlantic City."
 
BT: Speaking of Pennsylvania, how is Anthony Thompson coming along?

CD: "I got offered a deal to have Anthony fight in the Philadelphia area, where he's from. The idea would be that Anthony would be fighting at a venue called The Lagoon where we're thinking about a 3 fight deal with PJ Augustine. The first fight would be on May 17th, followed by fights in mid July and then mid September. They'd all be on Tuesday nights and one of them would possibly be on a Tuesday ESPN 2 show. I'm thinking about doing this with Top Rank providing some funding. If we do it, the first fight would probably be against a good journeyman as Anthony has been off for a while but then I'd hope to have him fight somebody really good in July on ESPN 2. That's what I think we might try and do." 
BT: Okay, now onto your kids who are very close to getting title fights, such as Kelly Pavlik?
CD: "Kelly's a really good fighter and we're pushing to get him on Showtime and HBO but he might wind up back on Shobox again. He's also fighting May 28th, on the Chavez pay per view, but no definite opponent yet. I want to step him and continue to step him; I don't want to go backwards because he's just getting better and better and he just needs that push. We were going to fight Daniel Edouard but he took the fight with Jermain Taylor. We made an offer to Lou Dibella to fight Ike Quartey on HBO but I don't know where that's going but we offered to fight him. We're going to put Kelly in because I think he's ready so I don't want to hold him back. When a horse is ready to run, if you hold him back you miss the moment, so I want him to fight. I'm also working on something for him June 11th to open the Miguel Cotto show."
 
BT: Kelly looked great recently on Showbox against Dorian Beaupierre and you had a guy on the other fight of that telecast, Almazbek "Kid Diamond" Raiymkulov.
CD: "I'm trying to get Almazbek a fight with Joel Casamayor and I'm hoping to close that tomorrow or the next day, I don't really know yet but I think that's going to happen. Almazbek is an animal but it's just a question of whether he can hit Casamayor or not." 
BT: He was able to hit Gogoladze, who is a very different fighter obviously than Casamayor, but frustrating to fight so I think that, relatively speaking, the patience he showed in that one may bode well going into a matchup with Casamayor.
CD: "Maybe, but Casamayor is a real experienced, awkward southpaw and the ring is going to be 20 foot instead of a 16 foot ring. Casamayor is the more experienced guy, but I just think that Almazbek is so hungry that he's going to get it done during those 12 rounds." 
BT: How about Rolando Reyes?
CD: "He's fighting Jose Ojeda on Showtime for the California state title on April 22nd. That's going to be in Chumash, right outside of Rolando's hometown of Oxnard and also right next to Ojeda's hometown. It's going to be great with a lot of people there from both sides." 
BT: Steven Luevano must be close to fighting for at least a regional belt?

CD:  "Definitely and I've got him fighting on June 17th on Telefutura and we are looking for a NABA, NABO or USBA type of title, something like that." 
BT: Anyone else with fights coming up? 

CD: "Oh yeah, Zahir Raheem is fighting for the NABO 130lb title on June 25th in Atlantic City on the undercard of Gatti - Mayweather and I've got Carney Bowman fighting on that card as well. I've got Arturo Morales scheduled to fight Henry Bruseles in an eight rounder in New York on June 11th on the undercard of the Cotto fight." I might have Nonito Donaire maybe fighting Giovanni Segura who is something like 7-0-1 and who everyone is raving about because he knocks everybody out. I've got his brother Glenn Donaire, who is 9-0, also fighting soon.  
"I want to fight, I'm tired of waiting and I just want to go with so many of my kids. These guys can fight and I certainly think they can so let's just let'em fight. It's time and these guys need the big fights now. I've waited years getting these guys ready and a lot of them have records of 25, 26, 27 or 28 wins so I really want them to get the big fights now; they're ready. Hopefully they can win some of the opportunities that are coming their way and step through the door. We've gotten them here and now we just have to see if they can get it done. I'm ready for Pavlik, Aguiniga, Almazbek and Luevano to step big and also Thompson, Reyes and all my other kids are ready to go at their respective stages. 
BT: Is there anything else you wanted to add?
CD: "I think the boxing business has changed recently. It seems that the TV companies aren't signing fighters to long term contracts anymore. They're interested in making real good fights and if that's the case, what I perceive is that even if you lose, you can win because if you do well while losing you can still come back. If you get blown out in a fight and you lose, forget it but I think if you get out there and you can fight and it's entertaining, you'll be back on the air. They're not signing fighters to long term deals anymore where they televise mandatory defenses against guys who can't really fight competitively. They want to make good solid fights like Abdulaev against Cotto, Casamayor against Almazbek...etc. Look at Pacquiao and Morales, that almost did 370,000 homes. The TV companies want to see real fights and that's good for everybody because if you've got a kid who can really do it, he's going to make a lot of money and you don't have to baby him. You just have to get good, tough strong guys and let 'em fight. It's good for the public, it's good for the sport and it's good for the fighters. You can't ask for more than that." 
Boxingtalk.com would like to thank Cameron Dunkin for making this article possible.
Send questions and comments to: thomaspointrd@aol.com