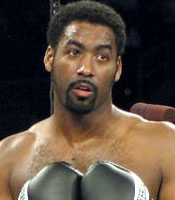 Brock to return on October 9 at UNC?
RC: Calvin, since the Klitschko fight fell through, we haven't heard much from you. When can we expect to see you back in action? "
Right now it looks like sometime around the end of October, or beginning of November somewhere in my hometown. It will be off television, Main Events just want to keep me busy and would like to test my hometown market until something comes up on Television."
RC: How do you think you'd do in your hometown, are you a familiar face in your area?

CB: Most people have heard of my name but they might not have matched it with my face. But with me being on TV a couple of times, people know me from all over not just Charlotte, I am going to do good wherever I go, and I am going to be a star and the Heavyweight champion of the world anyway. But as far as Charlotte I definitely have the support of the news Media and the radio, and hopefully people will come out. Nine times out of ten it is going to be at UNC Charlotte where I graduated from, so they will help promote it and look real big and they will help out a lot.
RC: From what I understand you'll be attending the Klitschko–Peter fight, why don't you give us your take on that match up?

CB: Man it's a tough one, you have two powerful punchers, and two strong fighters. Sam Peter is awesomely powerful, hungry, and he's quick. If he can get past the long reach of Wladimir Klitschko, keep from getting hit with his hard punches, and if he just get on the inside, and take Klitschko out of his game, he should be able to knock him out. Now at the same time, with Klitschko being a devastating puncher if he can connect with Peter trying to get in, he can take him out. So I think it is definitely going to be a knock out, I just really cant say who it is going to be. I am Pro Samuel Peter, so I am hoping Samuel Peter goes in there, handle his business and win the boxing match. But it is up to both of them; it is going to be a hard one to call.
RC: You mentioned that you are Pro Peter; explain to us why that is?
CB: Well he and I are friends. We have been friends since the 2000 Olympics; I met him in the Olympic village because he stayed right across the street from me. He is real cool, he came over to me and we started talking, we became cool and he gave me his number, address and everything to try and get him to the United states to turn pro, but I lost his number on the way coming back in the middle of all that packing and traveling somehow. But he ended up getting picked up by Ivailo Gotzev, his manager, because he was over there scouting at the 2000 Olympics. Then I ended up training in Vegas and ran into Sam at the gym and from then out we have been pulling together the whole time. He didn't have a car, I had a car so I would pick him up, take him to the gym, go out to eat, to the mall, boxing shows we went everywhere together. Then he even ended up training under my trainer, after Kenny Adams was too busy and started working with other boxers. I offered him to come over and train with my trainer and he was just totally delighted. Then we ended up being stable mates under Pop Anderson. Pop Anderson is like a second father figure to me, and I have known him (Anderson) since 1997.
RC: You almost had the opportunity to make your dream of becoming heavyweight champ a reality when negotiations were going back and fourth between your handlers and Vitali Klitschko's camp. That was until the WBC mandated the Vitali Klitschko fight the winner of Barrett-Rahman or be stripped his title. Is it kind of a damper to go from possibly fighting for a world title to fighting on a non-televised card?

CB:  Well, it was kind of very unexpected that I had to go fight off television because there is never too much money in fighting off television. On September 24th the opportunity that I had to face Klitschko for the WBC title, I can just say that the timing was bad. I was getting married on July 23rd, I would have had to leave one day after I got back from my honeymoon, I wouldn't have been able to, focus and train right. Also, I wasn't satisfied with the money I was going to get paid going into a championship fight. It didn't live up to my dreams so hey man it just wasn't God's timing for me, and everything has worked out well. I am happy with the wait; I was able to enjoy the first couple of months of my marriage before I had to head off back to camp. So that is a good thing.
RC: So basically your not really that disappointed, your just taking it in stride?

CB: Yeah I am taking everything in stride man, but just know that when I get my shot I am going to win it. It is like this, I believe Klitschko just like everybody else knows that I am the real heavyweight champion of the world that is why he was calling me out, I didn't have to call him out.
RC: Has there been any talks as to who you might be facing in your off-TV bout, I mean I would imagine being that it is off television he wont be a world beater, but can you give us some type of idea?

CB: Well like you said off television I am not expecting a world-beater of course. I mean a world beater wont step in there and fight me off television for that kind of money they would make fighting off TV anyway. But we are going to fight somebody decent, to stay active, and I have been told that this would be for the WBC Continental Americas Heavyweight Title, the same title that DaVarryl Williamson has just relinquished for getting a title shot at Chris Byrd.
RC: That's a good look. Speaking of DaVarryl Williamson give us your thoughts on his match up against IBF champ Chris Byrd on October 1st?
CB: I think he stands good chance. He boxes smart, he is tall, he has tremendous power, and he stands a real good chance.
RC: How about Toney-Guinn?
CB:  Based on the skills, the past, and experience. You would have to go with James Toney. But I am pretty sure that Guinn is going to get it there, and look at this as his last opportunity and put the best performance he has ever put on before he could pull the upset.   
He is talented physically and has the experience and maybe his new trainer (Joe Goossen) can help him. He is smart enough not to get his head knocked off, but he just has to get a little more confidence in his repertoire in the ring.
RC: Is there anything else you would to say to all the other Heavyweights out there that might be reading this?
CB:  Make sure all the heavyweights know that Calvin Brock is the real Heavyweight champion of the world no matter what.
Send questions and comments to: rayocampbelljr@hotmail.com