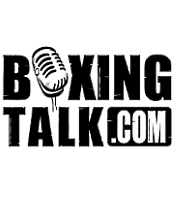 RC: Bronco, this must be a happy day for you, as Boxingtalk.com FIRST reported early yesterday morning, you will be fighting for the WBA Light Middleweight title, give us your thoughts on facing "Tremendous" Travis Simms October 2nd on the Trinidad-Mayorga under card in Madison Square Garden?
BM: Yeah I can't complain man, I didn't even know about it I got a call from one of my buddies that is vacationing in Maine and my phone starts ringing off the hook. I am excited, I can't even put it into words, I am excited I am pumped I am ready for this, this is what I have been wanting and I am just thankful to the Lord, my Lord and savior Jesus Christ that this opportunity has come to me and my family. I am not one of those guys that… I don't really talk trash, and I definitely can't talk trash about (Travis) Simms because I have to give him his props for stepping up and taking on a guy like myself. I don't have anything but good things to say about him for doing that. To me, he is what a champion is, and it's a guy that is willing to take on the best fighters, not the so-called mandatory number ones when we don't even know how they got their and all of that. He is willing to take on a known top fighter and risk it, and I am grateful for that.
RC: Were you expecting to fight for a world title this year?
BM: Yes, I was expecting it. I knew that they had been talking about Simms for quite a while. I knew that it was in the works and I knew that October 2nd was a possible date but I really wasn't hearing nothing, and I was just telling my dad, man I am getting frustrated, I am not hearing anything, this is getting to me, but when my wife and I read the news on Boxingtalk.net I was so excited. So we are just waiting to get some tapes of him. I already have one tape of him when he won the world title so I have seen him fight (Against Alejandro "Terra" Garcia).
RC: Is that the only fight you have seen him in?
BM: Yeah
RC: What are your thoughts on his performance in that match?
BM: I think he is a good fighter, he is a tough fighter, he got some good boxing skills and he punches pretty good too it looks like, so you know I will prepare right.
RC: Although it was only a five rounds fight did you see anything in that space of time that right away you feel you might be able to take advantage of?
BM: Well if I did I wouldn't tell you what it was (Starts to laugh) I don't believe in getting ready to go into battle and calling the enemy and saying "Look we are going to be attacking tonight at around 12 O'clock so have the troops ready.
RC: (Laughing Hysterically) Okay, when will you begin training for this fight?
BM: Well I have been in the gym for the past few weeks just staying close, basically waiting for the actual call, so I'll actually start picking up what I call my regular training tomorrow where I will be out of the bed early doing the things that I am supposed to do like eating right and all of that stuff.
RC: It was reported that in your last fight you weighed in at 170lbs, is making 154lbs going to be a problem for you?
BM: No because I didn't actually weigh in at 170lbs, let me tell you what happened. I weighed in the night before at 158lbs, and my opponent came in weighing 172lbs, so the state said their cannot be that much of a weight difference. So I weighed in the next day, the day of the fight dressed and I was 170lbs. You naturally put on about 8lbs over night anyway, so no I do not have a problem making 154lbs, I can make that real easy. Like I said I was 158lbs and that was without even having to strain. Everybody was like "Man! 170?" But that is not exactly how it worked.
RC: How exciting are you to get this opportunity? Not only are you get a shot at the WBA title, but that it will be taking place on the under card of a highly anticipated event and of that fact the fight will be taking place at the Mecca Madison Square Garden?
BM: Well that is cool; I mean that is cool to be at Madison Square Garden.
RC: (Cutting in, chuckling) Just cool?
BM: Yeah it is exciting; I am more focused on having the fight than anything surrounding it. It is cool man Madison Square Garden; I guess that is the ultimate, which is something that I told someone today that is where I feel I deserve to be. So I am thrilled about that, and the Trinidad-Mayorga fight that's a big event too and everything but quite honestly… the biggest thing in my mind that night is Travis Simms and nothing else.
RC: It sounds like you have a lot of respect for Simms as a fighter which is a good thing because he is a very respectable individual as well, but when it is all said and done October 2nd, where do you see yourself sitting in the division overall?
BM: Naturally I would like to win that belt, and then Kassim Ouma and Verno Phillips are fighting on the same night and I would like to see Phillips win that fight, which I don't know if he will, but I would like to see him win that fight then I would like to get back at him. But my main focus is Simms; of course I want to be on the top. I want to fight everybody in the division just like everybody else does when they get the belt. My main thing is Simms and then I will just let the pieces fall where they are going to and I just believe everything is going to come together for me, but the main thing is I have to be focused on Simms and Simms only.
Just like one time when I won the WBO title, and I guess the ring card girls were I think Penthouse pin ups from January to December one for each round of the twelve round fight. A reporter asked me after the fight "Man, what did you think of the penthouse girls" I said what penthouse girls? And he said "The ones that were working your fight" and I said I didn't even see them and he said "Are you serious?" I said look, if she was not swinging at me, I wasn't looking at her, I was looking at who was in front of me swinging. That is how I go into these fights and I don't care about anything else but who is across the ring from me.
RC: Put aside the fact that you want Verno Phillips to win the fight so that you can face him again, who do you think is going to win the fight in your opinion?
BM: I think Ouma, but I think it is going to be a tough fight, it was tough the first time they fought, but Phillips didn't know anything about Ouma the first time they fought. He just kind of went in there and took this guy on and still gave him a real good fight. I don't know though, I am edging towards Ouma but Phillips has been looking good as of late and it wouldn't surprise me if Phillips pulls out the win. He is who I want to win but I don't know I think it is going to be a close fight. It is one of those fights, that if I had to put a stamp on it I don't know. I mean I don't know, my edge is towards Ouma but I think Phillips has exactly what it takes to win so it is going to be an interesting fight.
RC: Is there anything else you would like to say in closing right now?
BM: No that's it, I am just thankful for this opportunity.
CLICK HERE FOR MORE OF THIS EXCLUSIVE INTERVIEW
Send questions and comments to: rayocampbelljr@hotmail.com