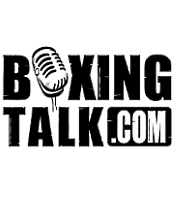 Hey McCline, Harrison ready to show he's A-Force....BIG TIME!"
GL: What's good Audley? Tell us about it brother
. "Let's just fire away and get right to it. The bottom line is, Jameel McCline, the fight is on. It's a shame that his promoter doesn't tell him what's going on. We already reached out to Cedric (Kushner) and we offered him $200,000. And now Jameel has accepted that $200 grand on Boxingtalk so it's on! On Monday my representatives will be phoning Cedric and he should have no problem signing on the dotted line. We'll him $200,000 for the end of December, January, whenever he wants to do it. As far I'm concerned the fight is done once he signs. My intention was to call these guys out, because we're trying to negotiate with these guys promoters and these guys managers and they're all talking but they're not taking the fight. I'm glad I called him out, because now he's accepted the fight and it should be on, so it's all good."
GL: $200,000 would be more than he made to fight Chris Byrd.
Audley Harrison: "Well, there you go. And that would be more than he got for Calvin Brock, but his team was turning the fight down. I guess he didn't know about it, but it's good to see he's going to step up and take the fight. Now all he needs to do is step up and sign the contract today and the fight will be done."
GL: If this fight comes to fruition and McCline signs today, what do you feel a victory over McCline would do for your career?
Audley Harrison: "The thing is, people say, 'who's he fighting? He's fighting a nobody.' My thing is whoever I fight my style will make the fight look one-sided. I'm hopeful that McCline is going to come in and fight. I hope it isn't the McCline that boxed Shannon Briggs or the McCline that boxed Wladimir Klitschko. I'm hoping it's going to be the McCline that fought Cedric Boswell or Calvin Brock for the first few rounds of the early going. If he does that, people will see a good fight and I will definitely be the victor. Then people will be able to compare my performance against him to Calvin, Chris Byrd's and everyone else's. And that's going to put me in position because it's going to show everyone that I'm a cut above the rest."
GL: How would you feel about a fight between you and Calvin Brock down the line? Do you feel that fights like that should take place to show the fans who the best young heavyweight in the world is without question?
Audley Harrison: "Yes. And I believe there's no comparison. We tried to get Brock for the last fight, we tried to get Brock for this fight and it's plain to see that his people are not interested in fighting me. I don't care what they say, they'd prefer to keep him away from people like me. Even though they've got no TV dates coming up, they'd prefer for him to fight a Kenny Craven or a David Bostice somewhere off TV. The bottom line is, they don't want to take the risk with me. I'm a big risk to any of those guys above me and they don't want to take that risk. Shannon Briggs? I don't think I should even respond to anything Shannon Briggs had to say. I don't have anything personal against the guy. He's ranked in the WBC#13 and I'm ranked #14. All that stuff he was saying to Boxingtalk the other day, the bottom line is, he don't want to fight. And that's basically he what he admitted. He'd prefer to fight Vinny Maddalone over me.  Jameel stepped up and now we're going to focus on Jameel."
GL: What's do you differently when dealing with the American press as opposed to the media in England?
Audley Harrison: "The biggest difference is in England I'm high profile and I've got a big rep in England. The Americans look at me coming over here and they look at my background and they want to see my fight because the jury is still out. In England, there's no question people know I can fight and people know I"m the future champion of the world. I think the Americans want to see me in a test but what they don't realize is, when I get in there with these guys that peole want to see me fight, I'm going to deal with them as I have my first 19 opponents. Hopefully that will satisfy them, and if it doesn't I'll have the belts around my waist to satisfy them. My mission will not be finished until I have the belts wrapped around my waist. I'm here to stay!"
GL: As your career continues to move forward do you feel more pressure from the press in England to expedite the process of you fighting for a world title?
Audley Harrison: "People haven't really heard the full story about why certain fights haven't been made. In England, I tried to make fights with Danny Williams, Matt Skelton, all those guys and I was unable to make those fights because we couldn't deal with their promoter Frank Warren so unfortunately those fights couldn't get done. A lot of those fights couldn't get done because of my promotional status. The bottom line is, I didn't come to America to lay on the beach and relax, I've come to America to show the world that I'm the next heavyweight champion of the world and there's no doubt about it. My learning curve and how I've been doing, there's been no stone unturned. I'm going to get to the top and when I get there I'm going to fight anybody, anytime, anyplace. I'm not here to do anything but make my mark and challenge the best, beat the best and put those titles around my waist.
"I'm happy that Jameel has accepted, I'm happy that he's saying he's coming as much heat as he can because that means this is going to be a fight where the American people get to know Audley Harrison and I'm looking forward to it!"
Send questions and comments to: gleon@Boxingtalk.net