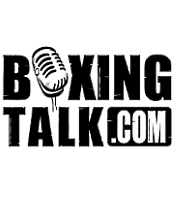 "I fully intend to stop Robert Wiggins!"
With the heavyweight scene wide open, and with boxing fans the world over hoping for a new name to restore the division to it's former glory, much attention has been paid recently to the likes of Samuel Peters, Hasim Rahman and Lamon Brewster. But are we overlooking the man with the best credentials of all...Olympic Gold Medallist Audley Harrison? Harrison, now 18-0 as a professional, is looking to take the final steps to world title glory, and he took a short break from his workout routine to speak to Boxingtalk's Matt Winsper about his upcoming fight with tough Robert Wiggins and his future after that.
MW: Audley, you're currently finishing training for Robert Wiggins, who is probably the toughest, most durable opponent you've faced yet. Are you gunning to be only the second man to stop Wiggins, or will you be happy to get 12 rounds in against a willing and decent opponent?
AH: I am looking to be the first man to legitimately stop Robert Wiggins (NB: his first stoppage loss was merely via injury). He is a tough opponent, but you can expect to see fireworks from me on August 18th as this is a very important fight for me. I am ready, have had a superb training camp and cannot wait to show the American public what I can do live on FSN's Best Damn Sports Show Period. I will display my full arsenal of talents on Thursday and fully intend to stop Wiggins.
MW: Will you be mindful that fellow contenders Monte Barrett and DaVarryl Williamson were pushed hard by Wiggins? Obviously to improve on their performances would be a big boost!
AH: I have obviously seen these fights and Wiggins pushed them both very hard. He only lost on a split decision to Barrett. I think by stopping Wiggins I will send a positive message out to the rest of the heavyweight division and show that I can be the future.
MW: With the current division wide open for a big name to take control of it, will we see a big push from you in the next twelve months?
AH: I hope to keep fighting regularly and keep winning. If I do that, then I will be pushing for a title in the next 12 months or so and the opportunities will be there.
MW: Who would you be targeting? Ruiz? Klitschko? Byrd?
AH: It's hard to say who will be at the top when I challenge as boxing can change so quickly, but when I do get to that level, it will be all about MY skills. Regardless of who is holding the belt at the start of the fight, they won't be by the end of it!
MW: Obviously the last 12 months has seen a few changes, notably in the BBC's decision to refrain from showing your fights, and also with your move to America. Ultimately, have these things worked out for the best?
AH: I always intended tomove to America, it just happened slightly earlier than I predicted. America is where the bigger fights are and it is a country that is very passionate about boxing and about heavyweights. Things have worked out well for me as living in Las Vegas gives me such superb benefits training-wise that I couldn't get in the UK and it gives me chance to build up my profile here before I push towards a world title challenge. I am very contented here and it is definitely for the best.
MW: Do you see a return to Britain at any stage, or do you think America will be more beneficial for you?
AH: You can never say never in boxing. I see my long term future being in America, however I cannot rule out returning to Britain if the right fight presents itself.
MW: Does that mean Danny Williams and Matt Skelton are out of your sights completely for the time being?
AH: At the moment I am focussing on beating Robert Wiggins on Thursday, but both Williams and Skelton need me for big fights and that is always something I have on my mind.
MW: Your power has seemed to increase substantially as a professional. Is this something you've worked on?
AH: Yes, in training we work a great deal on punching power. The professional game is so different to amateur boxing where winning is about point scoring rather than power. It is an area that I have worked hard on with Thell Torrance and you can see in the way I've finished fights recently that my power has increased from my amateur days.
MW: Some critics have labelled you as 'overly cautious', much in the way of your British predecessor Lennox Lewis. Is this because you're being careful not to slip up so close to a big fight, or is that just your boxing style?
AH: I am a technical boxer and I think that I have an abundance of skills. I am not a brawler so some people deem that as cautious. When I fight, I constantly set my opponents traps, and when they fall into the traps, then the time is right to finish the fight. It is not a cautious approach at all. I see it as a skillful approach and one that not many heavyweight boxers possess at this present time.
MW: Why will Audley Harrison succeed where recent title contenders have failed?
AH: Not only do I possess the hunger to win the world title, I also have the skills and the pedigree. My Olympic gold medal was an amazing feeling and it is spurring me on to win a world title as well. I want to show that I am the best, just like I did in Sydney and I am burning with desire to prove that I can be the best. I am reaching my peak as a heavyweight boxer and I have 100% confidence in my ability to reach the very top.
For more information on Audley Harrison, visit
www.audleyharrison.com
for all the latest news, views, previews and results, and be sure to check out
www.boxingtalk.net
for Thursday's Harrison-Wiggins fight report!
Send questions and comments to: mattwinsper@yahoo.co.uk