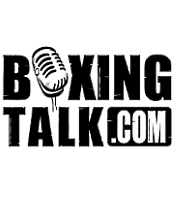 Three days after Christmas and Artyom Simonyan (14-0-1, 7 KO's) will try to capture the number one item on his wish list, a world title belt. Facing Israel Vazquez (36-3, 26 KO's) will be no holiday but Art, as he likes to be called, will be trying to unwrap his present and Vazquez' defense. Promoted by Art Pellulo and Banner Promotions, Simonyan is ready to make good on his life long dream. Boxingtalk got the chance to speak with him about his upcoming fight before the new year and much more.
Jose Aguirre: How is training going for your battle against IBF Champion Israel Vazquez on Dec 28th?
Artyom Simonyam:"We've been training very hard with some really good sparring partners. Feeling good and really excited for this fight."
JA: What type of things are you working on in preparation for this fight?
AS: "We have a gameplan but we've been working on whatever is going to work to beat Vazquez such as speed, lateral movement. We watch tapes. We see how Vazquez fights. We know it's going to be a tough fight, he's going to be in great shape so we're doing our homework. Hopefully we'll come out victorious."
JA: What do you expect from Israel Vazquez?
AS: "What I hear Vazquez is in great shape. He's going to come at you and it's going to be a tough fight. I don't expect Vazquez is going to come to give his title away. He's coming to defend his title. I will be in damn good shape and very well prepared to take the title away from him."
JA: What can you tell me about your last fight, an IBF title eliminator, against Fahsan (3K Battery) Por Thawatchai?
AS: "That wasn't one of my best performances by far but I did enough to win the fight by unanimous decision. I wasn't satisfied with my performance. I would grade myslef a C for my performance but I did enough to beat 3K Battery."
JA: For those that have never seen you fight, what type of fighter are you and what do you bring into the ring?
AS: "I bring alot of movement. Obviously I'm a boxer as you can tell from my record. I'm not a puncher or a one punch knockout artist. I box pretty good, I use alot of moves. Alot of boxing techniques. That's what I'm going to do. I'm going to box, box and try to outpoint Vazquez. Win the rounds and win the fight."
JA: How excited are you to be fighting for a world championship?
AS: "Very excited because it's been about four to four and a half years of  waiting to reach this point. I've been here four and a half years away from my family and my daughter for one reason and one reason only. To achieve this goal and win a world title. This is my biggest opportunity and hopefully we'll pull through."
JA: Share your thoughts on the super bantamweight division.
AS: "One twenty two there are only a couple of guys. Oscar Larios, who the WBC champ we saw defend his title a few weeks ago against (Nedal) Hussein. He a pretty durable, very tough kid. Throws alot of punches. Good fighter. Then we got (Israel) Vazquez. And the WBA obviously there is that kid from France (Mahyar Monshipour ). He'll never fight out of France so were going to forget about that one. I think after we win this title maybe we can focus on getting the WBC from Larios. If there is anything out there I can even move to one twenty six. For something good."
JA: What can we expect from Art in the upcoming year?
AS: "After we win this fight it will open alot of doors. Hoping to be more busy than I've been this year. Like I said, it will open up alot of doors. At this point I can't comment on what's on the table. First we have to win this fight. I can't predict what's going to happen. We're hoping I can defend my title or go for the WBC. Try to get that, unify. Whatever is out there, whatever I'll promoter Art Pellulo comes up with we'll sit down and talk. Anything is going to make sense and we'll go for it."
JA: Why haven't you been active this year. Your last fight was in May, why haven't you fought since?
AS: "I haven't fought since then because it was a mandatory. After I became the number one position it was madatory that Vazquez fight me. Apparently there was an IBF ruling that said I couldn't fight anyone and since Vazquez' last win when he won the title he hasn't fought since either. he's been unactive for at least nine months. Neither one of us could fight anyone else. We had to fight each other. For whatever reason there was the tv, the site, whatever it was it took a long time and finally the Sycuan Promotion and Banner Promotion come up with a way to make this fight before the end of the year."
Special thanks to Harry Kazandjian, manager of Artyom Simonyam, for making this interview possible.
CLICK HERE FOR MORE OF THIS EXCLUSIVE
Send questions and comments to: onfireboxing@verizon.net