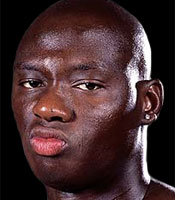 Tarver explains why he feels 50-50 for Tyson fight is fair!
GL: The last time we spoke you made it clear that for a Mike Tyson fight to take place you wanted 50-50. I'd like to give you a chance to elaborate on why you feel that way and the logic behind how you're thinking?
"I feel that in this world of business, it's not about what you've done in the past it's about what you've done lately. Looking at it from that perspective, I respect Mike Tyson for everything he has accomplished in the ring and the legacy that he has will live on long after he's gone. You can't take away his fan base because they love him dearly. Out of respect, I feel that I'm the type of guy that doesn't get involved in a lot of negotiations. Everyone has a price and I shoot straight, people think that when I come to the table I'm going to give a high number to work my way down to a lower number, but I don't look at it like that. I'm him know off the top what it is. And when I thought about it, I never mentioned any money. Even at this stage in the game the money hasn't been brought up, but I gave a true and honest feeling. Now that I've had time to look back on it, it's like what has Mike Tyson done lately?"
"Even though he was fighting some guys he was supposed to beat, they were big guys, they were strong guys, they were heavyweights, but everyone knows since then that Danny Williams is a solid pro, maybe even with the right fight he could become heavyweight champion of the world. I don't know much about the guy he lost to last time. I think that was just a lot of frustrations over the years piling up and I feel that Mike felt he had nothing else to look forward to. He gave it his best shot, he was throwing big shots at the guy early, and when he couldn't take him out he was getting tired when the big guy started leaning on him.
"My whole thing is what has Tyson done lately? He's lost his last couple of fights and he hasn't won a marquee fight in a long time. Yes he's Mike Tyson, but what entitles him to a $10M payday coming off of those losses? It's not warranted. I've been a model citizen for boxing, you don't hear about me being in trouble and I represent this sport to the best of my ability and I just try to be a role model to younger fighters, to show them that there is a better way and what do I get? I get flack for that. I defeated one of the best fighters in the history of the sport three times, I avenged every loss impressively and I get no credit or justification. I'm not mentioned at the top of a lot of pound for pound lists, and in 2005 I had a stellar year, I decisively beat the 2004 fighter of the year and beat Roy Jones Jr handily and I'm not even a candidate for fighter of the year? It's beyond me. It's just ridiculous. But that's not going to stop me because I'm doing big things and I'm going to continue to transcend the game and take it to higher levels.
"If they continue to fail to recognize me for the fighter that I am, I will continue to prove myself time and time again. And in doing so I'm making my move to heavyweight division and I'm not looking for no journeymen fighters to make a mark. I'm going after one of the best fighters to ever step into the ring, Mike Tyson. I'm going to prove to the world that not only do I belong in the heavyweight division; I am a serious threat to the heavyweight throne. And I get flack for that. I'm a smaller guy coming up from 175. I've never been hit by a heavyweight; I don't know what that feels like. Its unchartered waters for me and this guy is one of the most dangerous fighters in the world for the first three or four rounds regardless of his condition. I don't know too many people at 175 picking fights with this guy."
"If Mike Tyson is willing to step up and do it 50-50 regardless, and I'm the one gambling because he might not be the fighter that he used to be as far as his marquee goes. I truly feel that together we can do something beautiful, but there's not going to be a $10M guarantee for him if there isn't one for me. I'm not saying that I deserve more, I'm saying I deserve what's fair."
GL: If you and Mike are able to cooperatively promote the fight, something you and Roy Jones Jr really never did, do you believe there would be enough money in the fight to both you and Tyson could earn $10M?
Antonio Tarver: "That depends on the fans and what their interest in the fight. Without the fans we have nothing and I'm willing to say that I'm going to do my 100% best like I've always done to bring a fight to the fans and tell the people why this is an interesting fight. They should be commending me for being willing to take these dangerous fights so late in my career. I'm coming into the heavyweight division saying I belong and I'm using Mike Tyson as the measuring stick. What more could someone ask for? I'm taking a risk that most fighters are afraid to take. Most guys would try to pad their records before they retire. I'm taking on the most dangerous guy out there and I mean dangerous. I could get my arm broke or intentionally head-butted. This is a dangerous fight and I should be paid for it."
GL: If you're next fight is going to take place regardless if it's Tyson or not, where else is there a bigger payday than Tyson?
Antonio Tarver: "Greg, it's not about how much money I'm going to get. I'm the ruler of the light heavyweight division and there are a lot of fake champions out there holding my belts around. I feel that HBO would support me in any of those fights and those are fights I'm willing to do. There's the winner of Jeff Lacy and Calzaghe who would love to fight me so I have options."
Send questions and comments to: gleon@Boxingtalk.com