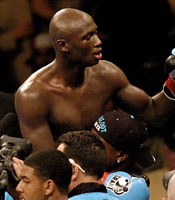 GL: Can you give us your thoughts on the Glen Johnson Vs. Roy Jones Jr. fight? "Personally, from the first round on it didn't seem like Roy was himself. Something was wrong, seriously wrong. The man just sat in the corner for the first round and I'm trying to find my seat but I couldn't believe my eyes. They say guys get old overnight and this is one of those instances where this guy looked like he was just a shell of himself. No disrespect to Glen Johnson, I don't want to take anything away from him, but my eyes saw the same thing everybody else's eyes saw. Roy Jones was there trying to think, but it wasn't coming together. I can only recall one time in the fourth round where he started putting some punches together, but other than that he was taking a beating from pillar to post."
"I got asked at least twenty times if I felt proud that I contributed to Roy Jones Jr.'s downfall. But I don't wish bad on no man. I know that Roy has a family that loves him. He has children. If I had any advice for Roy it's this, you don't need boxing anymore. I would love to see him continue commentating. If he wants to stay in the game he has his promotional company on solid ground so there's moves he can make. The last thing I want to see is Roy Jones Jr. impaired in any type of way.
"The guy has been knocked out back to back in devastating fashion. I knocked him out early, but I've knocked out most of the guys I fought. Glen Johnson isn't a big puncher and he still had enough to hurt Roy. That's a telltale sign that he shouldn't be in the game anymore.
GL: Do you feel that your two fights with Roy Jones Jr. took it all out of him?
Antonio Tarver: "Yeah. He definitely wasn't like that after he won the heavyweight championship. He was in one piece then. We broke him down and punished him for twelve rounds on November 8 and then we knocked him stiff on May 15. You know what Greg? He's not the first guy that I really finished. Eric Harding, Reggie Johnson, Chris Johnson and Lincoln Carter were all finished after I got done with them.
"I Mr. Retirement. I'm ending careers! And that comes from the focus and dedication I have for my work. When I'm in shape and I'm come in great shape, you can't just take that punishment for twelve rounds. It might look really devastating on TV, but when you're hearing those thumps throughout the audience, you know a brother's hitting hard. Johnson isn't noted for knockout power. He didn't knockout Judah, he didn't knockout Clinton Woods, but when a guy is broken and is damaged goods, they're not going to be able to accept shots well, and that's what we saw the other night.
"I'm not trying to discredit what Johnson did because I would never do that, but the man was just a shell of himself and anybody who says he wasn't is just lying to themself."
"If HBO even tries to attempt to bring Roy Jones Jr. back they should be sued for liability!" (Tarver burst out laughing)
GL: Was it disappointing to watch the third Jones fight, a big money fight for you, go out the window with this loss?
AT: "No. Because you know what? That's how life is. Antonio Tarver is still here and if you look at the big picture in boxing Antonio Tarver is going to shine brighter than anybody. It's time for the powers that be in boxing to recognize that I am, and will continue to be the face of boxing. I'm going to help bring boxing back to the top in the next few years and I'm going to take the boxing public on a rollercoaster ride the likes of which they haven't been on.
"No one has recently attempted to do the things I plan on doing, and that's taking boxing mainstream. Take it mainstream like only De La Hoya could. I need a company, a network such as HBO pushing me and marketing me and I'll do the rest. I've come this far myself so the sky is the limit if they start backing me properly. HBO has manufactured other guys into superstars deserving or non-deserving and I know I'm deserving. I accept all serious challenges and right now is just Tarver time in the game of boxing.
"Now I've got business to take care of meaning my mandatory and I'm looking for HBO to support it. Now they don't got nobody so it's time for them to turn a new page. Out with the old and in with the new. Who's carrying the torch over there? There's a lot of money available because a lot of those guys they had under contract are done. I want to see just how much they want to be in the Antonio Tarver business.
GL: Is the mandatory with Paul Briggs looking more and more likely with each passing day?
AT: "My whole thing is this, I'm going to have to fight somebody sometime soon. I don't know who that somebody will be but when the time comes I will be ready. If it's my mandatory, everybody knows I have an obligation to the WBC. If something could be worked out we'll do it, but all I want to do is get back into the ring and fight to give the people what they've been missing. The Magic Show that only I can bring them."
GL: You were sitting next to HBO suit Kerry Davis, were there any discussions about when you might return to HBO?
AT: "Of course. There's a lot of things being talked about. HBO has their direction that they want to go in and I think they clearly understand that I am one of the more recognizable faces in the game and there's a lot more for me to do. They want to give me that opportunity and they want to do it quickly because if you look at their household fighters, they ship is sinking. I'm thrilled that they've shown a tremendous interest in working with me. If I'm able to secure a deal with a company like HBO I think it's all gravy. It's something that I've worked long and hard for and I would certainly make the most of it. There is interest, there have been some dates mentioned and some opponents mentiones, so I'm all ears, we'll have to see what they come back with. But once I get into that ring I'm going to continue to show the boxing world what seperates me from the rest."
GL: How does a fight with Glen Johnson tickle your fancy?
AT: "It tickles my fancy because he has a portion of the light heavyweight championship and he has a win over Roy Jones. Defeating him will solidify myself as the king. I feel that I'm already solidified but he has a piece of the pie and I want to unify all of the titles."
GL: Should Roy Jones Jr. retire?
AT: "My personal opinion is that he should. What else does he have to give to the game right now? The man won the heavyweight championship and since then he won a controversial decision and then he got knocked out twice in devastating fashion. I just feel that if they love they guy and they respect the man they should allow him to just ride off into the sunset. People who know boxing will always recognize Roy Jones as a great champion.
GL: Is there anything you'd like to say in closing?
AT: "Like I said man, there's a new chapter in boxing right now and I'm leading the way! I'm trying to do big things! Boxing has been great to me, I'm blessed and I'm thankful and I want the fans to continue to recognize me, as long as they continue to do that I'm going to train hard, talk hard and bring them the best fights I could possibly bring!" 
MEMBERS CLICK HERE TO SEE WHAT ELSE THE BEST LIGHT HEAVYWEIGHT IN THE WORLD HAD TO SAY!
Send questions and comments to: gleon@Boxingtalk.net