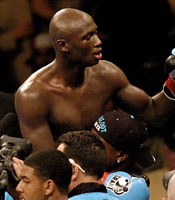 Magic Man Ready To Make Johnson Disappear!
Light heavyweight king, Antonio "The Magic Man" Tarver told Boxingtalk.com, "Everything has been going great. Sparring is good, I'm sharp already, I'm focused and I'm still hungry! I'm still hungry and that's the key, because I'm leaving no stone unturned and I'm not taking anything for granted. This will be my coming out party baby!"
GL: Throughout his career, Glen Johnson has been known as a tough fighter who comes straight ahead and throws a lot of punches. I'm sure you're aware of what he usually does in the ring, but do you expect him to come with something different on December 18?
Antonio Tarver: "I'm not worrying about what he's going to do on December 18. They say it's hard for a zebra to change his stripes, but I can truly say that I am only focused on Antonio Tarver. I'm focused on me being the best physical shape of my career. As long as my physical, mental and spiritual are prepared, I will be ready to take care of business and it will be a long night for Glencoffe Johnson....or a short night."
"I don't know what to expect from him, but he can expect to be in the ring with the best fighter he's ever faced. With my skills and ability, it's going to be new territory for Glen Johnson.
"You know I even surprised myself that I was able to return from the long layoff and come right back and get into this kind of shape. There was no ring rust or nothing and that has to do with my mental preparation. I know the job at hand and I'm eager to show these people what they've been missing out on for so long.
GL: Is it any more difficult to get up for Glen Johnson than it was to face Roy Jones Jr.?
AT: "I'm getting up for what's ahead of me. I'm getting up for the future, ya hear me? I'm motivated by the future and what's ahead of me. I'm new and improved G, they think they've seen something but I've yet to scratch the surface!
"My confidence in my ability, being comfortable in the ring, my defense, I'm just sharper than ever and they're going to see the whole entire package on December 18. And Glen Johnson is the perfect fight for me to show the world what they've been missing out on for so long. This is history in the making."
GL: Obviously anyone expecting an emotional letdown from Antonio Tarver after two personal fights with Roy Jones Jr. shouldn't be on it, correct?
AT: "Letdown? It's time to show the people that I deserve whatever I'm going to get. I'm a trendsetter, I'm going to change the game and we're going to take it to another level. They ain't seen nothing yet, this is just the new beginning of a new era.
"There's no room for error. I'm 180 pounds right now Greg! I'm lean, mean, sharp and I'm feeling good."
GL: Since your headlining the event as the A player, does that make you feel that this fight, and not the fights with Jones, is your coming out party?
AT: "My whole thing is, I've just matured as a champion and everyt time I step in that ring I understand that I'm laying it all on the line. It's my professional duty to come to that ring and give the fans 110%. There is a responsibility and I'm never going to take anyone or anything for granted.
"I learned from that with Eric Harding when I came in out of shape against Eric Harding. I have friends and I have family who have stood behind me from day one and I'm just going to step up to the plate and deliver the good every time out. I feel that I am a superior athlete, fighter and talent, and that's bar none pound for pound.
"The more Johnson brings the deeper I'm going to have do dig into this magic bag of tricks to make him disappear. This is my year, I'm claiming it with this fight, fighter of the year 2004."
GL: In your mind, does a win over Johnson solidify Antonio Tarver as fighter of the year?
AT: "That's something we'll leave to you and your friends G, but we're going to give them something to think long and hard about."
GL: What's the status of your long term deal with HBO?
AT: "It's really promising. They're network of champions and the biggest network in boxing. All of the superstars of boxing should be with the best network in boxing, HBO. I'm just biding my time and waiting my turn to sit down at the table to hash it out. I'm sure it's going to be fair for both parties. That's why I'm making sure I go out here and put on a beautiful display to show them I'm worth every dime that they're investing."
GL: Is there anything you'd like to say in closing?
AT: "Like I said, the magic show continues at the Staples Center on December 18, be there live or watch on HBO. Boxing fans will get their early Christmas gift on December 18." 
MEMBERS CLICK HERE FOR THE REST OF THIS MUST READ INTERVIEW WITH THE LIGHT HEAVYWEIGHT KING
Send questions and comments to: gleon@Boxingtalk.net