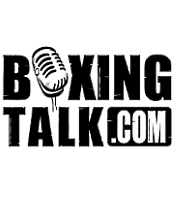 BT- Antonio, tell the viewers of Boxingtalk that are not familiar just a little about your self. "
I was always fascinated about boxing while growing up but actually found my first gym by accident. When I first got to Atlanta we were en route to one place and made a wrong turn and went down the street and saw a boxing gym. I was like "Dang, that's a real boxing gym" and stopped and I peeked inside and from there I asked the people what it costs to come to the gym and work out, stuff like that.
And I have been going to the gym ever since."
BT- Where we're you headed when you got lost, before you found the gym?
AD- Actually we were looking for a billiards place, to play some pool.
BT- You still play a little pool?
AD- Not as much, boxing takes almost all of my time (Laughs).
BT- How much amateur experience did you have, Antonio?
AD- I was an amateur for two years. I participated on the USA team and I fought in the Pan-Am's. I had a little bit of an amateur career, fought like 30-35 fights.
BT- Your last fight you actually went to China, how was that experience?
AD- I enjoyed China. The people were friendly over there.
When I got there, it was all about what I had to do. It was a new experience, the people there gave me the red carpet treatment, the press and media was around wanting to talk to me and that was a new experience. Its something to get used to, being on that type of stage, the more you are exposed to it the more you get comfortable with it and the more you can stay relaxed. Just got to do what you come in to do.
BT- Speaking of the big stage, in your next fight you will be there again. In the biggest fight in your 19-1 career is coming up against Koba Gogoladze, tell us what you expect. What kind of fight do you think it is going to be?
AD- It's going to be a fight that I'm going to win (Laughs).
But I feel that Koba is a decent boxer, I do feel that he has more of that European style but he is a pretty good boxer. He uses his legs a lot, tries to be slick and I feel that he is going to try to turn it into a boxing match. If we have to box I feel like I have the quicker hands, quicker feet and on the inside I am the stronger guy. I just feel that this fight is the right fight for me.
BT- Your last fight you faced a southpaw for the first time as a pro, a lot of fighters are troubled by the leftie style, especially the first time, but you feel different, tell us about it.
AD- The southpaw style, for some reason never really throws me off, why, I don't know. I just look at it as a punch coming at me, I'm either going to block it or get hit by it, but it never really threw me off. Where as most guys say "Oh, he's a southpaw, I couldn't get in my rhythm or it threw me off and that's why I lost the fight" but with me, I feel comfortable either way.
Even as an amateur, most of the fights that I was in, I would win "Most outstanding fighter" in the tournament when I fought a southpaw.
BT- So you think lefties just make your game better?
AD-Oh yeah, pretty much. And that is why they feel better matching me with southpaws now.
BT- You are originally from South Carolina but now been living in Atlanta almost nine years, what are your thoughts about another Atlanta fighter in O'Neil Bell putting the city back on the map a few weeks back?
AD- I'm proud of what O'Neil has accomplished. He is a very good friend of mine and an inspiration to me even before he beat Mormeck, he was one of the guys that was always in the gym, I started in the same gym where he trained at. He was one of the guys that basically took me under his wing, used to come and get me and take me running stuff like that. On a personal level, we are good friends. He was at my wedding and his daughter was in my wedding. O'Neil is a great friend even beyond boxing and will always be a true inspiration to me.
BT- You had Ronnie Shields in your corner for about two years now. Have you seen a huge change in your game since he has been with you?
AD- Yeah, man, Ronnie has been that missing link for me (Laughs). The confidence, as far as really teaching me how to think inside of the ring and how to take my style, what I'm capable of and my strong points and to explore them to make them better.Ronnie has been a huge plus in my career.
BT- Last thoughts, Antonio?
AD- To anyone that knows Antonio Davis, I just want to thank them for believing in me. Just stay tuned because there is a lot more coming from me. And for those that don't really know me, when they see me coming on the ESPN show they will be saying "Man, this kid can box" (Laughs). This is my first televised fight on ESPN and I want to give them a good show. And for Koba and his people, thanks a lot for taking this fight because it is going to get me where I need to go. I just want to thank them for being true warriors and accepting the fight.
BT- Special thanks to Brian Young with Prizefight Promotions.
Send questions and comments to: mkydos@yahoo.com