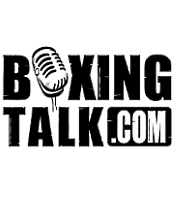 GL: What has it been like for you since you won the Gold medal?
"It's been a whole lot of phone calls, there's a whole lot of business being taken care of, but it's been great. I did everything that I wanted to do on that level and I couldn't be happier about how it ended up. Now it's time for me to take it to the professional level and achieve the goals I've set for myself on this level."
GL: Everybody who I spoke to on the amateur scene told me you were a D-O-G from day one, but when you were in the Olympics I think that you were making that scoring system they have work for you. Was that the case? And if so, what will we see differently in Andre Ward, the professional, that we didn't see from you in Athens?
Andre Ward: "You hit it right on the head with that one! I did exactly what I had to do. I made some adjustments to make it work for me. As a professional you're going to see me hungrier, you'll see me working more in the pocket...the best way to sum it up is to say you're going to see a whole lot of everything. That's the best I could put it to you. You're going to see a little boxing, a lot of work inside the pocket, you're going to see body-shots, you're going to see it all!"
GL: Will you be turning pro at light heavyweight?
AW: "I'm going to 160!"
GL: Get out of here, you're going to make 160 with no problem after just winning light heavyweight gold?
AW: "You got to understand, I weighed 172 pounds, I was never a full fledged light heavyweight. I thought I was going to grow into a solid light heavyweight, but it hasn't happend yet, so I'm going to be coming in over at 160 first, but if I can't make middleweight, I'll be at super middleweight for sure. I haven't been running five miles everyday like I would if I was a pro. I think that, plus getting better eating habits, will not make the weight an issue at all."
GL: When might we expect your pro-debut to take place?
AW: "Probably some time in December. That's what we're all looking at."
GL: Do you have any idea as to who your promoter will be?
AW: "That's all up in the air right now. Like I said, that's the ugly part, that's the ugly part and we're getting to the bottom of it right now."
GL: Four years ago, the guys who won silver and bronze medals received a whole lot of money. Since then the economy of the game has changed to the point that your Gold medal will probably not get you as paid as Rocky Juarez and Ricardo Williams following the 2000 Olympics. Does that frustrate you? Can you tell us how that makes you feel?
AW: "You always want to make that kind of money, why wouldn't you? When you sit back and analyze to put everything into perspective, I understand the game as far as the economy not being what it was. I understand that if I'm going to get anything, the bulk of it is going to come from what I do in the ring. As long as I go in there and do what I know I can do, I'm sure I'll get those dollar signs. What I'm banking on right now is staying hungry and that's exactly what this is doing to me. It's not frustrating, it's just taking my mind to a whole other level and it's helping me to stay hungry with the understanding that I've got to get everything that I want and everything that I need."
GL: Is there any concern about fighting four three minute rounds, do you expect it to be a drastic difference from what you're used to?
AW: "That's a good thing. Like I said earlier, I've got to speed my style up. Once that happens I'm stepping it up and I'm going to be on top of everything and the people are going to see some beautiful things happen. I've been doing twelve rounds in the gym since I was 14 years old. I know it's another level when you're a professional, but I'm confident that I'm going to be able to rise to the occasion. I'm going to do whatever's necessary to reach my goals.
GL: Winning our first Gold since 1996 will bring a lot of attention to your career. Do you welcome that attention?
AW: "It comes with the territory. From the jump I had an understanding and I just believed that God wanted me to go get that Gold medal. And everything that has come off of that, I know I'm built for. I'm strong enough to handle everything that comes with that. I understand that everybody is going to coming at me and I recognize that I'm going to have a bullseye on my back, but I know that God has built me for that. I know that he's going to guide my path and that's what I pray for. For the Olympics, instead of trusting myself I trusted in God, because he's bigger than all of us. As long as I'm doing that I'm keeping God happy and as long as I'm keeping God happy and keeping God first, everything else will fall into place. I'm a praying man and as long as I stay that way, I'm not worried about anything that gets in my way."
GL: What's the biggest obstacle you've had to overcome inside or outside of the ring during your road to the gold?
AW: "Getting past the fights was one thing, but for me the hardest thing about it all is staying away from family for so long. The second thing is the training and making sure you're doing everything right. There is no tomorrow and I understood that, I knew that there wasn't going to be a tomorrow for me if I lost one fight. That kind of pressure you put on yourself in training is something you think about everyday. I had the same mindset at the Olympic Trials and at the games when I got there. Just being in the village itself, the media...for instance after I beat the Russian, the reporters had this 'you're going to take the whole thing' attitude, but I didn't have that. I had a different mindset, if I would have been thinking like they were, I probably wouldn't have that Gold right now. I had to put that behind me like yesterday. I had to take it all in stride and it's tough to come down off a mental high like that. I was so focused and it was one tough guy after the other. If I had to choose, I would say it's staying away from family, doing the right things in training and staying focused for the whole tournament. Because trust me, there's a lot of distraction. The mental pressure was one of the main things I had to overcome. I wasn't reading my press clippings, I just stayed in my own little world. Me and God spent a lot of time together and I just prayed a lot. I really prayed a lot. I called on God for the strength and I leaned on him, and he came through for me."
GL: You didn't even have to read your press clippings to know that the rest of the team was dropping like flies. Was being the country's last hope for our first Gold medal in eight years added pressure?
AW: "To be real about it, I didn't really feel the pressure until the morning when I got up and went to that weigh-in. We all stayed in the same apartment so I definitely felt the pain of them losing and I really couldn't understand it because we literally started dropping like flies after the first round of competition. I was on my knees asking God why this was happening to us, but it's because that's the way he wanted it. Throughout this whole thing I just want to glorify God and I just want to let the world know that's where my strength came from. I take nothing away from my teammates because they gave me a whole lot of love. But like you said, I had the pressure of the whole country on my back. I just leaned on God and he saw me through."
GL: Once you make your debut in December, how many fights do you plan on having before you step it up?
AW: "I want to have 6-8 fights per year coming out of the box. I feel that my skills are in tact, I feel that I have the talent for professional boxing and I feel that I have the demeanor to be a professional boxer. I can handle the pressure, but at the same time you don't want to move too fast, you want to take your time and then work from there."
GL: Can you tell us why you decided to sign with James Prince?
AW: "I decided to sign with "J" because he's hands down the best manager in the business, and I think a lot of people would agree with that. I feel very comfortable with the Team I've got right now. It's beautiful because everyone's on the same page. J is an honest man and one thing is for sure, he's going to go get that money."
GL: Who are some of the boxers you looked up to as a youngster?
AW: "Sugar Ray Leonard. I watched his Olympic fights and his pro-fights. Muhammad Ali must be mentioned because he's one of the greatest fighters of all time. One fighter that's above all of them is Roy Jones Jr., for the simple fact that we do a lot of things the same in the ring. I like his demeanor and I like his attitude, and I really felt they did Roy an injustice in 1988 when they took that Gold Medal away from him. I definitely salute Roy and I pass my Gold Medal on to him. I haven't gotten a chance to say it yet, but I'm dedicating that Gold Medal to Roy Jones Jr. They can't take that one from him."
GL: Is there anything you'd like to say in closing?
AW: "I just want to give a lot of praise to the USA Boxing Coaches because they did an excellent job. I don't think they've gotten enough praise for that. They were in the middle of everybody falling day by day and they stayed upbeat and did a great job. They kept us with a positive spirit and they saw me all the way through to the Gold medal despite the disappointments that were going on around us. I also want to take my hat off to the American people out there who gave me nothing but love and support all the way out in Greece."
MEMBERS CLICK HERE FOR MORE OF THIS EXCLUSIVE INTERVIEW WITH THE ONLY 2004 U.S. OLYMPIC GOLD MEDALIST IN BOXING
Send questions and comments to: gleon@boxingtalk.net