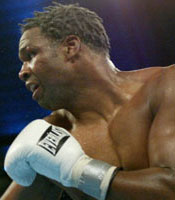 GL: Can you tell us what April 22 means to you?
"It means everything to me. It's not only about revenge; it's about proving that I'm the best heavyweight in the world. I could also become the first man to beat both of the Klitschko brothers, so this fight definitely means a lot to me."
GL: Does becoming the first person to beat both Klitschko's mean more to you than anything else?
Chris Byrd: "All three of them are motivating but that's really giving me a lot of motivation also. Think about it. Vitali doesn't fight anymore and I already beat him. Me and Lennox were the only two to ever beat him and then bring in Wladimir, whom I lost to already and now I can get another shot at him...This is unreal."
GL: Do you feel disrespected in any way that most people seem to be considering Wladimir the favorite in this fight even though you're the longest reigning heavyweight champion?
Chris Byrd: "It's cool. At this point of my career I could care less about what people think, they're not going to be in there fighting. Until we get in the ring and the referee raises my hand I guess they won't be believers, but they could say what they want they're not going to be fighting."
GL: Were you impressed with Wladimir's performance against Samuel Peter?
Chris Byrd: "Not at all. He held and in my opinion he should have gotten disqualified. Don't be a coward and hold. Talk to Samuel and he'll tell you, this guy was scared to death. He should fight, he's a big guy. I'm a little guy and I'm telling you now I'm going to bring it. I'm going to bring the heat. And if he holds me, he's really going to be a coward."
GL: Is bringing the heat the best strategy for victory?
Chris Byrd: "I'm going to do a little bit of everything. I'm not going just going in there and rush him. I have great boxing skills. The first time we fought I stood right in front of him and I'm going to do something different to offset his style. If I need to stay on the outside, box and use my speed to get around him, I'll do that. If he sees me bringing it, don't hold because I can come with it and most the big guys who have been in there with me when I come with it, I'm not easy to hit."
GL: Are you concerned that he might be able to get away with a bit more than holding in Germany?
Chris Byrd: "Oh yeah, that's going to happen but I don't fear nothing right now. At first I was like, no I'm not going to Germany forget it. But I'm a man of faith and wanted to see what the Lord would reveal to me and it was fight him. I might not get another chance at fighting him because he could have went off and fought Lamon since he's #1 in the WBO. Then after Lamon beat him he'd be done and I'd never get him again. My whole thing is, fight him. Take that chance to beat both Klitschko's, and I'm telling you I'm very motivated and I'm pumped to fight him. I'm going to be in great shape and I could care less where the fight takes place, let's do it. He's talking about he's going to knock me out and finish the job he should have done the first time. He couldn't knock me out on my worst day and I still hung in there all swelled up and everything. This time he better get the knockout because I have more bullets in my guns than he does, believe me."
GL: No more Don King...
Chris Byrd: (cutting in) "I have no excuses, I have no stress I won't have anything and I'm going to just bring it. This fight really means a lot to me."
GL: I haven't spoken with King about the situation yet but I imagine he would say Klitschko is the same fight I was trying to get Byrd last year and it didn't get done. Why is this fight getting now and not last year when King first brought it to the table. What's changed between then and now?
Chris Byrd: "After Wladimir beat me I was trash. At that time they're bringing trash to me. I didn't want to fight him I wanted to fight his brother. Last May it made no sense to fight him. He didn't fight anybody to deserve a title shot so why fight him. Now he beat Samuel Peter who they were very high on and now that everyone is high on Wladimir again it makes sense. I wanted to fight the number one guy and back then me and Vitali were #1 and #2 in the rankings. Then Vitali's going to say I won't fight him until he fights my brother. I wasn't going to fight him until he earned his shot, and now he deserves it. I could still wait and get another fight in before hand, but I don't feel like waiting anymore."
GL: Do you feel for the first time in a long time that your career is going to be rolling with a victory on April 22 and there won't be any more eight month breaks between fights?
Chris Byrd: "I hope not. I love boxing and staying active. When I get the win it's going to be great and you know I'm going to want to stay active and make the biggest fights out there. I'm pumped for this fight to happen and I'm going to be victorious."
GL: Do you think Klitschko has improved or deteriorated since your first fight with him?
Chris Byrd: "In my opinion it seems he was on top of his game until guys started touching that chin, then he hasn't looked so hot. I know he's a big strong guy and I know he's thinking confident because he got a win over me but I'm a totally different guy from five years ago. The mentality is different this time than it was going into the last fight. If he wants to engage, we're going to straight up thump. I don't feel nobody right now and I feel that over twelve rounds none of these heavyweights could hang with me condition wise. When it comes to the late rounds in a big fight like this I'm going to keep throwing, ask Emanuel Steward he knows."
GL: So you plan on testing his conditioning and stamina on April 22?
Chris Byrd: "Everybody I fight I'm testing their conditioning and stamina. And I'm not worried about mine. Look at my record, I've probably gone twelve rounds more than any heavyweight in history. I like getting into the late rounds and watch a guy drop off and start holding. It's funny, I'm between 210-215 and you see guys holding me and I'm supposed to be a non-puncher. Right. We'll see. We're going to see how many bullets he's got in that gun because mine is going to be loaded for twelve rounds."
GL: Stylistically speaking is Wladimir Klitschko the toughest fight out there for you?
Chris Byrd: "Of course. He's 6 foot 7 and 250 pounds so it's going to be hard, but I like the situation and I like the harder style. I like fights where the media thinks I'm going to lose and I'm supposed to be at a disadvantage. I don't like to be the favorite. I want to be the underdog in every fight and I should be in this division because I'm 210 pounds and people have had me the favorite. Since Vitali left I'm number one in most ratings and I'm only 210 pounds. I'm ready to have people laugh at the size difference like they did when I fought his brother, but after four or five rounds watch. Everybody in Mannheim is going to be like this little dude could fight. I'm very eager for this fight and I haven't felt like this since I fought David Tua."
GL: Is there anything you'd like to say in closing?
Chris Byrd: "Check out April 22 it's going to be live on HBO at 5PM eastern and 2PM on the west coast. I'm looking forward to putting on a great performance. This is a do or die fight for me and I'm out to prove that I'm the best heavyweight in the world. I want everyone to tune in and continue to log on to Boxingtalk.com to find out what's going on."