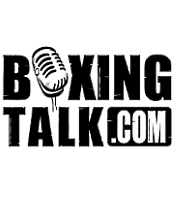 Nonito Donaire, watched his brother Glenn come out and show Team Donaire is serious about becoming prospects in the lower weight divisions.  Nonito, who was originally scheduled to fight Caesar Lopez, spoke to the Shobox audience, translated his brothers corner and then called Boxingtalk to share his feelings on his brother's performance and when we can expect him back in the ring.
Nonito, it has been a few weeks since the jaw injury, how has it healed and when can we expect you back in the ring?

It's healed completely, I was able to spar with my brother the week before his fight.  Although after the sparring it was kinda sore, but it wasn't painful. I was told so far that my next fight is on June 16.
Is there talk of anyone specific for you to fight next?
I haven't heard any names just the date for my next fight. Whoever it is ill be ready.
What did you think of your bother Glenn's fight on Shobox?
My brother's fight was awesome I was really happy to see the real Glenn back again. He listened to his corner and he showed so much confidence. Everyone was satisfied.
You have been recently billed as one of boxing's rising stars, how do you feel now that your brother has started on the same path you're on?
I'm really happy now that I'm not the only one. His victory meant so much for the family and for our team. Now I'm not the only one who yearns to improve and be as much of a perfect fighter or to be the best. I'm eager to get to the next level in boxing and this time I won't have to look back for my brother because I know he'll be right beside me.
After your fight with Harutyunyan in January, you and your manager Cameron Dunkin had a conversation picked up by the cameras on your sparring, additionally in the past you mentioned after fights that you did not receive any sparring, has anything been done to fix this problem?
So far I have not had any sparring where I can go all out, but there has been talked that ill be sparring world champion Vic Darchinyan for his upcoming fight, along with other fighter.
The last year has really been a coming out for you, how frustrating is to be out of the ring this long with injuries, first to the hand and then the jaw?
It has been really frustrating, but I can't really do anything about it, I just try to stay in the gym as much as I can.
Do you feel you will perform better in your next fight because you would have healed from all your injuries of the past?
I never really thought about it that way. But I know I will perform better because of the positive energy that's going on around my team. But having healed my injuries would certainly benefit a lot mentally.
Send questions and comments to: presnellcharles@yahoo.com