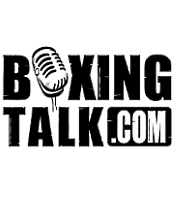 PRESS RELEASE:
U.S. Olympian Jason "Big Six" Estrada (2-0, 1
KO) continues his pro career June 17 in a Special Heavyweight Attraction on  "Providence's Prime Time Fights," promoted by Jimmy Burchfield's Classic  Entertainment & Sports, Inc (CES) – The Franchise in Rhode Island -- in The  All-New Theatre at the Dunkin' Donuts Theatre in Down City Providence.
Estrada faces upset-specialist Demetrice King (7-7, 2 KOs), of Flint,  Michigan. King has a victory against Kevin Montiy (15-1-1) and has fought  former world champion Shannon Briggs.
"This fight will tell us a lot about CES' first Olympian," Burchfield noted. "King's coming to fight; to beat the Olympian. Most 2-0 fighters wouldn't  take a fight like this, but the Estrada Unit wants to prove to everybody  that Jason is for real. What I really like is Jason has been traveling all  over for sparring, including the famed Gleason's Gym in New York City, which  shows how serious he is about this fight. Jason is proving to everyone how  serious he is about becoming the heavyweight champion of the world someday."
"I'm just going out there to box the way I know," Estrada added. "I know  he's had 14 pro fights, but I have a lot of experience from my all amateur  fights (300+). I've gone back to fighting the way I used to. I want to show  my power without losing any of the boxing skills that got me where to where  I am."
CES recently entered into an agreement with the Rhode Island Convention  Center and Dunkin' Donuts Center to promote boxing shows in downtown Providence. CES' overall series, however, will emanate from sites throughout
New England and be broadcast on a tape-delayed basis on CN8, The Comcast Network and Cox Sports.
Tickets, priced at $62 (reserved ringside), are on sale. To purchase  tickets, or for more information, call CES' corporate headquarters at  401.724.2253/2254 or go on line to
www.cesboxing.com
.
The entire show is dedicated to the memory of fallen Providence police  officer Sgt. Detective James Allen. Donations for his two children's  educational fund will be accepted at the June 17 show. Ten dollars from any ticket purchased by a member of any police officer or firefighter will go  directly into the fund.
"The Pride of Providence" Peter Manfredo, Jr., finalist in the recent The  Contenders reality show, will be in the house and honored.