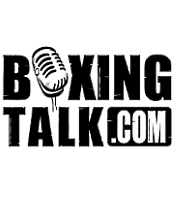 "Chris Smith has never faced anyone like me!"
USBA Welterweight champion David Estrada recently took the time out to speak with Boxingtalk.com about his upcoming bout set to take place Friday January 21st, 2005 at the Mohegan Sun Arena in Uncasville, CT, against undefeated NABA champion Chris "The Mechanic" Smith a live ShowTime's ShoBox the next generation series. Not only will both respective titles be up for grabs that night, but will earn the currently vacant #2 in the IBF rankings. Read on to see what one of the division's promising up and comers had to say about the most important fight of his career
RC: What's going on David? How is everything coming along?

DE: I'm doing good and I am feeling good. Everything is coming along good for this fight.
RC: Are you doing anything differently in preparation for this fight?
DE: No, I am doing the same thing I always do; I am doing the same training.
RC: Give us your thoughts on Chris Smith as a fighter?
DE: He is an average fighter
RC: Just average?
DE: Yeah I think he is just average.
RC: What can we expect from David Estrada that night if Chris Smith is just average?
DE: Pressure, the same thing that I do every time I fight. I am just going to put pressure. I'm there to fight, I am not trying to go twelve rounds. I'm trying to make it an early night.
RC: In others words you plan on stopping Chris Smith January 21st?
DE: Well that is what I am going to try and go in there and do. I am going to try and stop him; I want it to be an early night. I am not predicting a knock out or anything, I am going in there with bad intensions.
RC: By going into this match up focusing solely on a knockout can that be a mistake or...
DE: (Cutting in) I am not really going to go in there and just expect a knockout, I am going to go in there and do what I got to do, and hopefully it will be a quick night.
RC: With a win on the 21st of January, you'll not only retain your USBA title, but you will also pick up the NABA title and earn yourself the number two ranking in the IBF, where do you feel you'll rank amongst the top welterweights out there in the eyes of the people?

DE: I think that when I am ranked number two after this match, that will be the right position for me to be in, so I guess you can say number two.
RC: You're probably just focusing on this match with Chris Smith, but if all goes well, is a rematch to your lone loss against Ishe Smith something you'll look to avenge?
DE: I don't even know man; I haven't heard anything from him. I would love to fight him but the money has to be good too, it has to be decent money. I am not going to fight him for no chump change.
RC: In other words this isn't a match that you are looking to go out there and avenge in your current position?
DE: I mean I would love to fight him, but will it be worth it? I am going after bigger and better things. I had to be on my worse night for him to beat me on his best night.
RC: (Cutting in) Are you saying….
DE: (Cutting back in) I don't even see him; He is not even anything to me. He is nothing. I never even think about him, I'll put it like that. He won the fight on decision, but who looked like they lost the fight? He looked like he did after the fight, his eye was swollen and he was bleeding, I came out clean.
RC: So do you feel as if you won that fight?
DE: I don't think I won, I watched it and I know he won by decision and the only reason he won is because he threw more punches. Everybody was talking about his power and this and that, but if he had so much power, how come didn't I have any bruises on my face. I didn't have anything swollen; I had no type of pain at all after the fight. I mean I have been in fights that went ten rounds, and I was sore for like two weeks after the fight. So I don't think he has any kind of power to tell you the truth.
He is already beat anyway, because I already mentally beat him. I seen him at the Contender, we exchanged words and basically he just looked like he didn't want no part of me.
RC: What happened when you saw him there?

DE: Well we were over there at the contender and he started talking some shit there, and I am not the type of person to sit there and talk it out. Basically I had a plate of food in my hand and I took a step towards him, I just snapped, so when I took a step towards him he stepped back and every time I saw him after that he would just look away. So I mean he is already beat, why would I want to fight somebody like that, he is weak.
RC: So the only reason you feel that he was victorious was because you weren't at your best?
DE: Put it like this, it was my worst night. You see I am not the type of person to make excuses, and in my last fight, the commentators were asking me about that. They were like "Ooh what happened in your last fight?" and I just said put it this way, I wasn't right, so from me saying that, they said "he had physical and mental problems, and some personal problems" and I never said nothing like that, I just told them that I wasn't myself that night.
RC: So no excuses, you felt that you lost, you weren't yourself that night, had you been yourself….
DE: (Cutting in) Oh everything would have been different. It's whatever, things happen for a reason. So if I would have beat him that night I probably wouldn't have been in this position getting ready to fight for the number two.
RC: What are some of the things you plan on doing to assure yourself that you don't have another off night, or should I say to make sure you are right this time around, oppose to the last time when you weren't right. The Ishe Smith fight was a prospect defining fight for you, this fight coming up will determine if you will move onto major contender ship and the right to be mentioned against the top names in the division. With that said, what will you do to assure us that you will be right this time?

DE: There is nothing that I can do, you know sometimes things happen in life and timing is just bad. This time I am pretty much straight, I am straight on that. Timing is good, and timing means a lot.
RC: Is there anything you feel you have improved on since your loss that will help you out in this fight?

DE: Yeah, I have improved all around on everything. I have improved on everything that has to do with fighting.
RC: Is there anything else you'd like to say in closing to Chris Smith, the fans or whoever?

DE: I don't even know him; I don't know nothing about him.
RC: Have you studied tape on him?

DE: I got a tape, but I don't really watch tapes, my trainers they get on me about that. They have the tape, I watched it once and that was it I don't feel like I should have to watch tape. Tapes aren't nothing anyway, I know he has my tapes, I know that. Almost all of my fights have been on T.V. so I know he has seen me fight before, but that doesn't mean nothing. It is one thing when you watch tapes and you think you are going to do something and when you get in the ring with someone it is different. He has never been in the ring with somebody like me, so he isn't going to know how to react. They can watch all of the tape they want, in the end that isn't going to do nothing. It isn't going to do him any good. I can adapt to any style, if he wants to stand there toe to toe, we can do that, if he wants to try to be slick and box he can do that, he can do whatever he wants because I am going to adapt to whatever he does.