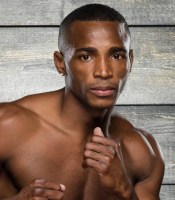 Greg Leon: What's the latest and greatest brother? What's cooking? Erislandy Lara: "Right now, as you know, I'm getting ready to fight Ramon Alvarez [28-7-3], the brother of [world middleweight champion] Canelo Alvarez, on August 31st in Minnesota. You already know that I've got a lot of history with that family and we're looking to see if this can be made an eliminator to fight the winner of Brian Castano vs. Michel Soro. I'm hoping that winning this fight will get me back into that mandatory position."
GL: Are you disappointed at all that it's not Brian Castano right back?
EL: "If you look at my resume, I don't pick my fights, I just fight. Soro stepped aside the first time and he didn't want to do it again, so I respect his decision as a fighter. I can't sit around and wait, this is my career and I'm on the last stretch of my career and if you look at my last several fights it's been one tough fight after another. I think this is a good fight for me against Canelo Alvarez's brother and I can't sleep on him because as you just saw with Andy Ruiz, anything is possible in boxing. He wants to make a name for himself too and this is going to be a very entertaining and interesting fight."
GL: If you weren't fighting Canelo Alvarez's brother, would it be impossible for you to get up for this fight?
Erislandy Lara: "That's a good question. You already know that as this stage of my career I want the biggest fights. I want to fight the best and I've been fighting undefeated guy after undefeated guy, but there is some bad blood here because I feel like I beat Canelo clearly and I didn't get the credit for it, so now his brother is going to face the repercussions a few years later. I'm hoping that a great performance will put me back in that rematch because I feel like I can beat him even cleaner this time around."
GL: Will this be a no mercy type of fight? Will you punish him a little extra to try to lure Canelo into the ring with you?
EL: "I've got to go out there and fight my hardest, whether it's Castano, whether it's Jarett Hurd, whoever it is, I'm standing in there and fighting. Y'all can expect to see me get out there and stop Ramon Alvarez, I'm stopping Canelo Alvarez's brother."
GL: Are you standing there and fighting more now because your legs are no longer the same or because you've mastered fighting in the pocket?
EL: "Realistically I think it's a little bit of both, but I think that I've mastered my distance to where I can get my shots off without having to move so much. Right now I can do a lot of different things and after six split decisions or majority decisions on my resume, I think I need to be aggressive to make sure I don't keep getting the short end of the decision."
GL: Closing thoughts.
EL: "Tune in on August 31st for a great night of boxing, and thank you G for always reaching out."
Send questions and comments to: boxingtalkg@yahoo.com