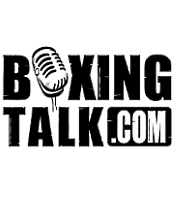 BT- What's good Emmanuel?
"Getting back in the gym, getting everything together. I'm waiting for my next fight coming up in February."
BT- Any word on the opponent yet
? "Supposed to be Emmanuel Clottey on ESPN February 10th."
 
BT- Your last fight in Montreal against Herman Ndgugjo was a good fight in the beginning, but in the last round you came so close to knocking him out that there was a little bit of controversy in that one? You're not really dwelling on that fight, are you, or do you just want to keep active?
AG- I am dwelling on that fight, because I did win it but I'm not going to let it keep me down. I realize now that I just have to keep fighting and now knocking people out.
BT- I know that you're focused on Clottey, but we did just see Ricky Hatton beat Carlos Maussa. Right after the fight his people were talking of him going to the states and fighting Gatti. What are your thoughts on that Emmanuel?
AG- Gatti is a good fighter you know, I have nothing bad to say about him but he did just come off of a beating against Mayweather. I don't know how much time I have left in the game.  Everybody knows that I am a good fighter. Ricky Hatton hasn't fought many guys that are in great shape and ready to go.
He has a way of picking fighters that he figures that are kind of going down in their career and makes easier fights. If he really wants to make a mark over here and show what kind of hit man he really is he needs to fight a real challenge and not someone who was humiliated in their last fight.
BT- What fighter are you talking about that would be a challenge?
AG- The only one I know of around here in the states that is always ready to go, fight anybody, anywhere is Emmanuel Augustus. I'm looking for the chance to shine in my career, I fought all the hard fights and I know I'm ready for this test.
I want to make some money, beat Hatton and leave boxing on a good note.
BT- When you went to England and knocked out Jon Thaxton, do you think that kind of was a reason that Ricky never offered to fight you before?
AG- I think Hatton not knocking out Thaxton had an effect.
That's what I think. I've been keeping up with Hatton for a while. I beat Dillon Carew just like he did, just knocked out Ray Olivera in less time, so I have been out doing him and he is worried about my experience. The British, I don't understand what they want to do.
BT- He is talking of coming here, but you would fight him anywhere correct?
AG- I don't care, that's what he likes anyway. He has the referee's on his side working with him doing what they do.
BT- Sounds like you are officially calling out Ricky.
AG- Sounds that way to me doesn't it (Laughs). If they really want to set a mark in the U.S. about him being a good fighter or the best fighter, far as I know I'm the gatekeeper. Nobody has got past me yet, well not without being bullshit involved. I really don't want to make enemies out of the British people for beating their champion, but if you really want to put him up here to see where he is at I am the best man for you right now. You wont find many cats out there like me, don't be mad when I beat your boy, but at least I would give him a rematch, something he never did with Tszyu or anybody. I'll give him a rematch just so I could beat him twice. Let me say this though, I would fight Ricky in England only if Steve Smoger is the referee.
BT- Well Emmanuel, good luck with everything from Boxingtalk.
AG- Wait up, I want to talk about Floyd too. His ass went running up to 147 like he don't have anybody here to fight. Hey, I'm still here, remember me, I'm the guy who gave you the best ass whoopen you have had so far. I'm the one who drew blood buddy. I just don't understand why he went up in weight. It isn't the money, because nigga you are supposed to have money, I done fought you at your ground at 135 back then. Now you can step up and be a man and fight me on my ground at 140.
Ricky and Floyd are going to see this, but they will act like they didn't.
Hatton is so easy to me, I easily see myself beating him badly.
If you want to lose your belts all you both have to do is call Lou DiBella and let's make this happen. I'm not Freddie Pendelton or Henry Bruseles.