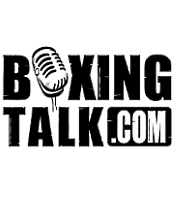 This week Boxingtalk's Al "the Monster" Mermini had the privelage to sit down and speak with one of boxings premier cutmen. Jacob "Stitch" Duran has been there and done that in the Boxing world from working with the finest of fighters to playing himself in boxing movies such as Play it to the Bone. He has also produced his own boxing documentary film and is the cutman in the corner of Tommy Brooks in the new reality series The Next Great Champ. Hear Stitch talk about the new series, the job of a cutman, his views on the sport, and much much more.
AM: So Stitch when is The Next Great Champ starting?
S: It is starting on Sept the 7th, Tuesdays at 9pm and then it will be broadcast again on Friday and they will do that for the month of September. Then in October after the baseball season it goess back to Fridays at 9pm. So the first month they are gonna show it twice a week. The exposure is gonna be great.
AM: So from you perspective, Knowing the outcomes and everything, we know who the fighters are now, some are a little older haven't fought in some years, how did these guys look to you in training and during the fights when you were watching them?
S: You know what Al, They looked good they looked alright! They aren't Ishe Smith's by any means, but they looked good. This is Hollywood with a Boxing background. As a base, but the fighters some people say oh their in the 30's but they fought they fought just like any young guy that's making a pro career.
AM: Aren't the winners supposed to be guaranteed a pro contact and a title fight?
S: From what I understand it's a contract with Golden Boy promotions and then they get some opportunity for a Title, but I would think it would not be within the first two or three years of their career by any means. I don't think anybody is that crazy to give them that opportunity! Once they get the contract it is no longer a Hollywood thing it is a Boxing thing!
AM: In watching these guys fight did you see any real talent, Anybody That really surprised you with their skills, I mean someone that could really make some noise in the pro ranks?
S: Yeah there were some guys there that definitely showed some pretty good potential. It's like any young fighter, it's getting them and having them grow from there. Out of those 12 guys there were definitely some that showed some pretty good abilites, let me just add, I am on eof the few guys that were there and the bottom line is the boxers that participated are just like any young boxers that are starting their careers they just have the opportunity to make history by being on the first ever boxing reality show. I applaud them.
AM: So are we going to see mostly boxing or the lives of the boxers and how they lived and trained together, maybe some family stuff, How is it going down?
S: I don't know how they are gonna cut and edit and produce it yet, but I have produced a documentary I have been in films and I have kinda seen they way the operation works. I would venture to think 75% of that is going to be of the storyline of these guys and trust me that's whats really gonna make this show. The boxers all have a storyline to them and it's creative, ya see they all have a significant other. Some of the stuff almost brought tears to my eyes! And some of it brought laughter! The boxing part is kinda like the finally, you know it's the life of fighter's. There's more to a fighter than just getting in the ring and throwing punches people don't see the training aspect they don't see the personal lives that they have and all that. People don't get to see what a fighter's life goes through and they think that ever fighter that fights is rich and that's not the case!
AM: So what do you think about the Controversy between the two new boxing show The Next Great Champ and The Contender?
S: Well the first one's to actually do the filming was Fox so they were the first one's to do it I don't give a shit who came out with the first idea! The Contender said that they had that writing first well you know what? If you call my friend Don House who lives here in Vegas He'll show you a script that he wrote 2 years ago called Joe Boxer! And it has the same type of scenario! He had his patented and was dealing with attorneys and then the Contender came out. Call him he'll tell you he wrote this a long time ago he was shocked when the Contender first came out. So the Contender wasn't the first one to come out with that idea! It was Don House.
AM: So tell me about your job on the show? What were your daily duties and what you did for the fighter's, any funny stories?
S: My job is during the preparation in the dressing room and at the fights. I am Tommy Brooks Cutman, and Rudy Hernandez is the cutman that works with Lou Duva. But my job is I wrap the fighters hands I get them prepared I grease them down and get the ready to go out and fight. Once we walk out there my job is on the outside Tommy is on the inside and if any of the fighters get cut it's me on the inside attending the cut and Tommy on the outside giving instructions, My job is to help in the corner. I Also Maintain injuries whether it's cuts or swelling and work on them on a round by round basis to eliminate that!
AM: Did you have to ply much of your trade during the show? The inside part, cuts and swelling?
S: Well your going to have to wait and see, but good try though man! It's funny though man some people are like well who won? well if I told you who won it would ruin the whole show so, confidentiality is a must! It is good for the public not to know.
AM: Did you see the Olympic boxing match where the Grecian boxer got cut by an Elbow while ahead on points and lost the fight due to the infraction, Do you feel that amateur rules should award the victory in a situation like that to the fighter ahead on points? I mean these fighters can only compete for Olympic medals once every four years if they make the team.
S: I didn't see it I wish I would have. The amateur regulations for a cut are entirely different than the pros. In the amateurs you are not allowed to have a cutman like me per se. You can't use the adrenaline chloride 1/1000, in the amateurs now they just started letting you use grease! The safety factor for the amateurs is entirely different than what goes on for the pros. I feel that in the amateurs that absolutely and the same in the pro's if your cut unintentionally and ahead if you cant go you should win the fight. Sure if the guys winning give the kid the benefit of the doubt! Too bad I missed that I would have been excited to see that.
AM: So you are also a Cutman with the UFC where do you see most of the cuts boxing or mixed martial arts?
S: Oh definitely in UFC no doubt, you know cause they use elbows and knees and the gloves are smaller they are only 4oz gloves. UFC when you get dropped there is no standing 8 count you better defend yourself cause that guy is gonna jump right on you! For UFC you have to be a good cutman I don't care what people say.
AM: In the boxing world everyone knows you as Stitch, your real name is Jacob Duran, how did you get the name Stitch?
S: You know in the boxing world everyone only knows me by Stitch, even my checks from the show on Fox came out Jacob "Stitch" Duran and that's how I cashed them. Stitch is what they call me cause I come from kickboxing background and they kinda threw me in a fight one time and a guy got cut and I knew really zero about being a cutman at the time, but I wanted to be a cutman and that was what I was working towards and I stopped the cut, you know I put a butterfly on it and I ended up stopping the bleeding and the guy said "hey man you saved me some stitches", and I was like hey man right on I'll take that! That's how that came to be. Throughout the UFC and boxing world everyone knows me as Stitch, so I am proud of that name!
AM: What do you think of your fellow cutmen in the sport's guy's that have been around forever like Chuck Bodak, Joe Souza, the late Al Gavin?
S: Wow that's a good question, Chuck Bodak is my Mentor and I learned so much from him, Let me start out like this. When I first wanted to learn about being a cutman I'd study cutmen at fights and ask them hey man you know, you did a good job on that cut what did you use? And they would say it's none of your business what do you care, you gotta learn the hard way like everybody else and blah blah blah…They wouldn't give me no information and no help. But that's the way they were in the old days. Chuck Bodak did the opposite. He saw me help stop 5 cuts for Raul Marquez against Keith Mullins and after the fight he came up and told me I did a great job on Raul and if I need and help of info he would be there for me. So we became very good friends, We actually did the movie Play it to the Bone together, I was Woody Harrelson's cutman and Chuck was Antonio Banderes cutman. I was honered to work in a corner with Woody Harrelson but more so to be working the opposite corner of Chuck Bodak. Al Gavin was another man I studied and looked at. Joe Souza is the king of the cutman right now, and rightly so because he does a great job with a lot of fighters and he continues to be consistent. So there is a lot of good cutmen out there and a lot of wanna be cutmen out there.
AM: So how does it make you feel when you hear fighter's like Wladimir Klitscho blame there losses on the cutman?
S: Man your asking good questions Al, and I am gonna answer that for you man. When I hear those stories and knowing how the game is operated and what the requirements are or what a cutman does that I know. For somebody to say that they lost a fight cause Joe Souza put Vaseline on this and that is a bunch of bullshit! That's been standard practice for every fighter that has walked in between those four ropes have all had applied to them! So what Joe did is what a majority of us do which is put Vaseline on fighters so the punches slide right off. There talking about Vaseline on the legs and the legs don't even sweat as much! So that was a cop out. I loved it when Joe Souza came back and said in an interview if he was 20 years younger he would kick Wlads ass!
AM: Tell me about how you get the fighter's do you search them out? Do they find you?
S: I am very proud of my career and every job that I have gotten in boxing or K1 everybody has always come and asked for me. I have never gone out and kissed ass to get a job. So every job that I have gotten people have reffered fighters to me or they have seen my work. I have been to fights where I have seen cutmen handing out cards and I wont do that. I have credibility and fighter know I am credible and dependable. When the Show comes out everyone will see that I can wrap a great hand! I know how to wrap a excellent hand actually.
AM: Anything else you wanna say in Closing Stitch?
S: Yes boxing people have to know that the show, The next Great Champ is a Hollywood format to attract the attention of the viewers. We in boxing are fortunate enough for them in Hollywood to have chosen boxing as one of the subjects for them to use on their reality show. We'll be able to develop some new fans and understand more of the sport and the people who do know boxing are gonna like this show because it will entertain them