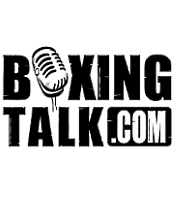 By Mike Walters
"And God said in the seventh fight, I would win the world  championship." Those are the words of Ebo Elder, rated the #26 lightweight by Boxingtalk who will be challenging Juan "The Baby  Bull" Diaz for his WBA Lightweight Title on April 23, 2005 in Las Vegas live on ESPN pay-per-view. Both of  these boxers have been very active in the last year with Elder, nicknamed "The Extreme Machine," winning his  last fight by an incredible come-from-behind twelfth round knockout of Courtney Burton. Elder is currently rated #26 by Boxingtalk at 135 pounds.  Diaz recently defended his WBA championship for the  second time in less then a year when he stopped Billy Irwin.  Rated #4 in the lightweight division by Boxingtalk, Diaz won the WBA title in a fight with the tough and durable Lakva Sim.  The win over Sim allowed Diaz, then just 20 years old, to become the youngest man to hold a portion of the lightweight championship in over thirty  years. 
Diaz began boxing at the age of 8  when his father took him to Houston's Savannah Boxing Gym. He won many amateur  boxing championships, with the first coming at the age of twelve. During his amateur  career Diaz built up an outstanding record of 105-5. He wanted to fight for his parents' homeland, Mexico, in the 2000 Sydney Olympics but his birthday was three months short of the cut off to make the team. So rather then waiting for the 2004
games, Diaz decided to turn pro at the age of 16 on June 23, 2000.  He won  his pro debut by a first round TKO and since then, he has won  26 consecutive  fights, thirteen of which ended inside the distance. Diaz, known as the Baby Bull for his boxing similarities to a young Tony Ayala, is not just a fighter though. He  also is a pre-law major at the University of Houston. After boxing, Diaz plans on becoming a lawyer to help out the people in his community.   
The Xtreme-Machine, as Elder is known also started boxing young, in his case at the age of ten. At the 1998 Goodwill games, he won the  silver medal and during a stellar amateur career, he amassed a 125-12 record. Elder also had  dreams of the Sydney  games but a 1999 motorcycle wreck cut those dreams short.  He started his pro career with a bang, a first round TKO. Elder was on a sixteen fight win streak when he stepped into the ring in Savannah, Georgia  against tough Ubaldo Hernandez and suffered a first round TKO loss. Diaz also fought Hernandez and was knocked down but when on to win a very close decision.  After Elder lost to Henrnandez, he apparently was fed up with boxing and his father Greg, so he moved to New York City to start a music career playing drums in a alternative rock band. A little
over two  years later, Elder returned to the ring and won by third round TKO over Tyrone  Wiggins.  Since then, Elder has fought five more times and has won a regional lightweight title.  
When Diaz steps in to the ring with  Elder, it will be the first time Diaz has faced a southpaw since he turned pro. Recently Diaz told the media to expect  a great fight "I am going to start out aggressive," he said.  "And if that doesn't  work, I am going to box him."  When asked about Elder having a ton of amateur 
experience, Diaz responded by saying, "I think that what is going to help me  out is that I have fought a lot of great fighters as a  professional".   
As for his fight strategy, Elder said," we have a lot of ideas and plans and I am trying to be a  multi-dimensional fighter.  If it's got to be a twelve round war, I am looking forward to  it." The deeply religious Elder also said that, "in March of last year, I got a word from God and that on the seventh comeback fight I would fight for a  world title and win a world title on the seventh comeback fight."  With six straight wins under his belt, Elder is in a position to make his vision come true on April 23.
Full Juan Diaz-Ebo Elder Conference Call TranscriptJuan Diaz:
  Things are going great.  I started camp a little early because Ebo is a southpaw.  I haven't fought a southpaw in awhile.  I have a few sparring partners that are southpaws and I'm adjusting quicker than I thought.  I am training in Houston because I am going to school. 
I go to school on Monday and Wednesday from 4:00 to 8:30 pm. 
I continue to go to school because boxing is not guaranteed for the rest of my life.  Eventually I will get old and not be able to do the things I can now.  That's why I continue.  It's slow but every year I get closer and closer.  Now I am taking three classes – 9 hours.  I go to the University of Houston Downtown. 
From what I've seen of Elder, he is the type of fighter that is going to go out there and just throw punches.  But if he sees that's not going well he can box from the outside. 
I am an aggressive fighter, and I'm working on boxing as well.  Ronnie and I have been working on boxing a little bit more rather than just fighting toe-to-toe all the time.  We can either go in there and fight or stay on the outside and box. 
In camp it was tough at first but as we moved along it was coming a lot easier to me and punching came easier. 
You are going to see a great fight, especially if Ebo Elder comes forward like I have seen him come.  He throws a lot of punches and I throw a lot of punches.  I think that we can make it a great fight, possibly the fight of the year if we both do what we've been doing. 
Ebo Elder has had a lot of amateur experience, but I think I have more experience as a professional.  I had 110 amateur fights, so that is not a little.  What will help me out is that I have fought a lot of these great fighters as a professional.  That's one thing that I'm going to take into that fight.  I'm confident and I know that I've been in there with tough guys.
You need a good amateur background to be a good professional. 
I see all the mistakes that other fighters have made when they get on top and make all the money and all the fame.  I see what can happen to them.  One of the reasons why I am so focused on staying in school is that it helps me from getting distracted and going down the wrong path.  School keeps me so occupied, like today for example.  I didn't go to school, but I went to the gym and finished at 2:00.  I couldn't go out anywhere else because I have a government test to study for.  I go to school and I also live with my parents.  I could go out and be on my own, but that would be one of my downfalls if I do that.
Being at home, I have my parents to tell me.  If I'm out past my 11:00 curfew they call me up and say it's time to get home and get some rest.  They are the keys that make me who I am.
I fought in Mexico my first couple of fights, and I would love to fight there again but that is up to my manager and promoter. 
Ebo Elder:
  I always try to be resourceful and economical.  I have a good strategy and game plan.  Everything I do has to be done the best it can be.  I try not to be a one dimensional fighter at all.  I try to do anything and everything.  That's something that no one can train.  We have a lot of ideas and a lot of plans and I'm trying not to be a one- dimensional fighter. 
I am away from home and God is taking care of me.  I am enjoying this time away.  My family is one of the most important things to me and I love them but we've got a job to do and that means coming to Vegas and training my heart out.  I'm willing to do my part and I know what I can do.  And that's when God takes over and that's what is going to happen. 
Being away from home is tough but I'm learning how to enjoy it.  It's fine with me. 
Juan is a hard worker and always comes in great shape.  He's got a lot of heart.  He throws a lot of punches.  I don't doubt that April 23rd will be the toughest fight I've ever had.  That's something that I know going in.  I look at Juan, and I try not to judge myself to other people. So I'm not going into this fight saying that Juan is this good and I have to be a little bit better.  I go into this fight saying Juan is the best fighter in the world, hands down.  No matter what he brings to the table, I'm going to beat it.  That's the way I have to think to win the fight. 
First, let me tell you why I was so overcome with emotion.  It was all about God calling me into the sport.  If it wasn't for that I wouldn't be doing it.  And that night against Courtney Burton . . .   That night I knew that God had done something amazing for us.  I wouldn't say a miracle, but he stepped in and gave me something great – that power in the twelfth round when I needed it most.  That's the way God works.  That's why I'm going to do it again.  It gives me a lot of confidence to know that I can be in a war and knock the guy out in the twelfth round.  I'm ready to do it all over again.  If it's going to be a twelve round war and take everything out of me, that's great.  I'm looking forward to it and I know the fans like it.  People like heart and I'm willing to show them I've got heart.  So if it has to be that tough again, amen, we'll do it.    
I knew when I was six years old that I would be a world champion one day.  But four years ago?  I'll tell you when I knew I would be in this position.  It was March of last year when I got a word from God that I would fight for the world title on the seventh comeback fight and I would win the title on the seventh comeback fight.  And from that day on we told everybody it was going to happen.  We had some believers and some naysayers.  But nevertheless, on April 23rd everybody is going to see it happen and just to set the record straight – I don't want to get the glory for it – I want God to get the glory for it to make it happen. 
I know that it is the calling that's been put on my life right now.  I know right now what's going to happen and how it's going to happen.  Preparing for it I have to do my part.  Do everything that I can do to win the fight.  When I have weaknesses and limitations, that's when my Guy comes through and picks up the slack when I'm unable to do it. 
I don't know about him trying to get a unification fight and not getting it.  I don't really know if that's accurate.  As far as him taking me lightly – I hope he's smarter than that because I'm coming ready to fight.  Ready to war it out if I have to, or whatever it takes – I'm ready to do it.  I already know the outcome so I'm not real worried about it.  If he takes me lightly, maybe he'll learn from it.  If he doesn't take me lightly and prepares and fights his heart out, then I'll raise his hand for being a champion.  Taking people lightly is something I learned not to do in any case.  Anybody getting in the ring is coming there to win and can shock you and upset anybody.  I'm definitely not going to make that mistake.  But he may, I don't know. 
I think Juan is a great guy.  I don't have anything against him whatsoever.  I think he's a hard worker and has a good head on his shoulders.  I just know what is going to happen on April 23rd.  It's not a reflection on him and not that I have any ill-will towards him and want to beat him to show him I'm bad.  It's nothing like that.  I just have a calling that I'm living out.  Him losing to me I hope is for the better.  He can learn from it.  I think he's a great guy and a great fighter. 
Above all else, I have to be spiritually ready.  As far as physically, everybody know you have to be in shape to fight Juan Diaz.  I will be supremely conditioned.  As far as skills go, I'm a well-rounded, multi-dimensional fighter.  I've always put forth my best effort.  To war it out or box it out – whatever it takes.  Believe me, on April 23rd, I'll be the best fighter I've ever been.  Where I'm lacking, God will take over. 
My southpaw style could be of some advantage, but I believe he's got left-handed sparring.  It can't hurt, but I'm not using it as a big key to my victory.  If he can fight a lefthander, great.  If he can't, sure it would be better if he couldn't.  I don't think that will be the determining factor in a win or loss. 
I am certain [this big fight] will not create a nervousness of any kind.  I believe it will just be time to step up to the plate.  Rise to the occasion.  Rise to another level.  I've been dreaming of the fight for years, since I was six years old.  Now I get my chance and I'm definitely not going to let nerves take over.  I will just rise to the occasion. 
I can predict that I will win.  I can predict that with 100% certainty.  I don't know exactly how and I'm not going to try and figure it out.  As far as I'm concerned it's in the history books. 
What happened was right after the Oscar Diaz fight in Miami and as soon as I flew home I met a prophet in my dad's church.  He told me that he heard from God, that God spoke to him and he said that the seventh comeback fight would be for the world title and that we would win it.  A lot of people thought we were crazy when we told them.  The bible says do not only believe in God but believe in his prophets.  We chose to believe what we heard and I know this prophet heard from God.  Lo and behold, this fight will be my seventh comeback fight.
Juan Diaz: 
I'm a very religious guy myself.  A lot of fights that I fought people picked me as the underdog.  They have me losing this fight and that's what is going to make me rise to the occasion.  I'm going to go out there and give it my 110%.  If it happens that I don't win, it will be that he was the better man that night.  I have all of the confidence in the world.  My conditioning is going to really help me out that night.  There is a God out there and Ebo's a great guy.  But when there are two guys in the ring fighting, I think that's when God steps aside and whoever is better that night will get it that night. 
I have never moved out – I've always been at home.  That is a key factor in me staying straight and doing everything the right way.  Having the best chance at everything I do is because I stay at home.  My mom is in charge of the curfew.  My mom makes the rules and my dad enforces them. 
Ebo Elder:
  The calling is to win the title on the seventh comeback fight.  I will then have a platform to speak to people and tell them – this is not about boxing.  This is about life and how lost I once was.  Now I've got the most awesome marriage anybody could ever want and the best relationship with my parents.  It's about how God can heal.  We are living in a lost and dying world.  There are a lot of people who want and need help, and they don't know where to get it.  Maybe as world champion I can be something of a conduit.  That's the calling.
Juan Diaz: 
My plan for boxing is to be one of the greatest lightweights in history.  At the same time, I didn't get a calling from God, but it is my duty to show that boxers not only get hit on the head, but that they can also do positive things.  I see myself as a role model for kids coming up.  They don't have to be on the street.  They can go to school and be successful doing something else.  This is my goal, to show the kids positive things. 
Ebo Elder:
  The one loss I really suffered was a gain, a move of God.  I can't put it any other way.  It was something that had to happen to teach me that it wasn't about me.  It's not Ebo Elder's show and I have to remember that.  That was a wake-up call that saved me a lot of pain.  People knew I had some big things coming up and if I won that one fight – how great things could have been.  Losing that fight saved me from a divorce and from a broken family.  It gave me everything I could really want. 
Win, lose or draw, I know where I get my peace from, and that's what is important.  Hopefully one person will see this and know where to get help. 
Juan Diaz: 
The fight with [Ubaldo] Hernandez showed me a lot.  I didn't have experience and in my first couple of fights I was just knocking out guys.  I went in thinking I was going to knock this guy out and that was going to win, and that fight showed me I better not have that mentality.  I can't take anybody lightly.  Every time I step in the ring, I step in to fight.  
Every time I step in the ring I see my opponent as the champion and I'm going to take his title.  Everybody is dangerous when you get in the ring. 
There were talks in December of me unifying the title with Julio Diaz and there was no mention of me fighting Ebo Elder.  The main focus was for Julio Diaz so I was up for it, getting to fight another champion.  But then they said no.   It wasn't a really big downer.  Then they said the guy I was going to fight on April 23 was Ebo Elder.  I'm not taking Ebo lightly because I know he is a great fighter.  I've been up ever since.  I've had a lot of confidence and have been getting ready for Ebo.  When I win it will take me to another unification fight with another champion.