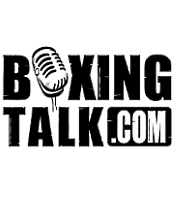 Thursday night, during the main event of Golden Boy Promotions' Battle in the Ballroom at the Irvine Marriott, most of the punches Edgar Vargas and Pedro Mora threw at each other during the first six minutes of action missed the desired target.  This was due to the fighters' superior skills in defense, and ability to dodge an oncoming missile, rather than any inferior offensive capability.  However, once the third round got underway, Mora became the first of the duo to land at a consistent rate, putting wide left and right hooks flush on the side of Vargas' head, who was having trouble seeing the approaching hammers.
Vargas swung wild hooks of his own to the head of Mora, and had mild success with it, but Mora worked his quick counter right well, landing it flush on Vargas' head whenever the undefeated fighter was returning from a thrown hook.  During the fourth and fifth frame, when it had become apparent that Vargas was uneasy with Mora's rapid counters, Vargas resolved himself to fighting on the outside.  However, when Mora drew the fight in close, he peppered Vargas with swift jabs and head-jerking hooks upstairs, forcing Vargas to fight his opponent's fight in a phone booth.  Fully aware that he could not win the fight by staying outside and landing soft crosses, Vargas pressed the action in the sixth and final inning.  Vargas spent his last minutes of action landing right hooks to Mora's head, while Mora used his superior speed to land unanswerable left hooks and lightning fast straight rights to his opponent's head.  Surprisingly, all three judges gave Vargas the decision with scores 59-55 (twice), and 58-56.  Vargas remains undefeated with a record of 8-0 (1), while Mora drops to 9-11 (2).  
Freddy Castro and Anthony Martinez Fight Hard to a Draw
For hitting each other as hard as they were in the first two rounds of their scheduled six-round battle, it was not exactly inconceivable that someone would eventually go down from the crushing blows Castro and Martinez were dishing out and absorbing from each other.  The first six minutes of action had both these fighters taking an incredible amount of punishment to their heads and ribs.  However, it was not their power alone that took a toll on their bodies, but the speed to which the cruelty was inflicted.  Only when they grabbed each other for a well-deserved breather did Castro and Martinez rest from a fast paced fight.  In the third round, Castro saw his combination of landing two body shots followed by a right hook upstairs earn him the most points, while Martinez got the judges' attention by the never-ending attack to his opponent's ribs and midsection.  Martinez came out aggressively against Castro in the opening moments of round four, again punishing his opponent's body before venturing upstairs to land an unanswered right.  Castro retaliated by attacking Martinez' brain with quick combinations of jabs and hooks, and then moving to his side to get out of the way of Martinez' countering blows.  During the fifth frame, Martinez proved to be the quicker boxer as he landed his straight right upstairs before Castro could land any punch of his own.  When they met in the phone booth to fight in close, Castro did his best work by landing a left dig to Martinez' ribs, that was then followed by a monstrous left hook which landed nicely on the side of his face.  The sixth and final round saw two tired fighters trying to land one punch that would send their opponent to the canvas, but whenever they landed a punch that was not a soft jab, the two ring foes held on to each other until referee Pat Russell stepped in to break them up.  They decided to give the fans in attendance their monies worth by duking it out for the last minute of the fight in the center of the ring.  Both continuously landed telling blows upstairs until the final bell sounded, but it would all be for a draw since two judges each scored it for one boxer a piece, while the third judge scored the fight even.  Castro's record is now 5-9-5 (2), while Martinez owns a record of 19-18-3 (9).
Rodolfo Reyes Narrowly Remains Undefeated Against Jose Cardenas
It was a classic boxing match for the first two rounds between Reyes and Cardenas.  Each pugilist took their turn craftily ducking and dodging their opponent while skillfully picking their shots before landing quick combinations of stiff jabs and quick uppercuts to their heads.  The third round started out as brawl, as Reyes and Cardenas met in the center of the squared circle lashing out on each other's heads with crushing left hooks and overhand rights.  Throughout the round, Reyes stopped throwing his leather as a way to save his strength, then when he felt he had gathered enough power, he let go to land one crushing right to Cardenas' head.  Cardenas pressed the action in the final moments of the round by peppering Reyes with quick combinations of left and right jabs to his opponent's nose.  In the fourth and final frame, the two combatants were more patient with which part of their arsenal they would toss out.  Neither one wanted to give away too much since this fight was virtually even coming into the thirteenth minute of action.  Half way through the round Reyes was caught with a hard shot south of the border giving each warrior some more needed rest.  Cardenas urged his opponent to stop whining and to restart the action.  When they met again in the center of the ring, they came at each other firing quick combinations of hooks and jabs upstairs as though the last sixty seconds would determine who the victor would be.  That was exactly the case, for when the judges' scores were read all three gave Reyes a unanimous decision win with scores of 38-37.  Reyes remains undefeated with a record of 4-0-1, while Cardenas drops to 2-4-1 (2).
Juan Hernandez  and Adrian Anderson Turn Each Other Into a Bloody Mess
It turns out if you want to win a boxing match you have got to throw a punch.  A full two minutes had passed in the first round before Juan Hernandez tossed out his first punch.  In the meantime, Adrian Anderson, who was a last minute replacement for Hernandez, rocked his idle opponent with crushing hooks to the head.  Hernandez finally started to land when he needed to counter Anderson's punches.  However, when they came out for the second and third round, they had by that time loosened up, and launched into three rounds of brutal action.  Overhand rights and combination of hooks to each other's head seemed to be the theme of the last nine minutes of attack. By the end of the third both men were cut over their eyes, but the fight was allowed to enter the fourth and final round.  In the fourth frame, the two warriors once again stood toe-to-toe peppering each other with stiff lead lefts and crushing thunderous rights.  Each punch that landed sprayed their hard-earned blood onto the lucky fans in the first few rows.  Both fighters were a crimson mess when the final bell sounded.  Judge Pat Russell scored the bout for Hernandez with a score of 39-37, but was overruled by judges Jack Reiss and Vince Delgado with scores of  39-37 for Anderson.  Anderson wins his first pro bout improving his record to 1-1, while Hernandez drops his first with a record of 1-1.
Bernal Dominates Arias
Asencion Arias narrowly escaped the first round when Tomas Bernal cracked him with a left hook that sent him to the canvas just seconds after the first bell rung.  For the next three and a half rounds Bernal knocked his opponent across the ring landing monstrous hooks, jabs, and uppercuts for the twelve full minutes of action.  At times Arias came out of hiding behind his gloves to land a hard shot to Arias' ribs, but his bark was worse than his bite, as the leather he landed were more like slaps.  When it was over all three judges saw it the same for Bernal, giving him a unanimous decision win with scores of 40-35, and a record of 2-1-1- (1).  Arias remains winless with a record at 0-6.
Fans Urge Elizabeth Cervantes and Julie Rubalcava to Stop Fighting Due to Boredom
The only female fight of the evening started out slow as these bantamweight beauties took their time feeling out their opponent's next move.  Neither fighter wanted to commit too much time entering the danger zone of being within reach of a hard punch, for Rubalcava had a record to keep pristine, while Cervantes knew her opponent packed a mean punch.  In the last ten seconds of the round the undefeated fighter landed the first scoring blows of the fight in the form of three unanswered left hooks to Cervantes' head.  The second round started and ended with boos from the crowd as neither fighter tossed out, let alone landed a punch that could do any real hard.  The third inning saw more action than the previous when Rubalcava continuously punished Cervantes' head with huge left hooks.  Cervantes had felt her opponent's power and knew to stay away for the remainder of the round.  She would plant her feet about half a mile from Rubalcava and then toss out some leather that vastly missed her target.  Rubalcava was content to dance around the ring until the bell sounded.  In the fourth inning, Rubalcava put on a defense clinic, dancing around her opponent with her hands at her side foregoing an offensive attack.  Finally in the fifth round the crowd got something to get excited about when the undefeated female landed two right hooks and one left hook upstairs to Cervantes head to stun the seemingly tired fighter.  When the two crowd-displeasers met for the sixth and final round, they were one again the subject of the crowd's heckling and jeers.  Shouts of, "This is boring", and "This is a waste of my time" could be heard throughout the ballroom, and Rubalcava and Cervantes did little to turn those in attendance to their side.  In the final seconds of the frame, Rubalcava landed another three-punch combination upstairs that could not be answered by Cervantes, and by the time she could counter, the bell had sounded to bring this borefest to a desirable end.  Surprisingly one judge gave Cervantes more points on his card, but was correctly overruled by the other two.  Rubalcava remains undefeated with a split decision win, improving her record to 4-0 (1), while Cervantes drops to 1-5.
CLICK HERE FOR FULL REPORT AND HUGE PHOTO GALLERY
Send questions and comments to: Fool4Rush@aol.com