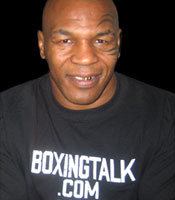 Former undisputed heavyweight champion of the world, "Iron" Mike Tyson updated Boxingtalk.com on his rehab, return to the ring and more last night. As usual, BT members get what no one else can, enjoy!
On His Return To Training:
"I'm leaving for Las Vegas now and I'm going to start training and working out on Monday. I've been spending this time letting my knee get right and it's feeling better, so now it's time to get the right work.
On His Return To The Ring:
"If everything goes well I'm going to be coming back in January or February. Right now I'm just looking to come back and fight a few fights to let people know I'm here."
On Holyfield:
"Everybody thought I was playa-hating when I was talking about Holyfield and his head-butting. But then when he fought Rahman everybody was like, 'ahh Mike may have been right.'
Rahman had to look like the elephant man for people to feel where you were coming from on that one.
"Ain't that something Greg.'
Tyson might be in attendance in New York City for Don King's November 13 PPV at Madison Square Garden. Boxingtalk.com will continue to keep you posted on all of the latest and greatest regarding Mike Tyson. Stay tuned.
MEMBERS CLICK HERE FOR THE REST OF THIS MUST READ EXCLUSIVE INTERVIEW
Send questions and comments to: gleon@boxingtalk.net