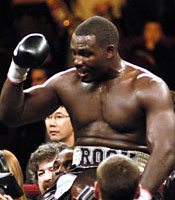 Dear Don, After I defeated Lennox Lewis on April 22, 2001, I was on top of the world as the newly crowned undisputed Heavyweight Champion of the World. Yet, at the same time, I was unclear as to the future as I was besieged by countless offers of wealth as well as countless threats of litigation. Through this period of confusion, you, Don King, stepped forward and offered me a plan for the future which made sense. You offered to guide me through all the problems which come to haunt a victory of the magnitude which I achieved against Lennox Lewis. You offered to me a promotional agreement which would protect me and my family as we battled together for boxing greatness. With this plan and with the faith and confidence which you showed in me, on May 9, 2001, I signed the promotional agreement which you presented to me.
Unfortunately, our hopes and dreams were quickly dashed as our worst nightmare of litigation came to fruition. This litigation, created by Lennox Lewis and his attorneys, distracted me from our mutual goal of achieving boxing greatness. This litigation was truly part of the reason that resulted in my losing the heavyweight championship.
Now, after over three years of struggle and battle, we are once again on the verge of regaining the Heavyweight Championship of the World. As you know, this battle has been long and hard. I have faced all kinds of adversity. After some very bitter disappointments, I have been able to refocus and to rededicate myself to that dream and goal which we planned out when I signed with you on May 9, 2001.
With my mandatory challenge of current champion, Vitali Klitschko, tentatively scheduled for July 23, 2005, I know that I will once again become the undisputed Heavyweight Champion of the World. I know that we can walk that path to greatness which we agreed upon when I signed with you on May 9, 2001. However, as I reached out to you for assistance after my victory over Lennox Lewis, I must now ask for your assistance to continue our quest to regain glory. As you know, as we discussed the contract to fight Klitschko, we agreed upon a deal whereby I would fight for you under the banner of Don King Productions to regain the Heavyweight Championship of the World. This deal, made man to man, was agreed upon under the terms of your promotional agreement dated May 9, 2001. You agreed that any past problems which we may have had could be resolved after I regained the championship.
Don, I know that you are being pressured by those same lawyers who cost us the heavyweight championship on November 17, 2001. Do not allow history to repeat. As we know that you are a man of integrity, we know that you will honor your word and complete a bout agreement without condition so that we can concentrate on the battle against Vitali Klitschko. This must be done immediately without delay or discord. We must be united in regaining the heavyweight championship. We are proud to battle Vitali Klitschko under your promotional agreement of May 9, 2001. There is no need to amend this agreement as a condition of making this fight. Do not allow outside forces to interfere with your word or our unity. Any past issues can be resolved by our representatives without causing delay or distraction to our most important mission at hand, regaining the heavyweight championship by defeating Vitali Klitschko.
Don, my team and I stand united in our determination to once again shock the world by my becoming the two time heavyweight champion. Join with us in this mission. Stay focused by working together to achieve our mutual goals so that we can walk together on the path to greatness.
Very truly yours,
-Hasim "The Rock" Rahman