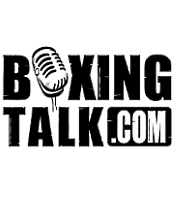 "Earlier this year we went to Golden Boy Promotions to ask them what they had for me. We set up a meeting and I paid for my flights, I paid out of my own money round-trip. We went to Los Angeles and sat down with Don Chargin, his wife and Richard Schaefer. I ask them, 'so what do you guys have for me?' They said, 'well, I don't know, what are you thinking?'
"I told them I was thinking that I could beat (Jose Luis) Castillo. I told them I went through a lot before that fight. I changed trainers, I had problems with my manager so I couldn't the proper sparring, but I still fought my heart out and fell short."
"I told them I want greatness and I need a team that's going to be on the same page so we can all be striving towards the same goal."
"Okay, okay, Juan, so what do you want to do was what Richard Schaefer asked me. I told him I'd like to get a comeback fight and then go get the big boys."
"Richard Schaefer then offered me an HBO Latino date and Don Chargin fired back saying, 'no, no, no, we don't want to get him there yet, let's get him a Telefutura fight. Okay, so me, Richard and Don agree that it would be a Telefutura date on April 1, and they just had that show."
GL: So what happened between then and now that you were supposed to be fighting on April 9, and here we are three days before the fight and Golden Boy issues a press release stating you pulled out of the fight for personal reasons?
Juan Lazcano: "That's bullshit, personal reasons. I'll tell you why I'm no longer on the show. Justin Jukko was the guy I was going to fight. He wanted it at a lesser weight and he wanted more money, so he basically negotiated himself out of the fight. This was two weeks ago, and they told me, 'Juan, don't tell the press that Jukko's out, play it like he's still fighting, so I went along with it."
"Then they tell me that they have an opponent. Great, get me the tape I tell me. They tell me they're going to work on it. Three or four days go by and I still don't hear back from them.Then they call saying, 'Juan, we're trying really hard to get a tape on the guy, but we can't find one.' I told him to find one or get somebody else so they say, 'okay, we'll find it.'
"Another few days go by and Eric Gomez (GBP matchmaker) leaves me a message saying, 'Juan, we can't find a tape, you're just going to have to trust us on this and you're just going to have to go on that."
"I let it simmer for a couple of days and I thought, this is not about trust, this is a business. I thought we were all on the same page, I thought we all wanted greatness. But this isn't how you create greatness.
"So I called him back and I told Eric, 'hey, what kind of deal is this? Find me someone with a tape and we can move forward.' He said, 'oh I can't do it." Well if you can't do it, I'm not going to fight, because I don't care if a guy is 2-18, I want to know what elbow he might like to throw with or if he likes to use his head. I like to see my opponents so I know what to expect and how to protect myself from what I see him doing. It helps me perform at my best and at this point in my career I can't go into any fights blindfolded because one more loss could be detrimental to my career, so I need to go about things intelligently."
"Golden Boy is only out for themselves. They told me I don't trust them,  but I'm not a four or six round fighter, so they shouldn't treat me like one. They say they want the fighters to be the bosses, but that's BS.
"I didn't even know I was fighting on April 9 until I read it somewhere. Nobody told me anything. Then they do a press conference and they don't invite me. And this is my hometown and they never invited me."
"We're not on the same page, they've been keeping me in the dark, they went back on their word and they did what they wanted to do. But I tried to work with them Greg, but they were being unreasonable."
"Eric even asked me if I was afraid and I told him, 'you know what? I might be afraid, but only of the leadership's incompetence and lack of vision. Yes, of that I'm afraid."
"And I asked Don Chargin about my purse, because you know they were only going to offer me $20,000 to fight Justin Jukko on PPV in my hometown, which I felt was a slap in my face, but you know what Greg? I was willing to do that. I asked him $20,000 and this is a PPV. And you know what they told me, "I don't know ?",  was their response."
"Then I wanted to get Oscar on the phone to see if we could try to work things out to save the situation. I told Richard today, that I would like to speak with Oscar personally and I feel I have that right since he is my promoter.  I told him hopefully it could be something that resolves this matter in a healthy way."
"About a half-hour later, I get a call from Oscar. I told Oscar, 'so you know what's going on right?' He says, 'yeah, they briefed me a little bit.' I asked him what his take was and all he did was mumble to me like he didn't know what to say."
At this point Juan's cell phone cut off on us. We hope to provide you with more of his side of the story shortly, so stay tuned!
Send questions and comments to: gleon@Boxingtalk.net