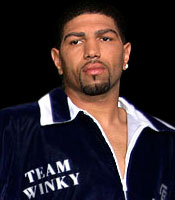 "I'm chilling kicking it at the bowling alley, but we could do this interview right now homey. I'm just getting ready to go out to Houston and handle my business like I did the first time. I'm going to be working harder than ever, I'm more dedicated than ever, and believe it or not, I'm hungrier than ever. I wouldn't want to fight me right now." Members click here to see what else the junior middleweight king had to say in this must read one on one interview with G. Leon.
GL: Shane Mosley recently dropped by my crib...I told him what you said.
Winky: (laughs) And what did he say?
GL: He said it's good that you think that way because that's going to play right into his hands.
WW: "Yeah right! Remember it was him who did all the talking the first time. I ain't do no talking. I told them I don't talk too much, I let my hands handle that. He did a lot of talking, and talk is cheap. When we get in there I'm going to handle my business again and we can talk afterwards. I want people to tell me how good I looked, not me telling them how good I'm going to look."
GL: Have you been following the Olympic Boxing?
WW: Not really. But I saw my boy (Andre) Berto lose a close fight. It's awkward how they score those fights though. I think Berto was throwing the better punches, the other dude was just tall and he was running.
GL: I spoke with Lacy last night and he told me the two of you are going to be working together since he's fighting a southpaw on October 2.
WW: "I'm always sparring bigger and stronger fighters...and these are young folk, not no old timer of has been with a name. I'm working with the best because sparring with someone you're going to beat up on all the time is not going to give me no work.
GL: Can you elaborate on why you feel we already saw the best in Shane Mosley this past March, and why you feel we're not going to see much different from him on November 20?
WW: "After the first fight he did nothing but make excuses. I was the better man that night and he couldn't admit that. His game plan didn't work and now he's going to try a different game plan. I'm going the type to make any excuses, that's why I put this kind or work in to make sure I won't have to make any after November 20. Mosley is going to fall apart when I bring the heat and start hitting him the way I'm going to be hitting him. (laughing) Joe Goossen might help him get through the first few rounds though. Once he gets hit he's going to start running again, you'll see. I'm going to be ready for anything homey."
GL: What's your promotional status Wink?
WW: "Right now we're still single. We're trying to do a promotional deal with Don King if he guarantees that Trinidad fight. But I'm letting James Prince and them handle that with King right now. When there's an update you'll be the first to know."
GL: Have your thoughts on Hopkins-De La Hoya changed at all?
WW: "I still think Bernard is going to dominate that fight. Oscar must know something because after that last performance of his, I don't care how much money they're paying him he should have pulled out. He's sticking with the fight and he's going to come to try and surprise everybody, but Bernard is going to win the fight. Down the stretch when it counts it's going to be all Bernard"
GL: What do you think about Trinidad and Mayorga?
WW: "I think it's going to be a great fight. I'm picking Tito. Even though the rust might show and Mayorga can jump on him early, but the longer the fight goes Tito's going to get that rust off and let that hook go. With Mayorga coming in, and I know he can take a good punch, but it's a big difference in getting hit by a middleweight than a welterweight. And I think he's going to find that out the hard way.
"Right now Greg, I'm about to get on my training schedule and I'm going to get my weight down and get everything going to where it falls into place at the right time. I don't want to peak too early and I don't want to peak too late, I want to peak just right. I'm going to go out there this time and show the fans why I won the fight the last time. This ain't no fluke, I ain't no one hit wonder (laughs) I heard you said that on your pound for pound list, but you still my dawg."
GL: Is this a situation where you feel Shane Mosley hasn't learned the mistake he made when taking the immediate rematch against Vernon Forrest?
WW: "I definitely don't think he should have taken this fight, but I'm not going to be the one preaching it to him, I'm going to be the one teaching it to him. He's helping me make money though, so after I beat him this time I'll beat him again as long as they pay money to see it."
GL: You seem brimming with confidence right now, will it be difficult for you to stay grounded?
WW: "I'm not any more confident than I was the last time. The last time I told you he couldn't beat me, that there was nothing to do. People thought I was a joke because that was Shane Mosley or whatever, but I proved it to them. I'm not overlooking him because this is boxing and anything can happen. We saw that with Roy Jones Jr. and Antonio Tarver. Anything can happen. I know I'm a better fighter, I know I'm a stronger fighter and I know he can't hurt me. There's nothing he can do with me and he's going to have to prove it to me on November 20. People don't usually want to fight me a second time and I'm going to use Shane Mosley to show you why."
GL: There you go again talking like a knockout artist.
WW: "I'm not saying I'm a knockout artist, but I can punch. You don't ever see no one get in there and run in after me. I'm not the biggest puncher but I put my punches together well and I beat people up for twelve rounds."
SEE WHAT ELSE THE JUNIOR MIDDLEWEIGHT KING HAD TO SAY IN THIS MUST READ ONE ON ONE INTERVIEW WITH G. LEON
Send questions and comments to: gleon@boxingtalk.net