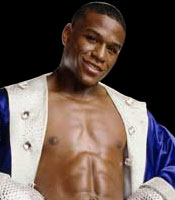 Mayweather speaks on Gatti being a "coward", De La Hoya being a "quitter" and MUCH more!
Before Boxingtalk.com was able to get our first question in, undefeated pound for pound Picasso Floyd Mayweather Jr. told Boxingtalk.com, "An incident took place in Grand Rapids, Michigan. I was not guilty, but I pleaded no contest just so I could get the Gatti fight. When Diego Corrales caught a case I didn't complain or worry, we fought like two champions are supposed to. I'm wondering why Arturo Gatti and his camp worried about what I do outside of the ring? It's not like I'm bringing a gun or kicking anyone inside the ring, I use my hands. When we do get in the ring he's going to think I got a razor in my hand from the way I cut him up! It's going be like my gloves was razors. My thing is this, my team told me if I plead no contest and get everything clear I was going to get the fight with Arturo Gatti." You don't want to miss what else Mayweather had to say in this MUST READ exclusive interview.
"I signed a contract before Arturo Gatti signed a contract. I had already signed the contract."
GL: But why...
FM: (cutting in) "But I'm going to tell you what happened. They offered me a certain amount of money to fight Gatti and I signed it. Then they came back and brought me another contract for less money and I said no, so that's what happened."
GL: And when you say they, you're referring to Top Rank correct?
FM: "I already signed because Bob Arum is my promoter, but then he came back with another contract for less than what he offered me. But we've got more than enough time to promote this fight. This guy's done nothing but duck and dodge me. He's been ducking and dodging me from the begining.
"Oscar De La Hoya has been ducking and dodging for a while now too. Now he's talking about coming down to 147, but I'm trying to figure out, why wouldn't Oscar want to fight a guy that's undefeated? Wouldn't he love to give me my first loss? Oscar De La Hoya has no heart! He's scary and he's a quitter. I saw him quit against Bernard Hopkins and he's lost to some other guys, but I want to put the finishing touches on him and send him out on his face or his back."
GL: Let's try to focus on Gatti for a minute Floyd.
FM: "I don't need to focus on Gatti because that's the easiest work in boxing for me. "
GL: Last week Main Events and Gatti told me the fight was off because you didn't sign by their deadline. However, you're Gatti's mandatory challenger. Do you think Gatti would lose his title before his fights you?
FM: "I think he wants to give me his belt because he damn sure doesn't want to fight.  Larry Merchant tried to criticize me from how many fans I had at my last fight, but listen, I could go and do exactly what Arturo Gatti does. I could fight in Grand Rapids, Michigan, in front of the best boxing fans in the world and sell 14,000 tickets. I'll sell it out every month. This guy has been ducking and dodging me for the longest."
GL: Why don't we try to put the Gatti people on the phone with us now?
FM: "Go ahead, put him on the phone."
At this point Boxingtalk.com conferenced in Gatti's manager Pat Lynch in attempt to put Mayweather and Gatti on the phone at the same time. Lynch didn't pick up but Floyd left the following message on his voice-mail.
---------------
"Yeah Pat Lynch, you know who this is, they call me Pretty Boy Floyd. You can't keep ducking and dodging me the paperwork is done so let's make this happen. Flashy and flamboyant forever, Gatti get ready because on June 11 you're going out on your face or your back, it's your choice so holla back."
--------------
FM: "And that's how we're doing it. I'm telling you these guys is scared of me man I'm a threat to these guys. My dad has been training Oscar De La Hoya and he says he's made him a better fighter, well, quitting's not in my heart. I don't knock my father because he's got to make his living and he's one of the best at what he does, but there's no way his training skills could match my fighting skills, not in a million years. And if my dad was on top of his game and I was on top of my game, I'd beat my father easily. Shane Mosley? He could get it. "
GL: It sounds like if Gatti doesn't want to do this you're got your wishlist all sorted out.
FM: "If Gatti doesn't want to fight I would love to fight Shane Mosley."
GL: I spoke with Vivian Harris earlier and he said you've been ducking an dodging him.
FM: "I'm going to tell you something and I'm going to be honest with you. I didn't even know who he was until I saw him on a Nas video and somebody told him he's a champion. I didn't even know who he was until then. Guys who fight on HBO, Showtime and ESPN are the guys I know of because I seen them fight. I never seen Vivian Harris fight at all. I don't even know who he is.
"And you know this is what's killing me in the fight game. Who has Arturo Gatti beaten to make himself legendary? What? He got punished by Micky Ward, a journeyman? But you know how Gatti is, he just knocked out a guy who was 40 years old. You know how Gatti is, he fights journeyman. I want the champions.
"People say so why did he fight Henry Bruseles then? Well because I was supposed to get Gatti and then the Cotto people sent him in there as a crash dummy to have an idea of what would happen to Cotto. But you know what Henry Bruseles would beat Arturo Gatti. They're not on the same level."
GL: If it's not Gatti will your next fight definitely be a marquee fight?
FM: "I'm trying to fight Oscar man. I'm chasing this man."
GL: Oscar has told me that he wouldn't fight you because your father trains him and he has too much respect for your father
.
FM: "I don't talk to my father, what my father does is his own business. But if my daddy got heart, let's see if his training skills can match my boxing skills. I'm already with the best trainer in the world, Roger Mayweather is the best trainer in the world hands down. Roger Mayweather is the reason why I am three time world champion."
Stay tuned for part II....It's
GREAT
to be a member!
Send questions and comments to: gleon@Boxingtalk.net